Estimated read time: 5-6 minutes
This archived news story is available only for your personal, non-commercial use. Information in the story may be outdated or superseded by additional information. Reading or replaying the story in its archived form does not constitute a republication of the story.
SALT LAKE CITY — Jayson Edwards, the founder of the popular Utah-based restaurant chain J. Dawgs, thought it was a strange sight: A basement filled with servers and portable air conditioners to keep everything cool. His food deliveries there led to a lasting friendship and gave him a glimpse of what it was like at the start for Ryan Smith, co-founder of multibillion-dollar business Qualtrics, and now the new owner of the Utah Jazz.
"I thought, yeah that's a pretty cool idea," Edwards said of the idea that spurred Qualtrics, "but like, never in my wildest dreams did I ever think it would grow to what it is."
But that was before he really knew Smith. Now, looking back, it shouldn't have been all that much a surprise. To him, Smith is too smart, too innovative, too scrappy and too mindful of everything and everyone around him not to be successful. This is why Edwards sees some big — and he means big — things happening for the Jazz.
"I think he'll be one of the most influential owners the NBA has ever seen," Edwards said.
Smith is currently seen as one of, if not, the premier businessman in the state. Qualtrics' major success also solidified the state as a premier tech hub. It was already proven that the entrepreneurs of Utah could build successful businesses — the list is long of profitable and growing startups — but when SAP acquired Qualtrics for $8 billion in 2018, it dropped jaws.
At the time, it was the second-largest acquisition of a private tech company in history. Utah wasn't just a scrappy and growing tech hub — it had produced one of the biggest success stories in the industry.
No matter how you feel about the ever-increasing growth caused by Utah's tech boom, Smith has been part of the group that has made the state feel bigger.
In 2017, Gordon Hayward, fresh off an All-Star appearance and a playoff series win, left Utah for Boston. It was a realization of what so many Jazz fans had feared for so long: The team can't keep players and they aren't a free agent destination, and because of that, they will never win.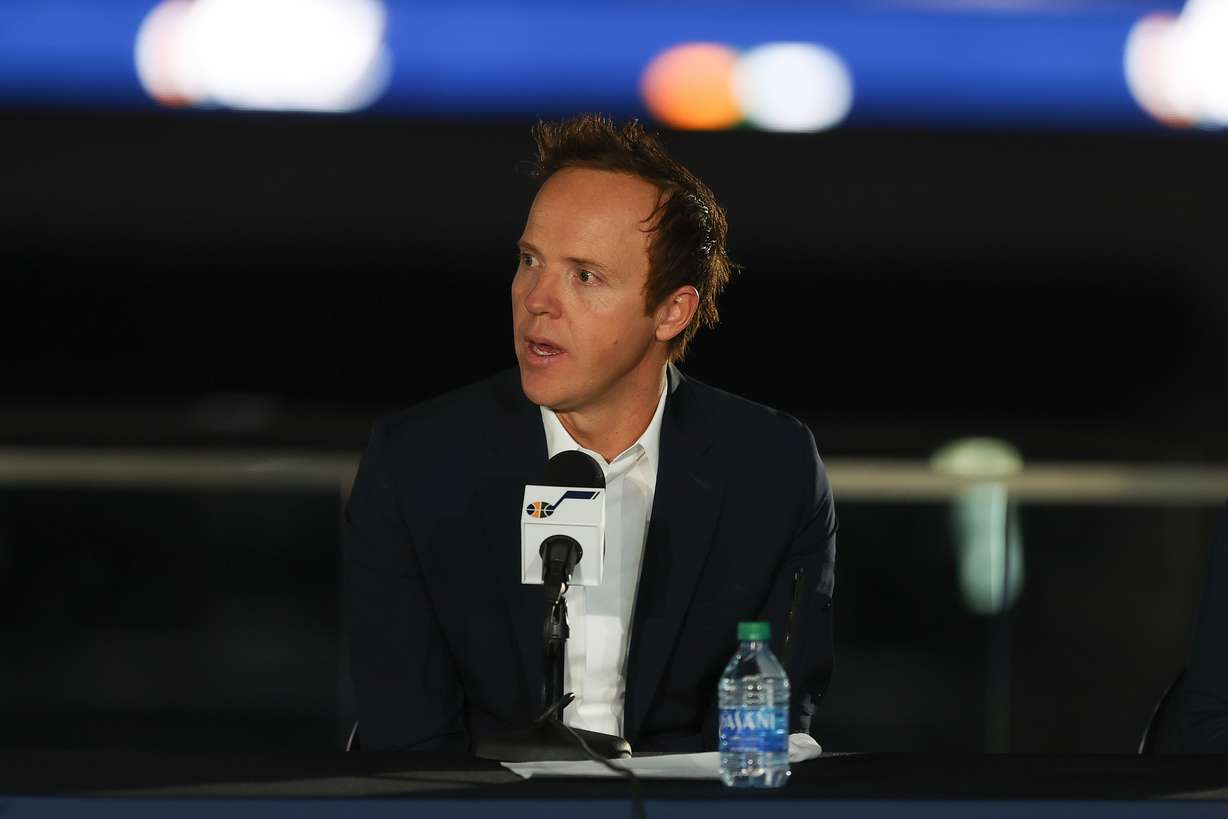 While some of those claims have been debunked recently — Bojan Bogdanovic's signing last offseason proved they can pull in some prized players — the small market tag is more or less accurate. The Jazz haven't had the deepest pockets and definitely weren't in play for Kawhi Leonard, Kevin Durant or any other All-NBA level free agent last year (or any year).
For Jazz fans, it's easy to hope that Smith can be the next Mark Cuban — the internet entrepreneur that's pushed Dallas into the national spotlight ever since he bought the team in 2000. Six years after he purchased the team, the Mavs were in the finals; and by 2011, they were champions.
On Twitter, Cuban said he was a Ryan Smith fan and that was "not happy" that he bought a team in the Western Conference; that was a compliment.
Dallas, though, while consistently near the bottom of the West before Cuban took over, was still considered a major market. Salt Lake City is not. Smith has proven you didn't have to be in Silicon Valley to start a crazy successful business — so why can't he prove you don't have to be in a major market to be an NBA champion?
"Ryan is an amazing salesman, he's got tons of confidence, and he was the one that was kind of like pitching the idea to all these companies," Edwards said.
He sold his company to the biggest in the world; we'll soon find out if he can his sell some of the world's best athletes on his ownership. But his longtime friend doesn't have any doubt.
"I think the Jazz, while they'll always be a small market (team), will feel like a large market team," Edwards said. "Where people that might have been hesitant to come and play here, they'll be here."
Do-it-yourself mentality
Steve Sonnenberg felt like he was losing. The CEO and founder of Awardco was looking around and seeing all these companies getting press for large funding rounds and lauded as being on the rise. It made him doubt his approach. He didn't want outside funds, didn't want to have to sell off a large percentage of his company — but thought maybe that was the path he would have to take.
Those doubts left after a conversation with the soon-to-be Jazz owner.
"I felt the same way," Smith told him.
But that showed Smith's capabilities. He didn't rely on investments to build his company — he did it himself. Those close to him expect him to use the same principles as he takes over the Jazz.
"For 10 years, Qualtrics didn't take any outside capital, didn't take any investment money, he just bootstrapped it," CEO and president of Silicon Slopes Clint Betts told the Utah Jazz podcast Roundball Roundup. "And that's the type of guy he is, he's willing to roll up the sleeves, get to work. … He's true to his vision, true to who he is as a person, he knows he's gonna find success, and I think that's what he's gonna bring to the Utah Jazz."
With the massive success, his long time friends still marvel at how grounded he is. Smith met Edwards when he and his small startup group would go and eat lunch at J. Dawgs as the company was at its beginning. When Qualtrics moved into their first office, they had him cater — a tradition that has continued as the company has grown and grown. During the pandemic, Qualtrics has allowed J. Dawgs and other Utah companies access to their software to better communicate with patrons to help keep the hospitality industry going.
"Despite all of Ryan's success, he's still Ryan, right?" Edwards said. "And every time that there's like these major milestones, he's involved me. … He's just a really good dude."
A good dude, a good businessman and, Jazz fans are hoping, a good NBA owner too.
×
Related stories
Most recent Utah Jazz stories