Estimated read time: 5-6 minutes
This archived news story is available only for your personal, non-commercial use. Information in the story may be outdated or superseded by additional information. Reading or replaying the story in its archived form does not constitute a republication of the story.
SALT LAKE CITY — Well here we are, the week of Thanksgiving. Without a doubt, this fall has been full of anxiety, stress, unknowns and holidays to be celebrated in ways we never expected or wanted. But here we are.
Just because your Thanksgiving plans have changed compared to other years or just recently due to the uncertainty of COVID-19, that doesn't mean you have to have a boring Thanksgiving meal or skip the celebration entirely. Here are 15 delicious and easy recipes to throw together at the last minute for a special, yet unique celebration.
But first, here are some tips for those having small gatherings with people in their same household instead of big family gatherings:
Opt for a turkey breast or whole chicken instead of a traditional giant turkey (unless you love eating leftovers for days to weeks). You should be able to find a turkey breast at your local grocery store, or go for a chicken if you want to roast a whole bird.
Stick to the sides that you LOVE. When we have big gatherings, lots of sides are needed and I bet there are some you don't love. Instead of trying to make all the sides (and desserts), make your favorite couple sides and really enjoy them.
Repurpose leftovers. A plate of Thanksgiving leftovers is exciting and delicious for a meal or two usually, but what do you do with the rest? Repurpose leftovers into something else. For example: choose a day where you have some time and use your leftover mashed potatoes to make gnocchi. Or add stuffing to waffle mix and have savory waffles for brunch. Or, my favorite, make my easy turkey and brie sandwich with a three-ingredient homemade blueberry mustard.
15 delicious and easy last minute Thanksgiving dishes
1. Cranberry Baked Brie via registered dietitan Jenny Shea Rawn of My Cape Cod Kitchen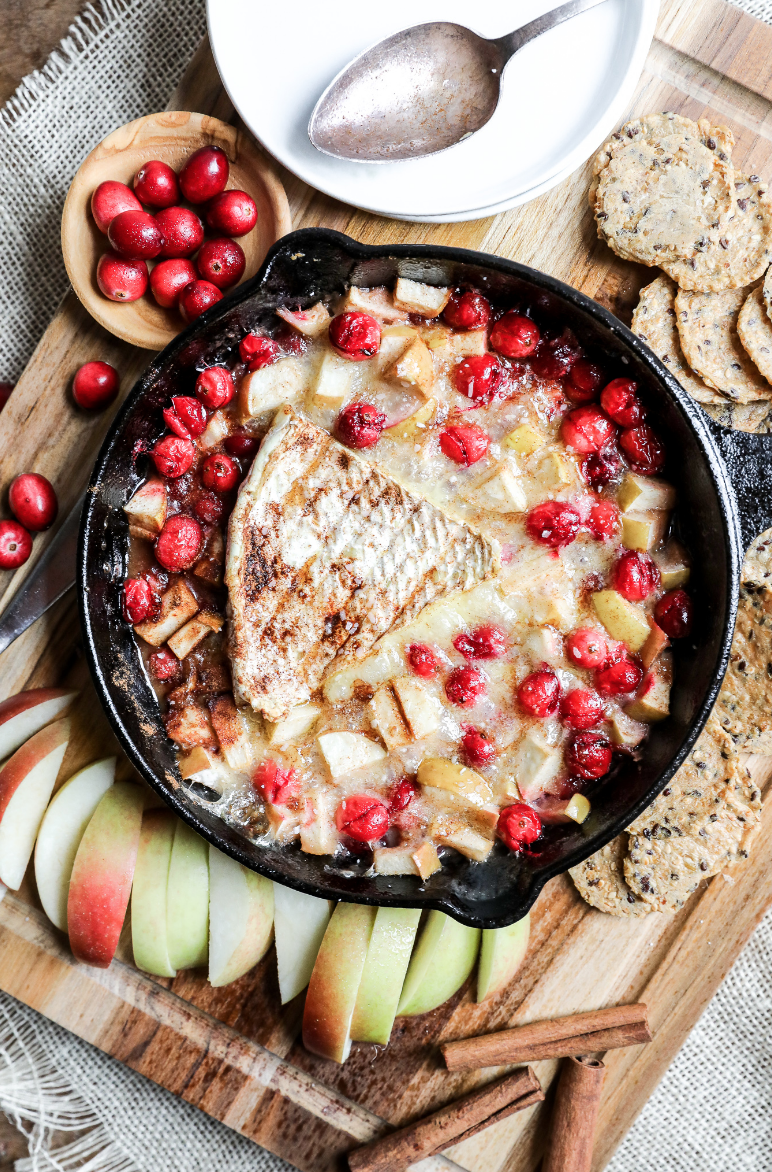 Serve this as an appetizer or eat it with dinner. Either way, it's fancy, special and actually easy! Plus it makes for great leftovers with some turkey on a sandwich.
2. Maple Balsamic Sauteed Mushrooms via registered dietitian Shannon A. Garcia of KISS in the Kitchen
My family never made mushrooms to go with turkey, but I made a mushroom gravy for my Fakesgiving dinner a couple years ago so that my friends who eat vegan could have gravy too. I'm now a mushrooms-with-turkey convert. These easy, sautéed mushrooms go perfectly with the other rustic flavors of Thanksgiving dishes.
3. Rustic Potato and Brussels Sprouts Au Gratin
Let me just say, my mom doesn't eat potatoes au gratin, and she said she really liked this recipe. I recommend adding it to your menu this year.
4. Garlicky Sautéed Baby Kale via registered dietitian Kelly Jones
Kelly's sautéed kale is the perfect simple side dish. It takes just 10 minutes and is a great recipe for people who aren't sure if they like kale. The garlic will hook them in!
5. 30-Minute Dinner Rolls via Six Sisters' Stuff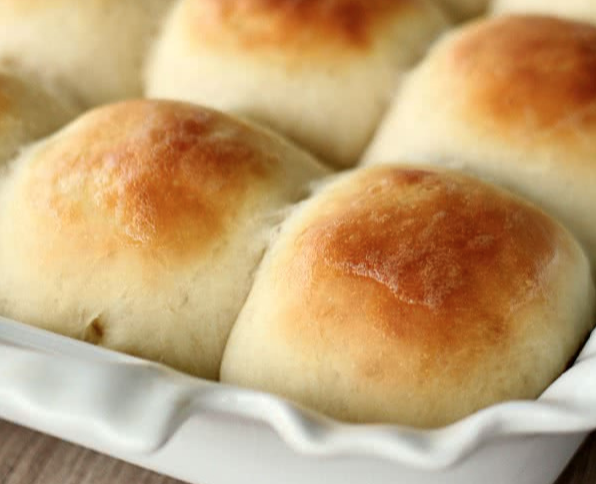 Were your favorite store-bought rolls out of stock? Don't worry, make your own with this super easy, 30-minute recipe. Homemade dinner rolls are the best and such an inexpensive option.
6. 10-Minute Vegetarian Gravy via registered dietitian nutritionist Emily Cooper
If you have guests who eat vegetarian, then this is an easy gravy to make for them. Or, if you made the mistake that I made — brine your turkey and try to use the drippings for gravy — then you'll need another option. Good thing this gravy takes only 10 minutes and is made with ingredients you probably have on hand.
7. Savory Vegan Stuffed Acorn Squash with Wild Rice via registered dietitian Melissa Nieves of Fad Free Nutrition Blog
This simple squash dish counts as two different dishes in one. Wild rice stuffing is one dish and the acorn squash is the second. Double duty sides are perfect for a small Thanksgiving dinner.
8. Mushroom Ravioli with Squash and Browned Butter via registered dietitian Judy Barbe
This fall-inspired dish is perfect if your Thanksgiving plans changed last-minute and you didn't have time to buy and thaw a turkey. It's special, easy and packed with the best fall flavors.
9. Baked Sweet Potato Casserole via Crystal Karges of Crystal Karges Nutrition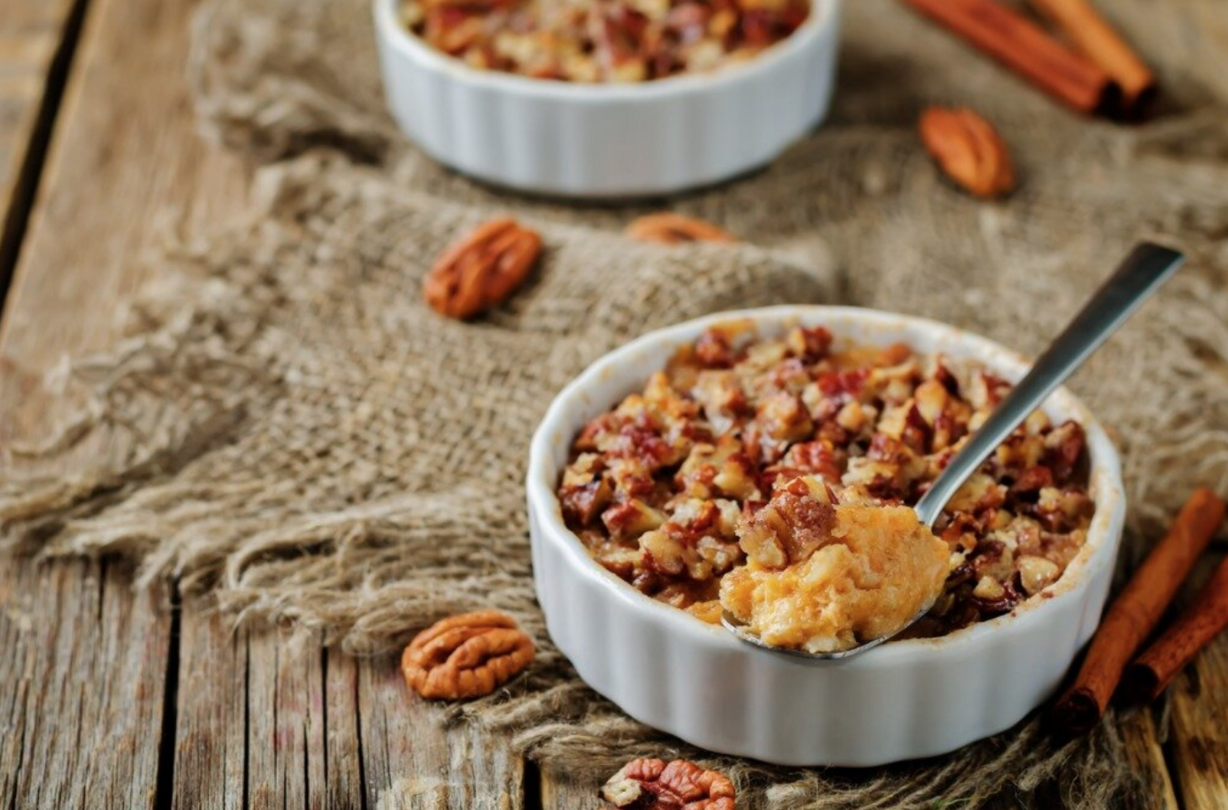 Quickly cook your sweet potatoes in an Instant Pot or microwave to save prep time. This sweet potato casserole is sweet, creamy and super flavorful. It's a delicious side dish for your Thanksgiving dinner.
10. Maple Mustard Roasted Brussels Sprouts via registered dietitian nutritionist Kristina Todini of Fork in the Road
I'm drooling as I write this. Maple + mustard is one of my favorite flavor combinations. This simple recipe will turn anybody who turns their nose up at Brussels sprouts into a Brussels sprout fan.
11. Lemon Garlic Roasted Asparagus via registered dietitian nutritionist Amy Gorin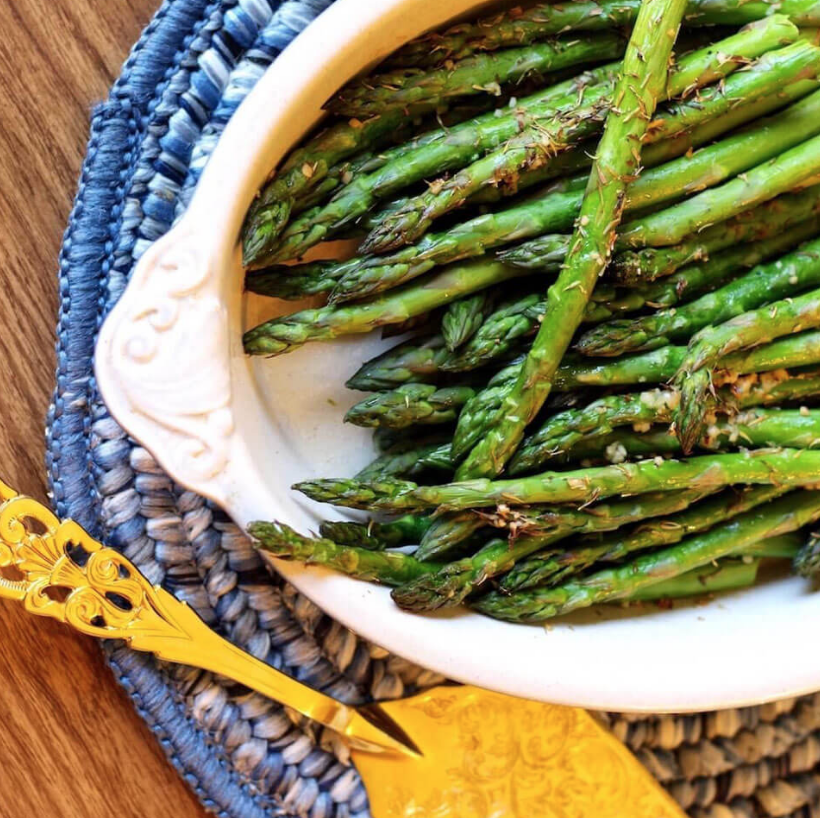 Roasting vegetables is so easy and hands-off. This simple recipe is perfect for Thanksgiving because it takes just a couple of minutes to prep and you can let your oven do all the rest of the work while you move onto other tasks.
12. Pumpkin Cranberry Quinoa Salad via registered dietitian Edwina Clark
This would make for delicious leftovers, just saying! I'd add leftover turkey to this salad and have it for lunch.
13. Cranberry Apple Orange Sauce via registered dietitian Alena Kharlamenko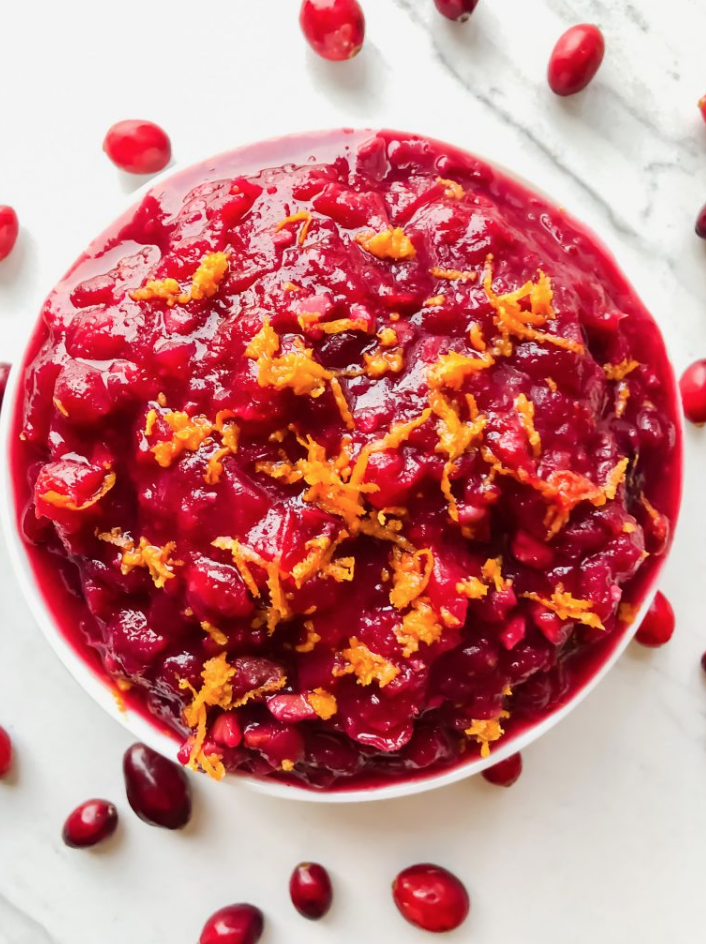 One great way to make the most out of a small Thanksgiving dinner is to turn simple sides into special ones that are bursting with flavor. With a couple of add-ins, this cranberry sauce will knock your socks off.
This simple salad is my favorite way to eat beets. It's easy to make and bursting with flavor.
15. Instant Pot Cheesy Mashed Potatoes with 'Roasted' Garlic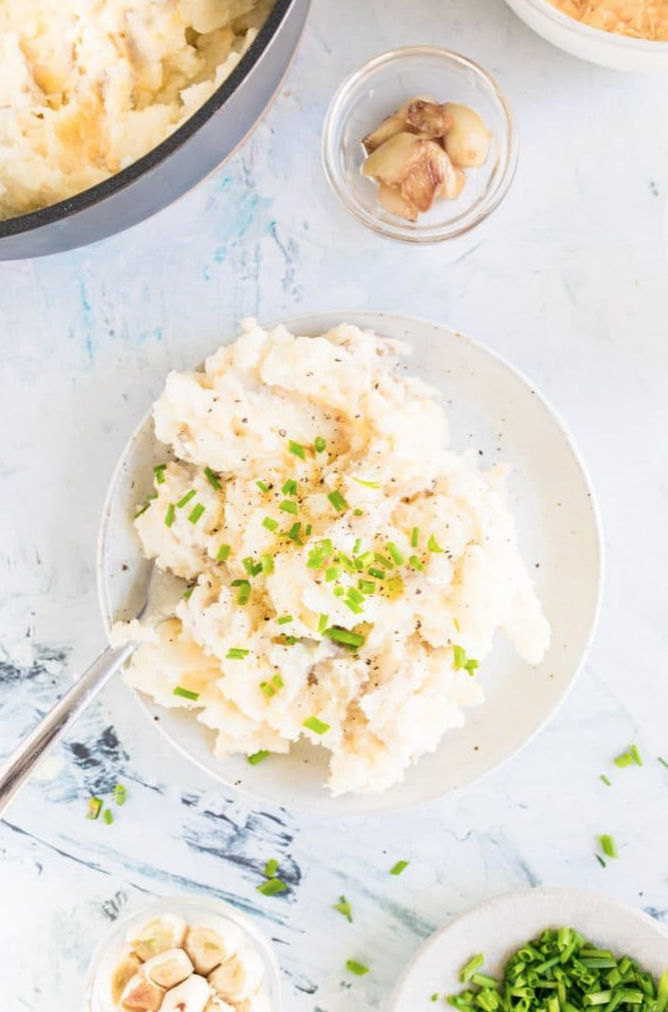 Throw the garlic in your oven if you're already using it, or quickly sauté it to soften it. It tastes the same either way.
I hope these simple side dishes inspire you to have a delicious, small and safe Thanksgiving this year.
---
---
Editor's Note: Anything in this article is for informational purposes only. The content is not intended, nor should it be interpreted, to be a substitute for professional medical advice, diagnosis, or treatment. Always seek the advice of your physician or other qualified health provider with any questions you may have regarding a medical condition; Any opinions, statements, services, offers, or other information or content expressed or made available are those of the respective author(s) or distributor(s) and not of KSL. KSL does not endorse nor is it responsible for the accuracy or reliability of any opinion, information, or statement made in this article. KSL expressly disclaims all liability in respect to actions taken or not taken based on the content of this article.
×
Photos
Most recent Lifestyle stories