SALT LAKE CITY — Three Utah organizations continued their fight for legislation seeking equal rights for women Friday, gathering on the steps of the Utah State Capitol to speak, listen and sing.
The press conference, titled "Vote Equality: Minding the Gaps for Utah Women," was organized by the Utah Equal Rights Amendment Coalition, Equality Utah and the League of Women Voters of Utah.
The conference's primary message was a reminder and a call for change, noting that Utah is one of the handful of states that has not ratified the Equal Rights Amendment.
"This year has been an apology, because we didn't win equality for all," said Kelly Whited Jones, chair of the Utah Equal Rights Amendment Coalition. "We won equality for some. When our Constitution was written, it left some folks out on purpose, and we have been working ever since to repair that, to mind that gap, to fix that error. And in Utah, we are working to mind the gaps."
"Where can we improve? How can we improve?"
After Congress sent the Equal Rights Amendment to the states for ratification in 1972, it was approved by the legislatures of 35 states but fell short of 38 states required for full ratification before two contested deadlines passed, the second in 1982.
The issue died until ERA supporters revived it in 1994 with a "three-state strategy," believing that despite the missed deadlines, and rescinded approvals from five states, the deadlines could be peeled back to allow three more states to agree to amend the Constitution.
Nevada and Illinois ratified in 2017 and 2018, respectively. This year, Virginia became the 38th on Jan. 15. Following Virginia's ratification, the Justice Department released an opinion stating that given the missed deadline, the legislative approval process must be restarted for the amendment to be legally binding.
The press conference came just weeks before the 2020 presidential election, and speakers repeatedly encouraged people to turn out and vote.
"There is no better time than this to stand up, to look where we are as a state for women, for communities of color, for our beautiful LGBTQQIA community and remember why we vote — why we vote for equality," Jones said.
Historically, Utah has been one of the nation's leaders regarding women's suffrage and rights.
Adrielle Herring, the campaign manager for Utah Rep. John Curtis, reminded those at the event that the first U.S. woman to ever cast a ballot was Utah's Seraph Young Ford — and that the first female state senator was from the Beehive State.
"Really, it was the battle for the women's movement, women's equality, women's suffrage, that established Utah," she said. "That was our first story of Utah punching above its weight and leading out nationally in a major way. Well, it's time for Utah to resurrect those days."
"It seems to me that one of the most important things that we can do in order to reinvigorate that passion and that determination among Utahns is tell those stories of Utah's early leadership in the women's movement."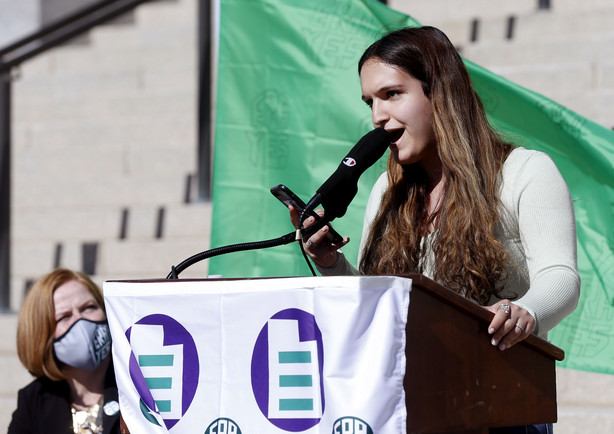 Other speakers talked about the separation of church from state, reproductive rights, the police system, health care, and a "white supremacist" presidential administration.
"The original suffrage movement was incredibly white, incredibly upper-middle class, incredibly cis-hetero and did not look at freedom through a lens that would liberate all of us," said Ermiya Fanaeian, director of diversity and inclusion for the Associated Students of The University of Utah.
"Today, as we stand here, the struggles to grapple with misogyny, reproductive freedom, the impacts of global capitalism, the profitization of health care, the privatization of prisons and the police, the restrictive gender binary and the impacts of colonialism continues for women."
She continued by saying that one upper-class white woman in a position of power is not enough, and that California Sen. Kamala Harris being on the presidential ballot is just the beginning.
"Feminism must be much more than tokenism," she said.
"We must still hold (Harris) accountable and make sure she secures the rights of everyday, working class women. That simply being a woman in a position of power is not enough. That just because we elect Kamala Harris or the next woman does not mean that's the end of it."
Fanaeian further called for legislation on several issues.
"No, we do not want health care for some, but health care for all," she said. "No, we will not reform the police right now. Right now is the time to completely dismantle the police. Let's not just make abortion accessible but let us also make abortion free."
Jeanetta Williams, president of the NAACP Salt Lake Branch asked Utahns to vote for Amendment C on their ballots, which would abolish slavery and involuntary servitude as punishment for a crime.
The amendment would not alter any aspect of the criminal justice system.
Further, a comprehensive list of legislative and policy issues would ensure that no woman or person, regardless of demographic, is missing in this new wave of reform, speakers said.
"Not just some women, all women," Jones said. "No exceptions, no exclusions, no asterisks, no excuses needed. Let's not look back at this issue of gender discrimination and say, 'What a shame. We did this incredible thing, but we left people behind.'"
×