SALT LAKE CITY — One of the ways the pandemic has impacted Utahns is how they choose to commute and spend time outside with family.
The number of bicycle trips has increased dramatically over the past several months, according to the Utah Department of Transportation. Utahns are now getting outside more and driving less.
Mike West, a 33-year old married father of two young children who resides in Daybreak, recently switched to cycling as the family's primary mode of transportation because of COVID-19. When the pandemic reached Utah, a friend agreed to let the West family borrow his tricycle cargo bike to see how they would like it.
The Wests have an 8-year old son with special needs. After seeing the enjoyment he experienced following the first ride, they immediately decided to make it a staple for spending quality family time together.
"I'm actually a city planner by trade, so I've always loved the idea of walkable, bikeable cities," West said. "In the past year I started just doing more research on biking and about a year ago, I found that this video on YouTube that showed all these cargo bikes in the Netherlands and I thought it was so cool that you can put a family in a bike and they can bike around. I never even knew that existed."
The first time the family took a ride together, he said they were all hooked.
"Ever since, our kids kind of loved it more and more, especially my son, Jason. He's got some rare genetic syndrome and he can't bike himself really. He's got a bike, but he can't really go very far," West explained. "But now that he's in this (cargo) bike, it's like his happy place. He just giggles and smiles and loves it."
The family used their tax refund to buy a cargo bike of their own and biking has now become their primary mode of transportation.
"It's about being together as a family, but also just being outside you get more of the sensory input on a bike than you do in a car because you're within the environment," West said.
"You feel the wind in your hair and you can see things, you hear the noises. We'll be riding the bike and we can just stop and look at the ducks on the side of the lake right there by our house, so you get a lot of more interaction and engagement with your environment on a bike than you would in a car. That's one thing about it that they love."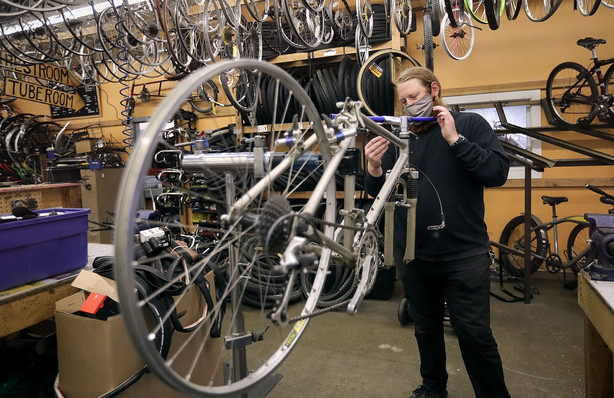 He noted that since he's had to work from home so much, having the cargo bike allows him to get out with his wife and kids to avoid being 'cooped up" all day. He also uses it to run errands, and as long as the weather permits they will continue to ride rather than drive.
UDOT officials say there has been a huge rise in active transportation, such as walking and biking. Bike trips have increased 52% in 2020, while hiking has more than doubled in some popular locales, which is not only having a positive effect on traffic congestion, but also on the physical well-being of community members.
"With our Travel-wise program, we're always encouraging people to use active transportation, which is a fancy way of saying running or walking or biking to work," said UDOT spokesman John Gleason. "We've seen a huge increase in the number of people that are using our trailheads, walking and biking, since the beginning of the pandemic. And in some instances, we're seeing a more than 300% increase in use of the trailheads from last year to this year, which is nothing short of incredible."
He said the agency is encouraging more alternative transportation modes to alleviate growing traffic congestion along the Wasatch Front, and it's also a way to enhance one's mind and body.
"That's what we're hearing from so many people that there's very few bright spots with the pandemic, but if you had to point to one, this would be it," he said. "More people getting out and exercising, using active transportation with walking and biking to get to where they're going, which reduces congestion on our roads and is just great for your well-being."
Gleason warns those walking and biking to wear bright clothing to make themselves visible to motorized vehicles, and for drivers to look out for the rising number of people using alternative modes of transit.
"We're just asking drivers to watch out for bikers and pedestrians in places maybe where they wouldn't normally see them, and for bicyclists and pedestrians to make sure that they're seen," he said. "Make sure they understand that just because they see the vehicles doesn't mean that the drivers of those vehicles see them. Do everything that you can to follow the rules of the road for both drivers and pedestrians."
×