Editor's note: This article is a part of a series reviewing Utah and U.S. history for KSL.com's Historic section.
SALT LAKE CITY — Finding pieces of Utah history is easier than ever before thanks to a new state website.
Utah Division of State History unveiled a brand new markers and monuments website, signally its largest online upgrade in two decades. The upgrade allows anyone to search for places of history throughout the state by searching for a specific marker, history within a general area, or markers for specific events — like historic sites or war memorials.
State historians say they believe it'll be an improvement for those interested in history in their own community, for those coming to Utah, or even Utahns traveling to check out other parts of the state.
"I think what research has shown is that people have really become interested in history when they see it manifested tangibly in their own communities, whether that be through the preservation of historical buildings or seeing a roadside marker along a street," said Jedediah Rogers, senior state historian for the Utah Division of State History and co-editor of the Utah State Historical Quarterly.
"People become engaged and invested in their history and interested in what else might be said about their local history," he added.
The database currently showcases over 1,500 history markers and monuments set up across the state, from This Is the Place Monument in Salt Lake City to reminders of the Topaz Internment Camp to even more localized history like the site of the first house built in Hooper.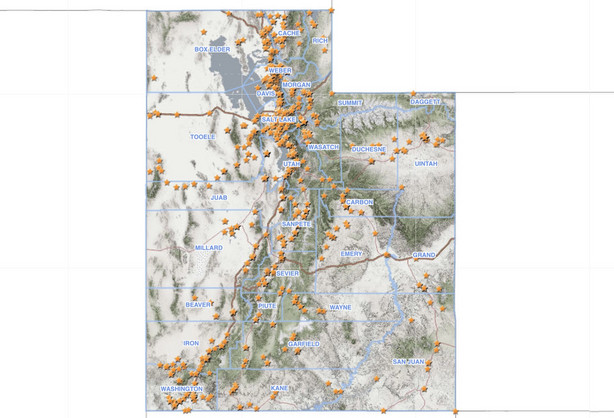 People can find what the marker is and where it's located, as well as when it was placed and the general commemoration circumstances. In several cases, people can even view an image of the marker or monument itself. Work is still underway to add the text of every monument.
The history still missing
Nearly all of what's currently online is what the state had recorded in the 1990s. Rogers explained that the division was tasked by the state to create and maintain an inventory of Utah's historical markers as a tourism tool. A statewide survey of historical markers was completed in 1996.
There are quite a few markers from after 1996 on the site now, but most of what's there is what was surveyed about 25 years ago. State historians have started reaching out to various historical groups in the state so they can put together a larger, more updated inventory of markers.
It should also be noted that the update comes at a time where there have been earnest conversations across the globe about what facets of history should be memorialized. Many Confederate monuments in the United States' southern region have been removed or torn down during protests. Statues of Christopher Columbus and other people in history have also been removed over the past few years.
In Utah, the Division of State History will review historical markers but generally doesn't place markers for historical sites, Rogers said. Most monuments and memorials were created by private individuals or organizations. Monuments in Utah often memorialize life in the state after pioneers settled in 1847, and they often skew toward the settlers' perspectives.
There are exceptions to this in recent history. For example, the state, in coordination with the Paiute Tribe, placed a marker in Circleville, Paiute County, in 2016 to memorize members of the Koosharem band of the tribe who were killed by settlers in an 1866 massacre.
"We don't have a whole lot of markers like that, that are from the perspective of indigenous and native people's state," Rogers said. "I guess what sticks out to me is that (most markers) sort of commemorating early pioneer history; and there's probably a need for us to think more, commemorate through historical markers and monuments more of the ethnic history of our state."
Newer organizations have worked to fill in some of the gaps in history among marginalized people in Utah. For example, Better Days 2020 unveiled a memorial across the street from the Utah Capitol in August that commemorates the fight for suffrage equality in Utah. It includes references to Utah women who first received the right to vote in 1870 and covers other laws afterward that better allowed indigenous Utahns and persons of color the right to vote.
Rogers said the updated website might even offer inspiration to figure out which people, events or moments in Utah history need some sort of physical reminder.
"I hope that's a byproduct of this database," he said, "but a lot of good work is already taking place."
×