PROVO — Fans won't be returning to LaVell Edwards Stadium anytime soon.
At least not this week.
The university announced Tuesday that Saturday's afternoon game against UT San Antonio (3-1) will be played without spectators. The move, which will mark the third straight home game the Cougars have played without fans, is in accordance with the current "orange" restriction levels in place in Provo and Orem.
The decision was made "with the understanding there will not be a change in the risk designation this week," according to a statement from BYU athletics spokesperson Duff Tittle.
"With a continued effort to lower the case count in the community and current trends at BYU improving, the university hopes to have fans in the stadium on Oct. 24 versus Texas State," Tittle said in a statement.
While coronavirus numbers surge around them — including in Utah County — BYU's program has leveled off since a number of positive tests for COVID-19 forced the program to adjust schedules for two weeks and indefinitely postpone a game with Army.
"The last two weeks, we've had great results in our testing and lower numbers than we've ever seen," BYU coach Kalani Sitake told local media Monday. "If we keep trending that way, I think it will help us out, not only in keeping our guys on the field but trying to minimize the spread on this football team and in the program. We've seen the numbers really trend our way.
"That's a good sign."
The Cougars, who initially established a plan to allow as many as 6,000 fans — and eventually up to 24,000 — at home games, have played all three games during their blistering 3-0 start in empty stadiums, including a 55-3 win at Navy in the season opener played due to coronavirus restrictions in the Baltimore area.
"I would like to see our fans there; I think it would be fun to have players' families and fans represent," Sitake said. "But if not, we'll have to just keep doing what we've done. We've had three games now with no fans, and we've just got to keep the passion and excitement going.
"We're not going to be worried about fans in the stands, or anything other than focusing on UTSA, in getting a competitive week of practice, and hopefully we match up well on Saturday."
A week after that game, BYU was forced to temporarily shut down its program and indefinitely postpone its Week 2 matchup at Army as a result of a "small number" of positive tests within the program, as well as the resulting contact tracing and quarantines.
Ever since that moment, the Cougars have redoubled their efforts to halt the spread of the virus, specifically within the program, testing players, coaches and essential staff three times a week and practicing mask-wearing and social distancing whenever possible.
"There's a collection of things that have helped us," Sitake said. "We're focused exclusively on school, a lot of it is online, as well as football. I don't think there's as much of a social part of it, and I think that's what these guys are built around anyway.
"Maybe it keeps them a little extra focused, and I'm OK with that."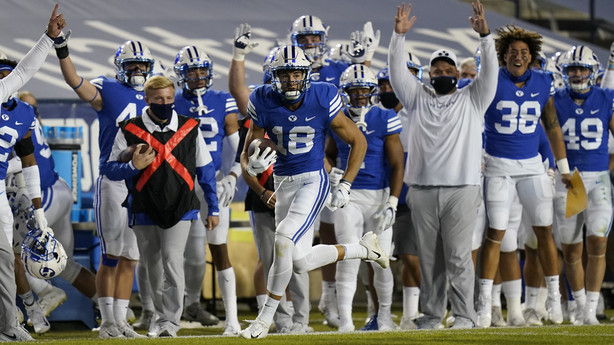 Running back Tyler Allgeier agreed with his head coach, saying that though the Cougars saw an increase in positive tests at one point, they've been working diligently to keep the spread of the virus under control — as much as they can, at least.
"We wanted to follow the precautions, even before the season was up in the air," Allgeier said. "We really bought to that in the summer, when we knew if we wanted to have a season, we needed to tighten up.
"I think that really trained us to be as good as we are today."
Earlier Tuesday, Salt Lake City mayor Erin Mendenhall requested permission from the state to move Utah's capital city back to the "orange" restriction levels as a signal to citizens of the alarming rise in COVID-19 cases.
Utah reported 716 more cases of the coronavirus Tuesday, with six more deaths, bringing the state's total to 70,439 confirmed cases and an estimated 20,417 active cases.
Saturday's game, which will kickoff at 1:30 p.m. MT, will be televised on ESPN2, and heard on BYU Radio and KSL Newsradio.
×
Related Stories