Estimated read time: 8-9 minutes
This archived news story is available only for your personal, non-commercial use. Information in the story may be outdated or superseded by additional information. Reading or replaying the story in its archived form does not constitute a republication of the story.
SALT LAKE CITY — Over the past eight months, we've experienced nation- and world-changing events. From coronavirus, to an earthquake, to the fight for social justice, to a contentious election, it's safe to say 2020 has pushed us to the limits of our own sanity at times.
But despite the overwhelming negativity out in the world, I still believe that better days are coming. Not necessarily because of a specific belief, but because there are people, both of faith and of no particular faith, who continue to listen to and help others, as well as send messages of positivity in the midst of madness.
This past weekend, I, not a member of The Church of Jesus Christ of Latter-day Saints, sat down and listened to general conference to see what nonmembers — and anyone else — could learn and use in their everyday lives.
I've done this for a while now and the mission is the same: It's all about finding positive messages from anyone who is trying to help others, despite our differences in faith, or no faith, and everything else. It is possible to find commonality in our desire to live better lives for the betterment of all.
With that being said, here are three things I got out of this past weekend's general conference.
__
As I pray for the Lord to open my eyes to see things I might not normally see, I often ask myself two questions and pay attention to the impressions that come. "What am I doing that I should stop doing" and "What am I not doing that I should start doing?'" Months ago, during the sacrament, I asked myself these questions and was surprised by the impression that came. "Stop looking at your phone when you are waiting in lines." — Sister Michelle D. Craig, first counselor, Young Women general presidency
I really enjoyed Sister Craig's talk where she discusses how a few months ago she began to stop automatically staring at her phone while in line at the store. One morning while Sister Craig was in line at a store, she almost pulled out her phone, but she remembered to restrain herself and began to look around. She then saw an elderly man who was buying cans of cat food. Sister Craig struck a short conversation with the man who eventually told her it was his birthday.
"My heart melted," she said. "I wished him a happy birthday and offered a silent prayer of thanks that I had not been on my phone and missed an opportunity to truly see and connect with another person who needed it."
This lesson hopefully is universal: It's best to slow down, stop being distracted and live in the moment.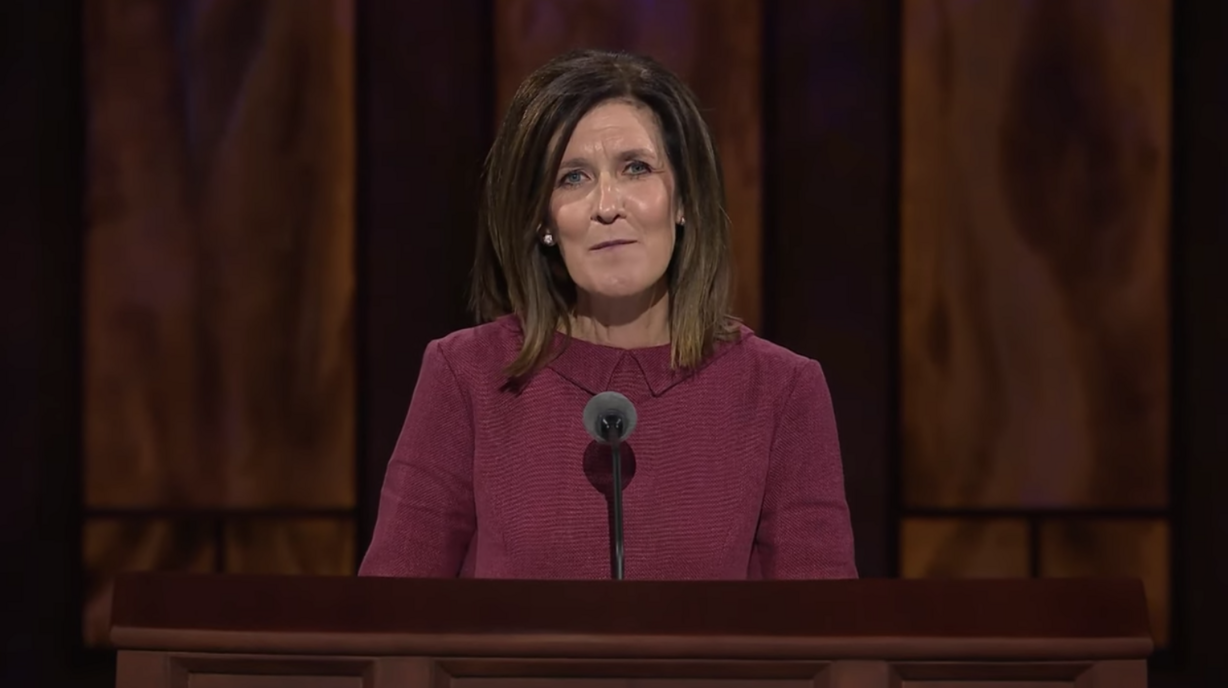 Social media is such a dominant force and tool in our world. It's easy to get caught up in everything we read and see on someone's post or what's trending. I've had moments where I'm looking at my phone to see what others are saying or even to know what to look forward to. Looking back, it's a bit sad that I, like others, am not doing a better job of living in the now.
There's nothing wrong with knowing what is happening and trying to look ahead; however, it feels like we've become so distracted with what is happening around us that we do not slow down and focus on what is right in front of us.
Sister Craig likely helped that man feel better about his birthday just by making small talk. Thanks to her friendliness, she not only lived in the moment but decided to take action to see if she could make the moment more meaningful to someone else. As a result, she and the man received something in return: a conversation, kindness and a connection with a complete stranger.
I enjoy social media like most people; however, as I get older, I realize how restrictive it can be. Sister Craig's story is a good example of what we are capable of if we slow things down. Hopefully, as social media and technology continue to grow, we will become more aware and will be just as eager to take in the moments we might otherwise deem as minor.
You never know what you might miss out on if you're just staring and scrolling on your phone.
Lastly, while phones and social media are one aspect of distraction, they are not the only ones. Overthinking things, stress, negativity and even depression are other things that stop us from living in the now. If you're in this boat, seek help and guidance from professionals or mentors to help you try and overcome these things.
There's nothing wrong with looking a bit ahead, but remember we are all living in the now and the moment is all we, for the most part, can control.
__
As a fighter pilot and airline captain, I learned that while I could not choose the adversity I would encounter during a flight, I could choose how I prepared and how I reacted. What is needed during times of crisis is calm and clear-headed trust. How do we do this? We face the facts and return to the fundamentals … — Elder Dieter F. Uchtdorf, Quorum of the Twelve Apostles
Elder Uchtdorf gives a good example of what we all need to do: learn how to overcome adversity.
I don't think there's anyone who actually looks for adversity, but it finds us from time to time in our lives. Yes, it's important to find new challenges in life to help us grow. But as I'm sure you know, not all challenges are won, and some of them even leave us mentally and even emotionally scarred. That's why it's important to be prepared for whatever happens, as Elder Uchtdorf said. While we can't prepare for every scenario that might come our way, we should prepare as much as we can. It's the only way to limit the disappointment or frustration that might proceed.
During adversity, it is best to stay calm, as Elder Uchtdorf said. He mentions clear-headed trust in his talk. While he is implying a trust of faith, one can also modify it to trust in the process that one is going through. We've heard the term "trust the process" before, and while it sounds like a cliche, there is a lot of truth in it. One has to believe that the process of working toward a goal is working. Setbacks are part of the process and we have to accept them.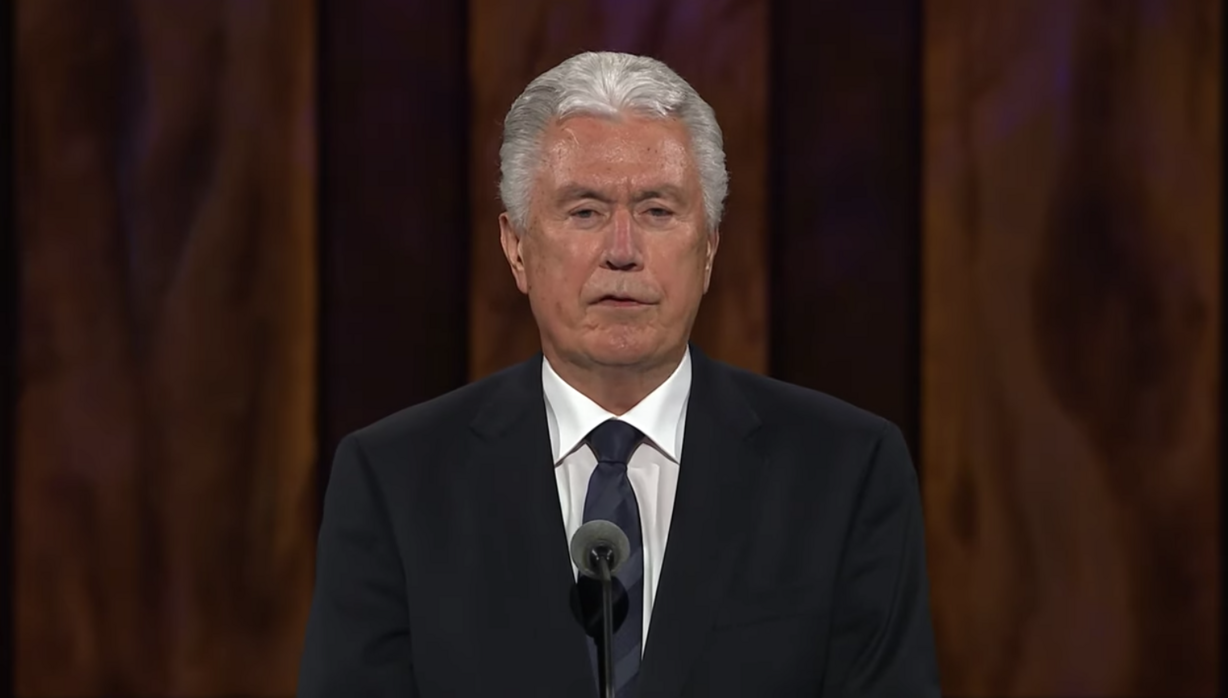 Lastly, Elder Uchtdorf said one must face the facts and go back to fundamentals. This is true beyond faith — we all must "go back to the lab," if you will, whenever we have faced or are in the middle of adversity.
And in 2020, a lot of us have had to go back to the lab.
Often facing facts is simply accepting reality. If we face adversity and, for some reason, don't do well, it's OK to review what could've been done and accept the result. Of course, you can go back and try to make things better, depending on the situation. But there are some things that we just didn't do well and need to accept it. Use it as a lesson.
They say practice makes perfect. I'm not sure I agree, as perfection is nearly impossible. But one thing I believe is that practice builds confidence. When Elder Uchtdorf said return to the fundamentals, it felt to me that this means when facing adversity, sometimes the fundamentals are what help you not only get through adversity, but overcome adversity as well.
Breaking things down into manageable, fundamental steps and taking those steps one at a time allows you to work through challenges a piece at a time. For people of any faith, they likely go back to their teachings or even reading their scriptures. But the fundamentals apply to everything, not just faith. For instance, having confidence in oneself is a fundamental, so is slowing down and thinking back to what you can work on to improve yourself mentally or emotionally is going back to the fundamentals.
__
Sometimes we get impatient when we think we are, "doing everything right" and we still do not receive the blessings we desire. — Elder Jeremy R. Jaggi, Quorum of the Seventy
The righteous are not given a free pass that allows them to avoid the valleys of shadow. We all must walk through difficult times, for it is in these times of adversity that we learn principles that fortify our characters. — Elder Dieter F. Uchtdorf, Quorum of the Twelve Apostles
Both Elders Jaggi and Uchtdorf touched on a similar point during their individual talks: Difficult times happen to everyone.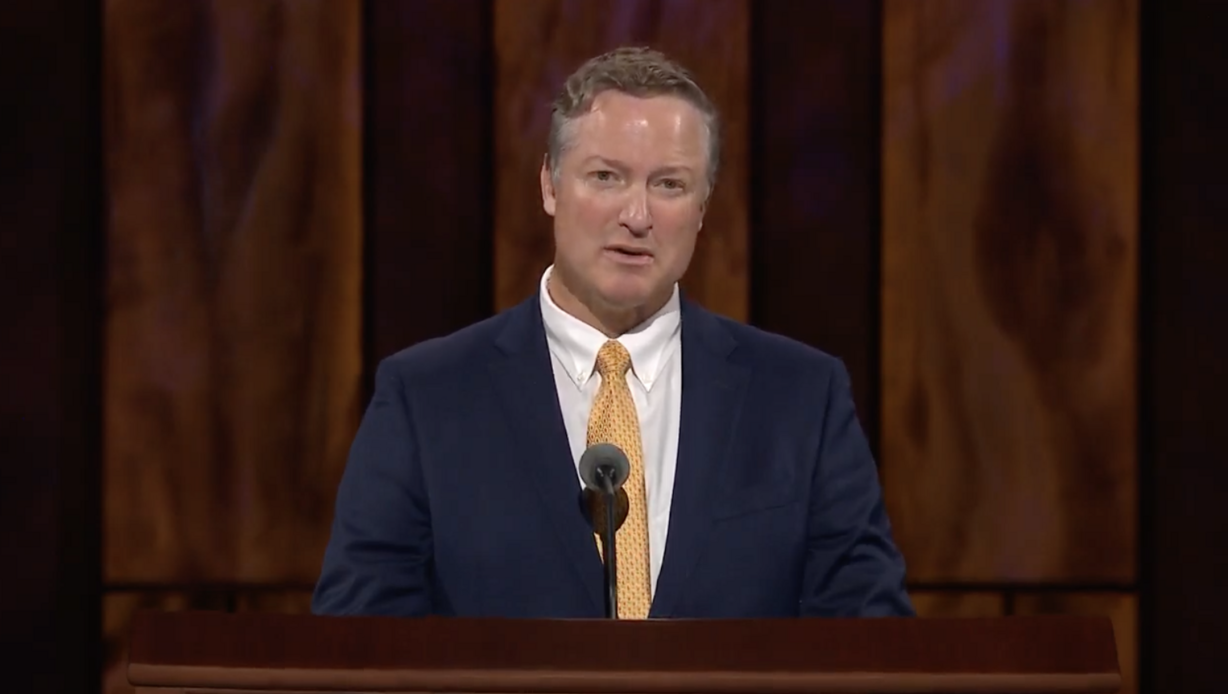 Seems like whenever something bad happens, or we see something bad happen to someone who "does everything right" or is "a good person," it seems we all ask the same questions: Why did this happen to \? (He/she/they) didn't deserve this!
I'm not going to make it complicated: Bad things happen to all of us, regardless of being "good" or "doing everything right." That's life, and even though we try to avoid negativity and bad things, they seem to find us.
To Elder Jaggi's point, patience is important; we don't always get what we want or feel like we deserve. It feels like hard work should be enough, but sometimes fate, luck, life or destiny don't comply with your desires.
As Elder Uchtdorf said, we all go through difficult times. But what he said after that is key: It's through the tough times we learn those lessons that make us stronger. If everything were easy, we'd never be mentally strong. Adversity does strengthen you and your character in the long term.
You've got to learn and get back up after adversity. Once you overcome adversity, the feeling will be one of satisfaction. As Michael Jordan once said: "Nothing of value comes without being earned."
×
Related stories