PROVO — BYU officially added a game with San Diego State to the 2020 football schedule Friday morning, something that was teased when the Mountain West released its full schedule Thursday afternoon and had a "to be announced" pinned to the Aztecs' seven-game conference schedule.
True to form — and a day after adding Boise State back into the Nov. 7 slot on its schedule — that game turned into San Diego State's trip to Provo, a game originally scheduled Nov. 14 that was flipped to Dec. 12 after the conference opted to postpone the fall football season, then abruptly jumped back in last week.
"I'm giddy that we have a game tonight, and I don't know how it's going to go next week," BYU athletic director Tom Holmoe said. "I'm trying to live in the moment, and not live in the past."
So Cougars-Aztecs is back on, the latest installment of a 37-game, one-time conference rivalry that BYU leads 28-8-1. The two teams will meet for the first time at LaVell Edwards Stadium since BYU left the Mountain West in 2011 — a significant milestone from a school that has had coaches and some administrators who were upfront and vocal against the Cougars' "declaration of independence."
Since declaring independence, BYU has leaned on a significant number of Mountain West teams — mainly regional rivalries like Utah State and Boise State, with a few exceptions — to aid Holmoe's bid to line up a competitive schedule.
That won't change any time soon, with the Cougars set to play two Mountain West teams in 2021, three in 2022, and three in 2024, to name a few examples.
And while some universities were vocal about BYU's move to independence in the past decade, those attitudes are changing, too.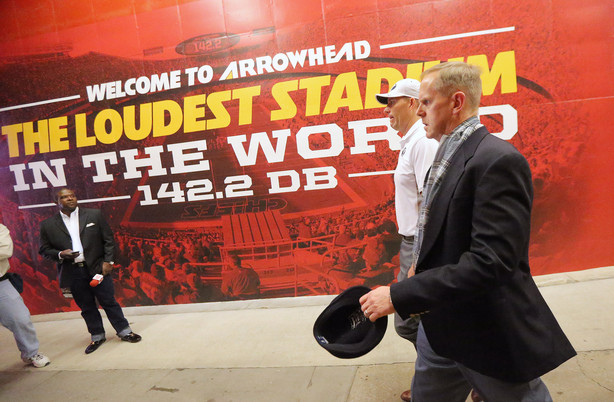 "I'd say 9 years ago, this wouldn't have happened," Holmoe said Friday during his annual media summit with local reporters. "It was a tough break for everybody involved, and there were some hard feelings. But the people involved are good people; some ADs are gone, and others have come in. The Mountain West staff is very experienced, from top to bottom, and they have a lot of contacts. They're very wise about games.
"I would say that through the years coming back together, we've scheduled more and more games with the Mountain West Conference. Thankfully, too, because they're regional teams and we have really good rivalries through the years. Some of the fans still hold some hard feelings, but I really feel grateful to the individuals within the Mountain West Conference and the conference, as a whole. Without them, this wouldn't have happened."
Holmoe added that "the same thing is true with the Pac-12," noting particularly rivalry games like USC-Notre Dame that have helped open up the Cougars to fill in the gaps of conference scheduling.
"It's good to have friends out there," he added.
Asked if the Aztecs would be the last game added to BYU's schedule, Holmoe was quick to say "I don't know." San Diego State is the 10th opponent on the Cougars' schedule, a marvel after BYU was left with as few as two opponents at one point following a slew of cancellations by the Big Ten, Pac-12 and Mountain West.
"I'm not being coy about it. I met with people last week, and I didn't see Boise State or San Diego State being real," Holmoe said. "As an independent, we look at openings differently than conferences do."
For now, he'll enjoy the Cougars' Friday night lead-in to Latter-day Saints' general conference weekend against Louisiana Tech, as well as the rest of the currently scheduled games — knowing that in the year of COVID-19, nothing is guaranteed.
It puts a new meaning to the coaching mantra of "taking one game at a time" and keep every door cracked open for a potential readjustment.
"The way things are going right now with the season, I really believe that we take it a week at a time," Holmoe said. "We've seen a number of postponements, and it's probably best — like these games right here, we didn't anticipate this happening three weeks ago. So when the stars aligned, we were able to move quickly.
"One of the benefits of being independent is that we don't have a league that we have to go through logistics of scheduling within a league; it's very complicated when those conferences have openings and postponements."
BYU 2020 football schedule (conference)
Sept. 7 — 55-3 win at Navy (American Athletic)
Sept. 26 — 48-7 win vs. Troy (Sun Belt)
Oct. 2 — vs. Louisiana Tech (Conference USA)
Oct. 10 — vs. UT San Antonio (Conference USA)
Oct. 16 — at Houston (American Athletic)
Oct. 24 — vs. Texas State (Sun Belt)
Oct. 31 — vs. Western Kentucky (Sun Belt)
Nov. 7 — at Boise State (MWC)
Nov. 21 — vs. North Alabama (FCS)
Dec. 12 — vs. San Diego State (MWC)
**BYU at Army (FBS Independent) indefinitely postponed
×
Related Links