PROVO — BYU's 2020 schedule just got a lot better.
The Cougars announced the resumption of their series with Boise State on Thursday afternoon. The two teams will meet Nov. 7 at Albertsons Stadium in Boise, Idaho, the originally scheduled date in a 10-game series finalized several years ago.
"The annual game between BYU and Boise State has become a much-anticipated regional rivalry between two universities with great football traditions," said BYU athletic director Tom Holmoe. "We are pleased the Mountain West Conference determined to play football in 2020 and worked with Boise State to allow this previously scheduled non-conference game to be played."
Kickoff times and broadcast information will be announced at a later date, but the broadcast is likely dependent on the Mountain West's current television partnership with Fox and CBS. The networks could shift several games to Thursday or Friday, at their discretion, according to a release from the conference.
The Broncos announced the date as part of its eight-game Mountain West schedule released Thursday. That schedule, which was teased last week by Mountain West commissioner Craig Thompson when the league announced its intentions to play during the 2020 season, includes a season opener Oct. 24 against Utah State.
In addition to the Aggies and Cougars, Boise State will also face Air Force on Oct. 31. The Falcons will face Army as part of a Commander-in-Chief's Trophy series game Nov. 7, leaving one Mountain West team with an open date — in this case, the Broncos.
BYU's insertion into the schedule allows the Falcons to keep its rivalry games with the other two FBS service academies. Air Force will host Navy at 4 p.m. MT Saturday. It also allows the Mountain West to temporarily dissolve divisional games, with the teams with the top two winning percentages advancing to the Mountain West championship game Dec. 19.
"We are excited to get our student-athletes back on the football field this fall," Thompson said in a news release. "The shift away from a two-division format was necessary to optimize the schedule and allow for maximum flexibility given the various constraints which had to be considered. Inasmuch as the season begins with an uneven number of conference games, and the possibility exists additional games may be lost to COVID-19 challenges, the procedures for determining the participants in and location for the MW Football Championship Game were adapted to accommodate a range of outcomes in as equitable a fashion as possible."
The Broncos are coming off a 12-2 season a year ago, including an 8-0 mark in Mountain West play en route to the league championship and a spot in the Las Vegas Bowl. Boise State, which leads the series with BYU 7-3, suffered its only regular-season loss in a 28-25 setback at LaVell Edwards Stadium in Provo.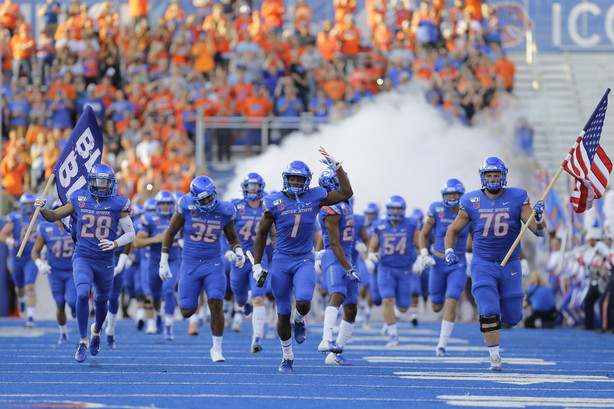 BYU's ninth game
Boise State becomes the ninth team on BYU's schedule in 2020. But there's little argument that the Broncos are the best team on the No. 22 Cougars' current schedule, which features wins over Navy and Troy, and also includes UT San Antonio, Houston, Texas State, Western Kentucky and North Alabama.
The Cougars also have a game at Army that was postponed Sept. 29, and has not been cleared to make up. Both the Cougars and Black Knights have open dates Nov. 28 and Dec. 5, though Army will travel to play in the annual Army-Navy game Dec. 12.
Also included in the Mountain West's release is San Diego State's "to be announced" game Dec. 12. That is not an "open date," as Air Force announced Dec. 12, but is simply labeled as a game yet to be announced. The Aztecs had a game Nov. 14 at BYU canceled when the Mountain West initially postponed the football season, though both sides maintained a desire to continue that series.
BYU continues the 2020 season Friday against Louisiana Tech. Kickoff is scheduled for 7 p.m. MT on ESPN2.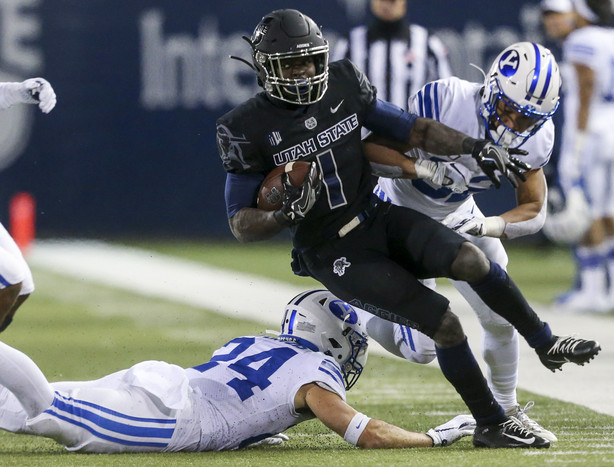 Utah State's schedule
The Aggies also released their 2020 schedule as part of the conference's announcement Thursday afternoon, beginning with the Broncos on Oct. 24 and featuring eight-straight weeks of games with no open dates.
The home opener will be Oct. 31 against San Diego State, with dates subject to change due to television agreements.
Here's Utah State's complete schedule, as it currently stands:
Oct. 24 — at Boise State
Oct. 31 — vs. San Diego State
Nov. 7 — at Nevada
Nov. 14 — vs. Fresno State
Nov. 21 — at Wyoming
Nov. 28 — vs. New Mexico
Dec. 5 — vs. Air Force
Dec. 12 — at Colorado State
🏈🏈🏈 2020 SCHEDULE 🏈🏈🏈

📰: https://t.co/ksvMAe9dOspic.twitter.com/S7YMJVZc3D

— Mountain West (@MountainWest) October 1, 2020
All games are also subject to local, state and federal regulations with regards to the novel coronavirus pandemic. Utah State is also working on a plan that would allow for a limited number of spectators at Maverik Stadium, subject to the approval of Cache County health officials.
×
Related Links