Editor's note: This article is a part of a series reviewing Utah and U.S. history for KSL.com's Historic section.
SALT LAKE CITY — You'll soon have a chance to check out "Hobbitville."
A portion of Salt Lake City's newest public park, officially known as Allen Park, will open to the public at noon Sunday and remain open daily during daylight hours afterward. Some hours may change during the winter, city officials said.
"The preservation of this one of a kind space in our city is an important milestone for us, and for generations of Salt Lakers to come," said Salt Lake City Mayor Erin Mendenhall in a statement Thursday. "I am happy that the day has finally come when everyone will be able to see and experience what a special place Allen Park is."
The unique park, located just off of 1300 East and across from the Westminster College campus in Sugar House, was home to Dr. George Allen and Ruth Larsen Allen. They purchased the property in 1931 and used a good amount of the space for their exotic bird collection, as Allen was president of a Utah zoological society at the time.
As Mendenhall pointed out in a video announcing the opening of the park Thursday, Allen was "instrumental" in the creation of both the Hogle Zoo and Tracy Aviary, which each opened in the 1930s. The property was home to creatures ranging from raccoons to a sandhill crane and even an elephant.
It also got the nickname "Hobbitville" because the small houses and log cabins found on the land looked like homes for hobbits. There are also signs with interesting sayings and quotations on them, which date back several decades.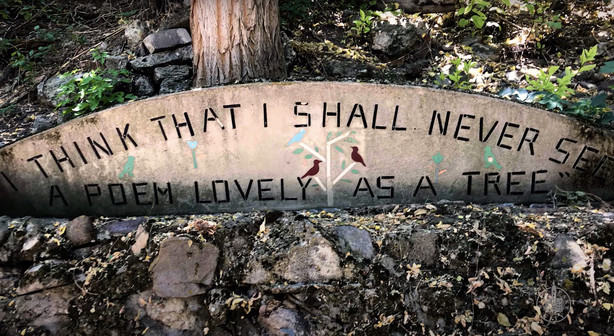 Even over 70 years ago, reporters struggled to describe the place.
"'It's out of this world' — that is the only phrase we can think of which will aptly describe the home and ground of Dr. and Mrs. George A. Allen at 13th E. and Allen Park Dr.," the Salt Lake Telegram reported in an Aug. 12, 1949, edition of its newspaper.
"Entering through stone pillars one goes from the hustle and traffic of 13th East into a haven of trees, birds and quiet. … As one rides down the winding driveway, he is intrigued by the large cement plaques set in flower beds and adorned with title figures and letters bearing famous quotations from Shakespeare and Omar Khayam," the report continued. "These are Dr. Allen's latest doings. And the clever way which the title has been used shows that our host has much of the artistic."
🦚Allen Park🦚 will open to the public THIS SUNDAY! I'm so excited for you to see this unique space, which will be preserved for the public for future generations. #utpolhttps://t.co/q0G3dBk81cpic.twitter.com/Xv78Ckkdsr

— SLC Mayor Erin Mendenhall (@slcmayor) October 1, 2020
For many years, the Allens opened the private space for visitors to check out on Sundays. In fact, Mendenhall said the city decided to open the park this Sunday as a nod to that tradition. The city announced earlier this year that it had scooped up the 7-acre property for $7.5 million to turn it into a public park amid fears it would be purchased, destroyed and turned into new development.
There is no on-site parking and the city encourages people to get to the park by either taking Utah Transit Authority's 220 bus route or parking at nearby Sugar House Park and walking to Allen Park.
People can enter the park from its 1300 East entrance at Allen Park Drive. From there, visitors can walk the distance of the road that once served as a driveaway. The park features "a vibrant and mature urban forest, home to peacocks, squirrels and other wildlife," city officials said. Emigration Creek also runs through the park space.
Mendenhall said there are plans to create a long-term preservation plan for the park over the next few years.
David Amott, executive director of Preservation Utah, said the group plans to work with the city to help restore, interpret and program Allen Park for "the present moment and for years to come."
"Few sites in Salt Lake City can claim as long and as powerful a hold on the public imagination as Allen Park," he said in a statement Thursday.
×
Related Stories