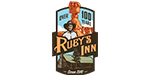 This story is sponsored by Ruby's Inn.
A visit to Southern Utah to explore the canyon belt of the state wouldn't be complete without a stop in Bryce Canyon. The 35,835 acres of magic in Bryce Canyon National Park cannot be overstated; from the towering hoodoo spires to the majestic views of Bryce Amphitheater to the diverse ways of exploring and enjoying the park, it's truly a location that has something for everyone.
Now, perhaps more than any other time in modern history, the great outdoors has become a haven and a sanctuary. A visit to Bryce Canyon at any time of year is sure to be one to remember. Planning out your trip in advance will guarantee you the chance to make the most of every moment. Here are the top places to eat, stay and explore on your trip to Bryce Canyon National Park.
Ruby's Inn
Since 1916, the Syrett family has run Ruby's Inn, a cozy getaway from everyday life located at the very entrance to Bryce Canyon National Park. It's also within easy distance of Grand-Staircase Escalante National Monument, Red Canyon and Kodachrome Basin State Park, for those who want to make the inn a home base for a multi-park visit. Guests to Ruby's Inn get a choice between reserving roomy hotel lodgings, rustic log cabins, camping, RV hookups or one of 10 Native American-inspired tipis.
Besides lodgings, Ruby's Inn offers all the amenities a visitor could desire, including internet, a pool and hot tub, a post office, restaurants, an RV dump station, a campers store, Old West photos and access to exclusive excursions.
Hiking, horseback riding and ATV tours
Bryce Canyon visitors will want to take in the sights, and that should start with the area's most popular hike, Queen's Garden and Navajo Loop. This trail takes hikers through the most spectacular viewpoints in the park with a modest 2.9 mile loop with 600 feet of elevation gain.
Additional ways to experience the area include taking guided horseback and ATV tours. Ruby's Horseback Adventures allows visitors to "retrace trails taken by the notorious outlaw Butch Cassidy" and "discover the hidden secrets of Red Canyon, the beauty of Utah's Dixie National Forest and the solitude of the Wild West."
Ruby's Inn also offers the guided ATV tours which are a one-hour wild ride through lesser-known parts of Bryce Canyon National Park with pristine views of alpine landscape and a healthy dose of fresh, clean air.
Cowboy's Buffet & Steak Room and Ebenezer's Barn and Grill
After a day exploring the canyon, visitors will enjoy unwinding and refueling at the Cowboy's Buffet & Steak Room in Ruby's Inn Main Lodge (buffet currently unavailable). Its family-style western fare features steak, chicken, ribs and seafood. No reservation is required.
Reserve a spot at Ebenezer's Barn and Grill ahead of time so you can finish off your evening by enjoying a night of great country music performed by the Bryce Canyon Wranglers. (Due to COVID-19 restrictions, meals are currently unavailable.) Doors open at 7:00 PM and the show starts at 8:00 PM. The last show of the season will be on October 24th this year.
Take in the stunning, vibrant fall views of Bryce Canyon this autumn season at historically low rates, due to COVID-19. For an end of season staycation special, guests can pay for one night at regular price between October 19th and October 31st and get any additional nights (up to 5) at 30% off. Reserve your fall getaway or holiday staycation at Ruby's Inn by calling or booking online today.
×