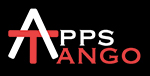 This story is sponsored by AppsTango.
It's no shock that people are spending more and more time on their smartphones—especially over the past few months. When you're stuck inside, it's much easier to become consumed in a virtual world.
Marketing firm eMarketer found adults spent about three hours on their phones in 2019. 90% of that time is spent in apps.
With that in mind, businesses should be eager to get their own app up and running. After all, when a customer downloads your app, they have your logo on their smartphone screen day after day. That's better exposure than occasionally driving by a branded billboard! Additionally, you can bring users' attention to your app with notifications, sales and promotions for ordering within the app. You have more control.
Not only does an app give you more exposure to warm customers, but you will also have more marketing opportunities in the app stores. For example, if someone is looking for an app that can find a dog walker in their neighborhood, they might search "dog walker" in an app store. If your app is branded correctly, it should pop up, giving you a new set of eyes on your business. You can also pay for your app to be featured when users search certain phrases, much like paid search ads on Google.
The great thing about finding new users in an app store is that they are ready for a product or solution. They want to download your app and benefit from what you're offering—they're the best kind of warm customers.
If you're not quite sold on an app for your business and how it could benefit your online presence, consider these figures. According to researchers at Texas A&M University, people with apps on their phones "buy 33% more frequently, buy 34% more items, and spend 37% more than non-adopters in the period after app introduction."
Of course, if your app isn't optimized for a smooth sales process, you probably won't see high numbers like that. That's where professional app developers can help.
Local support
The experienced developers at AppsTango are certified iOS and Android developers, meaning they've got you covered for all your mobile app needs. This is important because the Android and iOS operating systems are each programmed in different programming languages.
When you work with a big name company, it's easy to get lost in the crowd. Since AppsTango is a Utah-based company, you'll receive a more intimate and personal experience. You will be assigned a dedicated project manager, who will be your primary point of contact throughout the development process.
Since needs vary, you have the option to engage with AppsTango on an ad-hoc basis for support, or set up a monthly retainer if you'd like more frequent communication and service. Whichever option you choose, AppsTango is committed to helping you get the best value for your money.
Over time and as your business grows, you may decide to bring your development in-house. Not only does AppsTango support you in that process, but they plan for it. Helping you spread your wings and fly is what they do best.
Reducing your business risk
The AppsTango code is built upon popular frameworks used by many of the best teams in the world. For example, they use the React Framework for many projects, which is the same framework used by Facebook. Provided they are used correctly, these frameworks provide rules and conventions that give consistency to the work that developers create.
This means that even if the AppsTango offices get swept away in a freak Utah hurricane (anything can happen in 2020), your work is protected. Skilled development teams around the world can pick up where they left off. Not only does this significantly reduce project risk, but it should offer some peace of mind.
Additionally, AppsTango version-controls their code using an industry-standard tool called GIT. Essentially, this allows you to save your work as you go. At key milestones, developers can save their progress and GIT will remember all the file changes that form each save-state. GIT provides a history of who has worked on what, and when, which enables multiple people to safely work on a project at the same time.
Got an app idea? We can build it!
Small to medium-size businesses can extend their customer reach and market opportunity by creating a mobile application for their business. Published apps in the app store provide a way for businesses to extend their services and presence to their customers' phones and generate more service and revenue potential.
If you're ready to start ramping up your business and see the results for yourself, contact AppsTango today and let them bring your vision to life.
×