Estimated read time: 4-5 minutes
This archived news story is available only for your personal, non-commercial use. Information in the story may be outdated or superseded by additional information. Reading or replaying the story in its archived form does not constitute a republication of the story.
SALT LAKE CITY — They are technically on the opposite ends of the political spectrum, but the contenders for the 1st Congressional District race have more in common than some would think possible.
Both Blake Moore, the GOP candidate, and Darren Parry, a Democrat, believe that balancing the federal budget is critical.
They both support the need for vital support of small businesses during the COVID-19 crisis and say their regulations should be reduced.
On the pandemic front as well, deployment of vaccines needs to be a top priority and if there is another stimulus package, it should be more tailored, both said during an exchange Thursday hosted by the Utah Debate Commission.
It was even noted during the debate that Parry gifted a book to Moore he had written about the Northwestern Band of the Shoshone Nation — he is chairman — with Moore saying he plans to peel back the pages now that debate prep is over.
When Moore was presented with an opportunity to ask a question of his opponent, he inquired whether Parry, if he is defeated this general election, would support him.
One hundred percent was the answer.
Aside from the polite decorum, there were areas of disagreement, such as the Antiquities Act and if Utah should have an exemption from unilateral designations of monuments by a sitting U.S. president.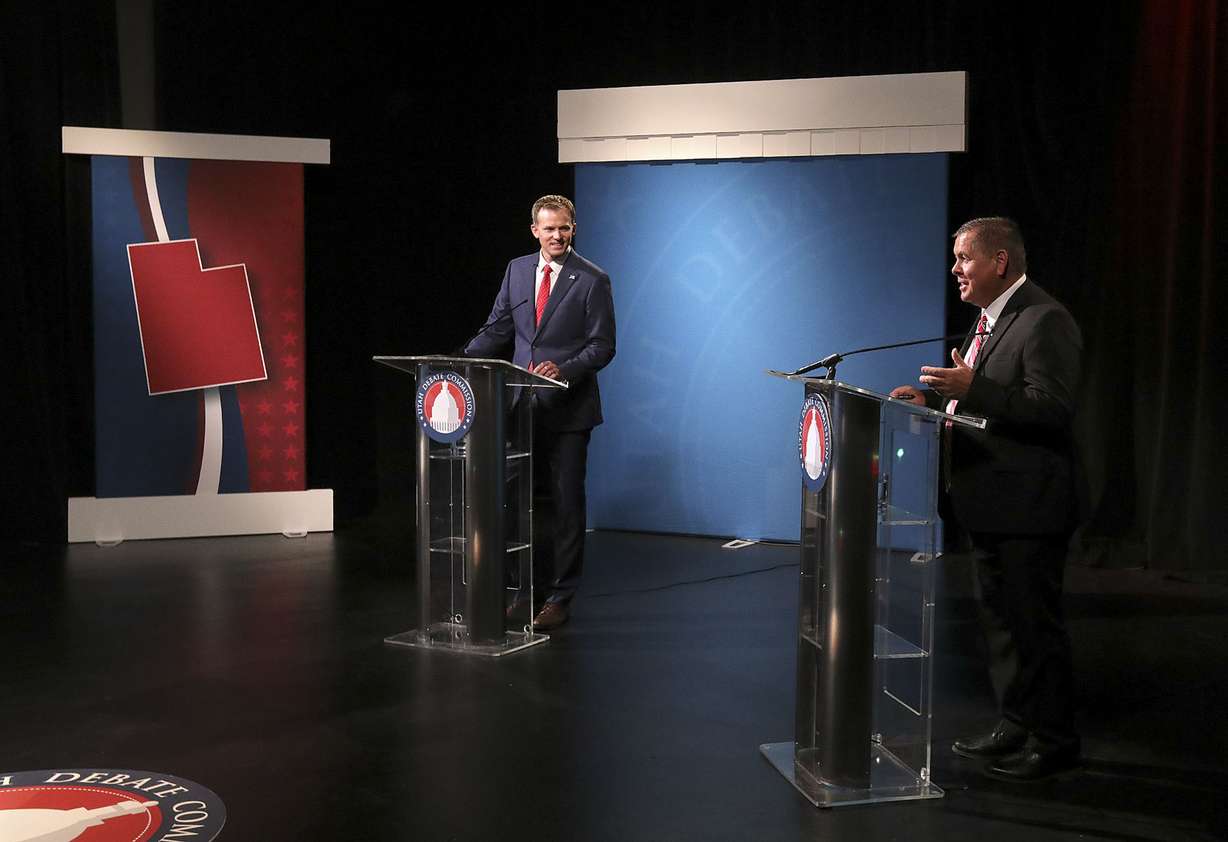 "We have to get away from executive action," Moore said, while Parry insisted that more protections needed to be afforded to public lands.
Parry, while noting that defense spending in the United States is too high, emphasized he is a strong supporter of Hill Air Force Base, where he worked his first job.
Moore said the threat of foreign nations makes defense spending imperative for the country, but he said there would be opportunities to trim waste at every level in federal agency allocations. Hill Air Force Base, for him too, is a top priority.
Tackling racial inequality and social justice issues are challenges that require building more avenues of opportunity and not abandoning the needs of marginalized communities, both candidates said.
"We have to as a matter of policy, as a society and as a community be focused not on the symptoms, but the root cause," Moore said, citing instances of officer-involved shootings of Black people.
"These are tragic. There are too many Black Americans stuck in intergenerational poverty."
Parry says he knows the issue of racial bias all too well as a Native American.
"From the day this country was founded the leaders who crafted the Constitution crafted a document that said all men were created equal — as long as you were not Black and not Native American. This is the system we have lived with forever. I come from a marginalized group. I know what it's like not to be heard and not have a seat at the table."
In other areas of agreement, both men said there is a need for more active forest management to prevent catastrophic wildfires. Parry said Native Americans fought fire by starting fires to clear out old growth.
Moore said Utah, while not facing the same pain as the West Coast this year with horrific wildfires, needs to stay on top of its game through collaborative relationships with its federal partners.
During the debate, Moore, a former U.S. Foreign Service officer, was dinged somewhat by Parry who asked him how he could in good conscience represent residents of the 1st District when he does not live within its boundaries.
The Republican candidate, a native of Ogden, said the 1st District race came up at the right time politically, but not for his family on a personal level in making a return to his roots.
He said that is the plan for the future.
Moore served a mission for The Church of Jesus Christ of Latter-day Saints in Seoul, South Korea, and finished a bachelor's degree at the University of Utah. He later obtained a master's in public policy and administration from Northwestern University. For nearly the last decade he's been with Cicero Group, a Utah-based management consulting firm, where he helped businesses grow and helped organizations solve complex problems.
Parry also served a mission for The Church of Jesus Christ of Latter-day Saints in England.
"I am a Utah Democrat because of my faith in the LDS Church, not in spite of it," Parry said.
×