CLINTON — Back in March, when state leaders recommended Utahns remain home when possible, we were just starting to get a glimpse of what a difficult year 2020 would be.
One Clinton man drew a chalk picture on his driveway for his daughter to brighten her day. Six months later, amid the trials and troubles of the year, he's transformed his entire front yard into a homage to the Disney films we all grew up with, giving Utahns something to smile about during this turbulent time.
Kelly Hertel is a veteran of the Marine Corps who works at Hill Air Force Base. Hertel is no stranger to giving back — he's worked with the Mascot Miracles Foundation and other charities, riding on his motorcycle as the Ghost Rider of Clinton. But he was a stranger to chalk art until March.
"I haven't drawn in 20 years," Hertel said. "When I started this, back on March 23, I had never chalked before. I taught myself how to chalk."
Later, as his project grew and attracted more attention, Hertel went back and painted over some of his works in acrylic. "I taught myself how to paint. And then when I started to get over here, to the walls and stuff, I couldn't hand-paint. I had to airbrush. So I went and bought myself an airbrush kit, taught myself how to airbrush, and then it grew."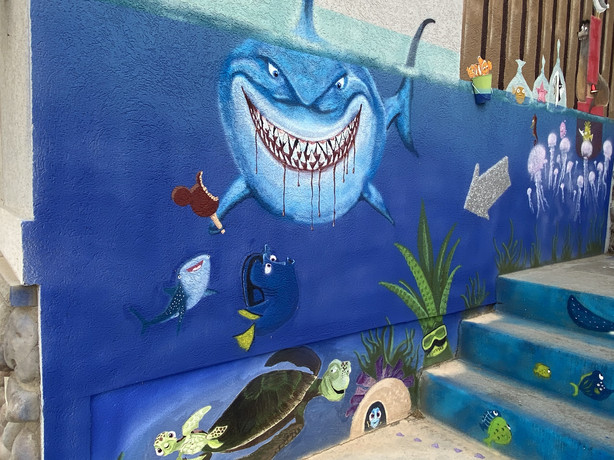 Hertel started the project in March with a drawing of Tinkerbell from "Peter Pan."
"That was for my daughter, who's 26, who lives in Kentucky," Hertel said. "I did that one for her. I had four colors to work with, and I did that one just to send a message that everything was going to be all right."
Hertel got such a positive response from the neighborhood that he decided to continue on. Hertel's art continued down the driveway, then started along the sidewalks. KSL TV visited Hertel in June, but the art has expanded considerably since then. There's now a different piece on every sidewalk section all the way around Hertel's property.
Hertel estimates he's spent over 1,200 hours on the art so far. Between his appearances on the news and his posts on Facebook, Hertel's art has drawn attention from across the country and around the world.
"The community has been so supportive," Hertel said. "Lt. Gov. (Spencer) Cox was here; he stopped by, saw me and shook my hand and thanked me for this. The city's been down here, the mayor's hooked up with me on Facebook. All my goal is here is just to spread a message of smiles."
Hertel also hopes his work will inspire a passion for Disney movies and help Utahns discover new films that came out before or after their own childhoods. "I don't want these Disney movies to be forgotten," he said. "There are people that are 30 years old that haven't even seen 'Hercules.' It blows me away. And if they're not seeing it, that means their kids aren't seeing it. There's so many generations of pictures I put out here, just so people can be inspired to go and pull them up."
That's why he chose Disney in the first place, he said — it was a common link to every generation. "When (grandparents) are going through here sharing those memories with their grandkids, or the grandkids are sharing their memories of their favorite character with their parents," Hertel said, "I knew I could pinpoint and bounce around each generation as I was doing this, and they could all relate to it, and have something they knew from their life that was a happy moment they could key in on."
Next on Hertel's to-do list is to get the home ready for Halloween, something he's already begun with "Nightmare Before Christmas" characters in the front yard and figures from "Coraline" painted onto the house. Of course, Halloween and Disney animation don't always go together, and Hertel anticipates he'll have to wash off his creations soon as the weather begins to change. He recommends that anyone who wants to see the Disney pictures visit his home this weekend.
Hertel says the best times to visit are in the mornings and evenings. Visitors can look for the "hidden Mickeys" Hertel's hidden in his pictures, disguised depictions of Mickey Mouse's iconic head and ears, and possibly catch Hertel working on his latest additions.
"This is free," Hertel said. "This is for the world. And because Disney provided this for me, I wanted to borrow off of Disney and share their message of smiles and hope."
Hertel's home is located at 1167 N. 1120 West in Clinton. Check out more of Hertel's artwork in the photo gallery.
×
Photos