Estimated read time: 4-5 minutes
This archived news story is available only for your personal, non-commercial use. Information in the story may be outdated or superseded by additional information. Reading or replaying the story in its archived form does not constitute a republication of the story.
SALT LAKE CITY — Tenants in Utah have a little more than three months to tap into millions of dollars in federal aid that can help them stay in their homes or catch up on overdue rent.
But that financial help made available by the U.S. government cuts off at year's end, Salt Lake County Mayor Jenny Wilson said Wednesday.
"The good news is there is relief. The bad news is we have not seen an extension of CARES Act dollars," Wilson told reporters Wednesday in Salt Lake City. "Just like Cinderella had to leave the ball, this community, unfortunately, has a limit for the use of CARES Act dollars."
Wilson joined other elected and community leaders Wednesday, urging Utahns to apply for the aid available through the Coronavirus Aid, Relief, and Economic Security Act as soon as possible, regardless of their immigration status or how much money they were making before the onset of the pandemic.
Many who seek help from Comunidades Unidas, a nonprofit serving Utah's Latinos, have worried they will need to repay the money or that it will prevent them from obtaining lawful permanent resident status, said Executive Director Mayra Cedano. She and her employees are working to dispel those rumors.
"We're having to do a lot of education in terms of trying to minimize the fear in our communities," Cedano told KSL.
So far, the state has paid out $2.1 million in federal coronavirus relief money to help Utahns cover rent, parceling out an average of $1,327 in each check, according to figures provided by the Department of Workforce Services.
The agency doesn't track how many people it has helped, but said it has granted and paid the bills for 1,582 applications so far, including multiple from the same tenant. A person must apply separately each month.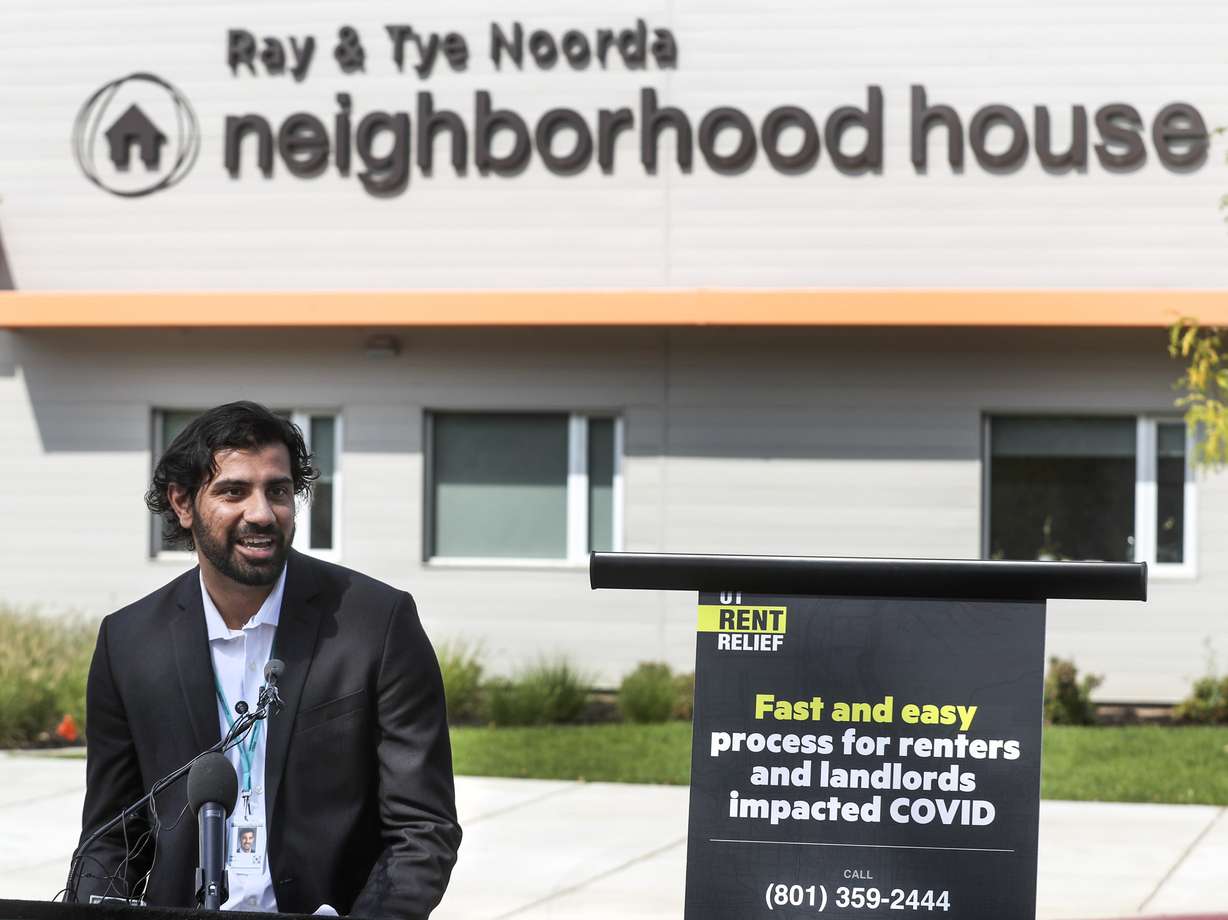 A newer program allowing landlords to draw down the federal money on behalf of down-on-their-luck renters has issued roughly $186,000, said Jonathan Hardy, director of the Housing and Community Development Division with DWS.
It means the vast majority of the $20 million that state lawmakers set aside for rent assistance remains untapped.
And the money doesn't just apply to those out of work. For example, a person who had to get a new job amid the pandemic and now must fork over more each month for child care is eligible, Hardy said.
"Some people aren't used to asking for help but have been affected by COVID-19," Hardy said. "We know this is an issue. The last thing we want to see is people Dec. 31 owe thousands of dollars on their rent when we could have been helping them all along."
Those among Salt Lake County's 45,000 renters can also obtain up to $2,000 a month from additional federal relief money obtained by the county and by Salt Lake City — about $10 million total.
Applicants can call Utah Community Action at 801-359-2444 to find out if they're eligible. Individual renters must have an income under $61,000, a threshold that ticks up for each additional person in the household.
The organization is now fielding 600 to 700 calls a week, but can handle more, said Sahil Oberoi, director of housing and case management. It has shelled out more than $1.3 million in rent help, allowing roughly 625 households to stay put.
Salt Lake City Mayor Erin Mendenhall said the entire community fares better when those living on the edge can stay in their homes.
"It has to do with everyone's physical and mental well-being," Mendenhall said. "It affects our economy directly. It affects our educational systems. It affects our city's children."
Mendenhall said she's taken steps to slow evictions in the city, including a proclamation that defers this year's business license fees for landlords who don't evict tenants due to financial hardship. The city also has set aside more than $1 million from its own budget to help renters and landlords.
On Sept. 1, the Centers for Disease Control and Prevention placed a hold on some evictions through year's end. To qualify, renters must show they have sought rental assistance from the government, affirm they can't pay due to COVID-19 hardships and that they're likely to become homeless if evicted.
Utah Gov. Gary Herbert briefly paused certain evictions in April, allowing them to resume mid-May. Congress enacted a similar freeze for federal subsidized housing that ceased in July.
Utah's tenant advocates have warned of a financial cliff for renters as protections expire.
"It just keeps getting postponed," said Jeffrey Daybell, whose nonprofit, People's Legal Aid, encourages renters shielded by the CDC moratorium to document that they meet the criteria. "Had the CDC moratorium not happened, we'd be seeing it now."
×
Most recent Politics stories