SANDY — For the first time since being eliminated from the NWSL Challenge Cup, the Utah Royals will play a (mostly) competitive professional soccer match.
The Royals will open the NWSL Fall Series at 1 p.m. MT Sunday in a road tilt with the Portland Thorns. But fans shouldn't expect the club they've seen for three years since the now-defunct FC Kansas City roster moved to the Wasatch Front.
In reality, they shouldn't even expect the same Royals as the ones that lined up this summer.
In addition to U.S. forward Christen Press, who signed with Manchester United Women, starting center back and Scottish international Rachel Corsie is also on loan with Birmingham City in England's FA WSL.
Corsie signed a two-year contract extension prior to the move, so she'll (eventually) return to Utah — though not in time for the fall series, a grouping of self-contained exhibition matches where teams play two regional opponents for minutes, competition and the bragging rights of the Verizon Community Shield, which will include a cash prize to the small business of the winning team's choice. Press' return is more questionable; the 31-year-old striker is no longer on the Royals' roster, similar to other U.S. federation players who have moved overseas. While her time in Utah is not officially up — and the Royals retain Press' NWSL rights — with Angel City set to debut in Press' hometown of Los Angeles after the 2021 season, there are plenty of questions surrounding her future with the Royals.
Midfielder Gunny Jonsdottir has long been on loan in her native Iceland, and she's already scored two goals with Valur.
In addition to the round of roster movement, three federation players have opted out of the fall series: U.S. fullback Kelley O'Hara, and Canadian internationals Desiree Scott and Diana Matheson.
Goalkeeper Nicole Barnhart was also ruled out for Sunday's match with a left Achilles' injury, the Royals confirmed Saturday.
In similar fashion, Portland will be missing several notable players for its fall series kickoff Sunday, as well — every team in the nine-member NWSL will be, really. Thorns star Tobin Heath has joined Press in Manchester, and goalkeepers Adrianna Franch and Bella Bixby are both out with knee injuries.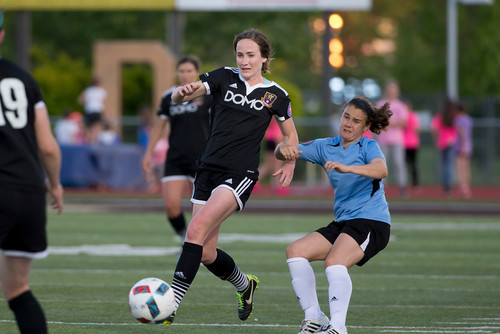 So who's left, both with the Royals and the league?
For starters, former BYU star Michele (nee: Murphy) Vasconcelos will likely make her Royals debut in the fall. The converted winger returned to Utah via trade Sept. 10 with Chicago, netting the Red Stars $55,000 in allocation to bring the Alta High product back to her hometown stadium.
The plan is for Vasconcelos, who scored two goals with three assists in 11 appearances for the Red Stars, to be immediately eligible for the Royals — despite an ACL injury that curtailed much of her Chicago career down the stretch.
"That's the hope," Vasconcelos said. "I'm jumping in as soon as I can."
The 26-year-old attacker also recognizes she still has plenty to prove, with a new team working in a new offensive system under first-year head coach Craig Harrington, and coming off injuries and still recovering from the birth of her first child, who is around 3 years old.
"I think this offseason will be huge for me, building that strength again and feeling confident in my knee," Vasconcelos said. "I feel confident, but by next season, I feel completely ready to go."
With the last bit, too, she has a pretty good example — and one of the returning players who will be with the Royals for the fall in former U.S. international Amy Rodriguez.
"Amy's had two kids, and I had a hard time coming back from one," Vasconcelos said. "I'm excited to play with her after the level she's gotten to; it's really inspiring."
So while the 2020 fall series will feature plenty of young faces for Utah, it's also a chance for some of those players to take control of their professional destiny, from Vasconcelos to rookies Tziarra King and Kate del Fava. Returning players like Rodriguez, Vero Boquete, Brittany Ratcliffe, Lo'eau LaBonta and goalkeeper Abby Smith will also be back.
But to expect the same old Royals on Sunday would be unreasonable.
Utah Royals FC (0-0) at Portland Thorns FC (0-0)
Time: 1 p.m. MT
Streaming: Twitch
Radio: ESPN 700
NWSL Fall Series
Sept. 20, 1 p.m. - Utah Royals @ Portland Thorns (Twitch)
Sept. 26, 1:30 p.m. - Utah Royals vs. OL Reign (CBS All Access)
Oct. 3, 8 p.m. - Utah Royals vs. Portland Thorns (CBS Sports)
Oct. 17, 6 p.m. - Utah Royals @ OL Reign (CBS All Access)
×
Related Links