SALT LAKE CITY — With college football back in the most unusual of seasons, college basketball is looking for ways to start its own season during the novel coronavirus pandemic.
That start will begin Nov. 25.
Multiple reports from across the country — from CBS Sports' Matt Norlander to The Athletic's Dana O'Neill to acclaimed college basketball insider Jon Rothstein — have pegged the late November start for a 2020-21 season that will be the official restart of the sport since the NCAA Tournament was canceled in March due to the pandemic. The NCAA confirmed those reports later in the afternoon.
A source close to a local university's athletic department told KSL.com that practices will begin Oct. 14 under the 12-hour per week rule. The source spoke on condition of anonymity because neither the school nor the NCAA has authorized the release of information.
Teams may begin transitioning from out-of-season activity beginning Sept. 21, according to the NCAA, with full practices beginning on or around Oct. 13, in accordance with the traditional start date of 42 days prior to the first competition.
The NCAA's men's and women's basketball oversight committees said the new start date was established "when at least three-quarters of Division I institutions will have either concluded their fall terms or moved remaining instruction and exams online creating a more controlled and less populated campus environment that may reduce the risk of COVID-19."
Nov. 25 was the date recommended by the oversight committee to the association in early September, BYU coach Mark Pope told BYUtv on Sept. 10.
"It's been proven that there are safe methods to do this, that it can be done safely," Pope said. "Hopefully we'll get together and get it done."
No schools will be permitted to compete in practice or any other basketball activities on the first Tuesday after Nov. 1, so that players, coaches and team personnel may participate in civic activities such as the Nov. 3 federal and local elections.
"The Council unanimously supports this important piece of legislation. Coming from Division I SAAC, we know it represents the voice of student-athletes across the country who continue to express a desire to increase their civic engagement at local, state and federal levels," said Penn athletic director and council chair Grace Calhoun in a news release. "We look forward to seeing student-athletes use this opportunity as a way to create positive change."
Pope said he's rooting for "everything" to work so that basketball can resume. That includes the NBA in its Orlando bubble — similar ideas of which have been proposed in the college game this winter — as well as college football, the NFL, Major League Baseball, and even nonsporting events operating in the public sphere during the pandemic.
"We're rooting for everything to work," Pope said. "We're rooting for football to work right now, for the NBA, for the election to work. We're rooting for everything to work."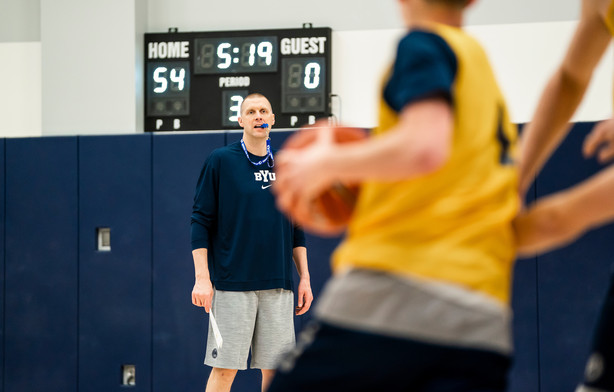 Pope said the Cougars are administering randomized testing to the players at least once per week, in addition to those who show any potential symptoms of COVID-19. Players and coaches are also wearing face coverings while practicing in a locked-downed Marriott Center Annex that already severely limits the number of people that can enter the practice facility via fingerprint scan.
"Right now, our guys are wearing masks in practice as much as they can. It's not easy," Pope told BYUtv. "But we're going twice a day in a simple sense, in the morning and in the afternoon."
Here are a few other details understood about the start of the college basketball season:
More, per sources:

—NCAA has voted to keep recruiting visits dead/banned until Jan. 1.

—No scrimmages or exhibitions at all this season.

—Regular-season capacity has been reduced by four games

— Teams can start practicing as much as 12 hours per week starting Sept. 21

— Matt Norlander (@MattNorlander) September 16, 2020
Teams will not play any preseason scrimmages or exhibitions prior to the start of the regular season.
The current recruiting dead period will be extended until at least Jan. 1. That includes a ban on in-person recruiting and official visits, though teams may utilize "virtual recruiting" such as campus tours via Zoom and FaceTime, as well as phone calls and text messaging.
Division I teams may play either a 24 game regular-season with up to three games in a multi-team event; a 25-game season with up to two games in a multi-team event; or a 25-game season without playing in a multi-game event.
This is a developing story, and will be updated with additional information.
×