SALT LAKE CITY — Anyone who has followed COVID-19 trends in recent weeks probably has noticed there's been another uptick in cases reported in Utah.
The Beehive State's epidemiological curve showed deceleration near the tail end of July following what had been its highest reported case numbers to date. That uptick came shortly after Memorial Day after the state had experienced a plateau in new cases for weeks prior to the holiday.
A steady decline from the post-Memorial Day uptick began July 18 and through mid-August before it, too, hit a plateau with some slight increases. But now that epidemiological curve is moving back up again since the last reported case decline on Aug. 18.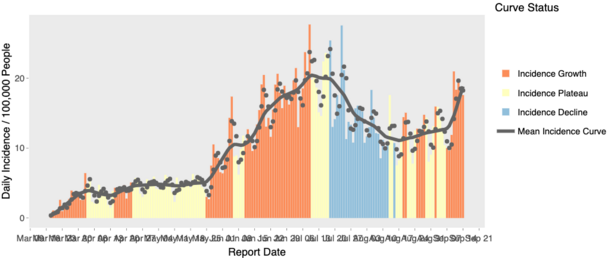 It begs the question: What's driving the state's latest rise in cases?
Here's what the data tells us.
Younger people are driving up COVID-19 cases — even more than before
We've known some of this already. Utah, which has the youngest average population in the country, has dealt with younger people driving COVID-19 cases with older individuals and those with certain conditions generally suffering the worst consequences. That's not to say it's been the case all the time.
Utahns aged 25 to 44 still make up the most cases of any other age range. Now six months into the pandemic, those within the category account for 21,681 cases, or about 37%, as of Tuesday.
Those younger than 25 are starting to pile up new case counts, which was feared to be the case when both K-12 and higher education schools returned beginning in August and continuing in September. Utahns aged 15 to 24 now account for the second-highest number of cases with 14,805 total, about a quarter of the state's total since March. Individuals aged 1 to 14 account for 4,117 cases, or 7% of the total, and those under 1 account for just 241 cases.
The divide between younger individuals and older individuals has widened in recent weeks. On top of that, hospitalizations are starting to increase as well for younger individuals compared to the beginning of the pandemic.
How do we know that? Using an internal database of the state health department's daily information, we compared age-range data from three key dates: May 28 (the start of Utah's first major uptick), July 18 (the start of the decline period from that uptick) and the current tally as of Tuesday. We also removed children under 1 for this segment because it was a small statistical figure.
Regarding cases, Utahns aged 1 to 44 accounted for about 62% of all Utah cases on May 28. The figure moved up to 67% of all cases on July 18 and now accounts for nearly 69% of cases to date. That tells us those within the 1 to 44 age range are outpacing those 45 and over from May 28 to now.
It's the data within individual ages that shows exactly how it's happening. Every group experienced upticks in cases from May 28 to July 18, as the state's total cases from March until then more than tripled. From a percentage increase standpoint, here's how each cohort increased from July 18 through Tuesday's numbers:
Ages 1-14: 84.9% (1,890 new cases)
Ages 15-24: 105.4% (7,598 new cases)
Ages 25-44: 68.3% (8,800 new cases)
Ages 45-64: 66.1% (5,446 new cases)
Ages 65-84: 73% (1,683 new cases)
Ages 85+: 52.9% (164 new cases)
In fact, those within the 15 to 24 age range account for the most new cases if you start back to a month ago Tuesday. That age group accounted for 4,285 new cases in that span, with 25- to 44-year-olds second after that, accounting for 4,070 new cases.
As for COVID-19 cases from the start of the pandemic, Utahns aged 15 to 24 surpassed 45- to 64-year-olds as the second-highest group in total count on Sept. 4. The 1 to 14 age group moved past the 65 to 84 age group as the fourth-largest group last month.
With ages 15 to 24 rising at the highest rates, it's no surprise that schools are partly the reason for the increase. The state health department has reported 47 outbreaks attributed to schools from Aug. 15 through Tuesday, including eight this week. The outbreaks have resulted in 290 total cases with a median age of 16 years old and nine total hospitalizations.
School outbreaks now moved to the second most common place for outbreaks that were not in long-term facilities, well behind workplaces, which experienced a rise of outbreaks after COVID-19 restrictions were eased back in May. As of Tuesday, there have now been 721 workplaces outbreaks resulting in 4,879 cases, 204 hospitalizations and 15 deaths. The median outbreak case age is 38.
During a media briefing about a new website that shows the state's goals with COVID-19 data, Utah Department of Health interim executive director Rich Saunders said the state considered setting up a goal of a seven-day running average set at 300 or 350 new cases per day but decided to keep it at 400 to account for schools reopening. It's jumped from 381.6 cases per day on Sept. 9 to 522.1 new cases per day as of Tuesday.
In a different press briefing last week, Gov. Gary Herbert said he expected outbreaks at schools would result in a review of COVID-19 quarantine procedures for schools up until a vaccine is available. He added that he was concerned that individuals — regardless of age — would become complacent regarding protective measures.
The data also demonstrates that those 45 and older disproportionately experience the worst outcomes of the coronavirus. Indeed, Utah Department of Health data shows those 45 and older may just account for 30.8% of cases, but 66% of hospitalizations and 95.6% of deaths. This explains why the health department reports Utah's average hospitalization age is 53 and the average mortality age is 73.
In terms of hospitalizations, the numbers are lower for younger age ranges but they slowly are increasing — and at rates higher than older ages in some cases. From a percentage increase standpoint, here's how hospitalizations have increased from July 18 through Tuesday's numbers:
Ages 1-14: 138.9% (25 new hospitalizations)
Ages 15-24: 78.6% (103 new hospitalizations)
Ages 25-44: 70% (324 new hospitalizations)
Ages 45-64: 60% (463 new hospitalizations)
Ages 65-84: 73.1% (374 new hospitalizations)
Ages 85+: 63.6% (49 new hospitalizations)
In a world where people of all age ranges will bump into each other inside and outside of the home, cases and outbreaks involving younger individuals do carry the risk of getting other individuals sick. A Centers for Disease Control study published Friday used three child care outbreaks in Utah as an example of the risks. It found 12 children caught COVID-19 at facilities and spread it to 12 of 46 parents or siblings, resulting in a hospitalization of a parent.
"COVID-19 is less severe in children than it is in adults, but children can still play a role in transmission," the report stated. "The infected children exposed at these three facilities had mild to no symptoms. Two of three asymptomatic children likely transmitted SARS-CoV-2 to their parents and possibly to their teachers."
A rise in Utah County
Since the pandemic reached Utah, we've seen certain areas affected worse than others. Salt Lake County remains the leader for most total cases, but hotspots have emerged in places like Summit, San Juan and Cache counties. Utah County is now where an extraordinary rise is underway, and it has even topped Salt Lake County in new cases a few times since September despite having nearly half the population.
On Monday, Dr. Angela Dunn, the state's epidemiologist, pointed out that 39% of all of the state's new cases from Friday through Monday were reported in Utah County, even though the county represents 20% of the state's overall population. She also pointed to younger individuals in the county driving up the number.
"Most of these cases are among 14-24-year-olds, and the majority of those are among college-aged young adults," she said, in a statement. "Colleges across the state, and specifically in Utah County, have acted proactively to implement solid prevention measures on their campuses. They need help from their students to act responsibly while off-campus. What students do off-campus has a direct impact on a school's ability to safely operate their campus."
Utah County accounted for 6,356 cases by July 18, when the state began its nearly month-long decline in cases. That was about 18.6% of the 34,249 cases in the state at the time. The county has since doubled its total case counts to 13,528, as of Tuesday. The state has reported 24,751 new cases since July 18, with Utah County reporting about 29% of those new cases.
How does it compare to Salt Lake County? While Salt Lake County has had nearly 3,000 more cases over the span of close to the past two months, Utah County has experienced a much larger rate increase. Its COVID-19 counts rose 112.8% in that time while Salt Lake County's rose 60.3%.
Other places have also experienced upticks in this two-month span, though perhaps not as noticeable as Utah County's. For example, Davis County has almost doubled its COVID-19 cases over the past two months, jumping from a total of 2,338 cases to 4,440. That's an increase of nearly 90%. The Weber-Morgan Health Department also reported an 83.2% increase from July 18 through Tuesday, which is a jump from 2,077 cases to 3,805.
In all, the local health departments along the Wasatch Front account for 86.5% of the cases from July 18 through Tuesday. Other population hubs, like the Southwest Utah Public Health Department (reporting another 1,431 new cases, 5.8%) and the Bear River Health Department (accounting for 933 new cases, 3.8%) also added to the rise in cases since July 18.
Perhaps more troubling, the state's seven-day running average of positive test percentage reached 10.6% through Sept. 9. It's still relatively low compared to other states but it is the highest it has been since the pandemic began, according to state health department data. After the decline, it had reached as low as 8.2% on Aug. 17.
The data shows the coronavirus hasn't really gone anywhere six months later.
Contributing: Josh Furlong, KSL.com
×
Related Stories