PROVO — BYU's second game of the 2020 college football season has been postponed.
The Cougars' upcoming road tilt at Army, originally scheduled for next Saturday, Sept. 19, has been delayed because of a "small number" of positive tests for COVID-19 found within BYU's program, the school announced Saturday afternoon.
"We appreciate the university administration, state health officials and a variety of medical experts who have helped us navigate these unprecedented times," BYU athletic director Tom Holmoe said in a prepared statement. "While we share the disappointment of everyone involved in the game between BYU and Army, safety as well as the physical and mental well-being of our student-athletes, coaches, staff and the opposing team is our top priority."
The decision was made in consultation with university officials and medical advisors, local and state public health experts, and the leadership at the West Point military academy, BYU said.
No makeup date has been finalized for the inaugural matchup between the Cougars and Black Knights. As currently scheduled, BYU's next game will be the Sept. 26 home opener against Troy, a game that will include as many as 6,000 fans in a limited capacity at LaVell Edwards Stadium.
BYU swarmed fellow service academy Navy 55-3 on Labor Day in the opening game of the 2020 season. After Monday night's game, the Cougars immediately flew home via charter plane in time and arrived in Salt Lake City around 5 a.m. MT, head coach Kalani Sitake said earlier this week during his coach's show on BYUtv.
The Cougars' administration did not say how many positive test results were discovered within the program, nor if they refer to players, coaches or staff/personnel.
BYU has self-reported 218 active cases of COVID-19, representing 0.51% of the campus population, according to the university's coronavirus dashboard recently updated for the fall 2020 semester. In addition, 40 cases are no longer in isolation, bringing the total number of confirmed cases to 258 during the fall.
Numbers will be updated every Friday during the semester, the school says.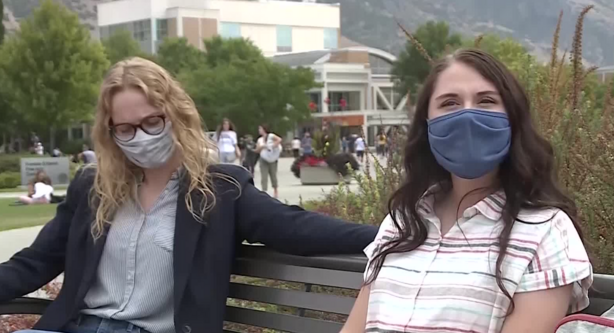 Students returned to campus with strict guidelines that included social distancing and mask-wearing on campus on Aug. 28, with 117 cases reported on campus during the first week, a daily average of 16.7 cases. Week 2 brought 141 more cases, or 20.1 confirmed cases per day, according to the university.
The Cougars also self-reported confirmed cases since mid-March, when the coronavirus pandemic shuttered in-person classes and athletic events much like it did around the state and nation.
BYU self-reported 21 cases during the half-semester of Winter 2020, 16 more during the spring term and 166 in the summer for a total of 203 cases while most students and some faculty remained off-campus. BYU football players were allowed to return to campus for voluntary workouts in June, per NCAA regulations.
Provo's city council hoped to curtail the spread of the virus within the community by instituting a mask mandate for local businesses and public spaces just before classes resumed. Despite a veto from Provo Mayor Michelle Kaufusi, the council overrode the measure and instituted the mandate, which carried fines of up to $55 for individual violators and $500 for organizers of mask-less events in the city.
But council members agreed with the mayor in saying they hoped enforcement would come by education and community choice rather than enforcement of a citywide ordinance.
The ordinance went into effect Aug. 27 and will last until Nov. 15, unless the council renews it by Oct. 20.
Meanwhile, while most students have maintained compliance for masks, social distancing and other measures designed to curb the spread of the virus, other groups and organizations have fallen short.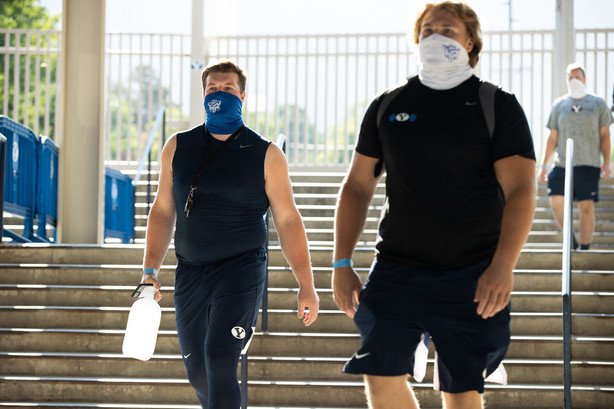 One group called Young/Dumb has organized large dance parties via social media, with the address not known until the day of the event, advertised for young adult and college students in Utah County. It is unknown how many — or if any — positive cases of COVID-19 have been traced to these parties.
It's unknown if any of BYU's positive test results are tied to large gatherings such as those parties. But head coach Kalani Sitake told KSL.com prior to the opener with Navy that his players were doing "everything possible" to play football this season, including taking online classes and remaining distant from usual campus life.
"More than ever, we've always said we have to hold them to a different standard," Sitake said. "You're not going to be able to do the same thing that other students do. ... You have to be more mindful of your schedule, the clock, and rest; things that normal students don't have to worry about.
"We've just added a little bit more to it. They know they are in a unique situation … but we've heard no issues from our players. They're just grateful for the opportunity to play."
The Utah County Health Department has reported 12,816 cases of the novel coronavirus, with 530 hospitalizations and 52 deaths, through Saturday. That number is the second-most in the state's 57,247 total cases, trailing only Salt Lake County (25,814).
After the Sept. 26 home opener, BYU does not have an open date until the week of Nov. 7. In addition to Troy, the Cougars will host Texas-San Antonio, Texas State and Western Kentucky, with an original home game Oct. 16 with the University of Houston flipped to TDECU Stadium in Texas due to travel restrictions associated with the pandemic.
BYU also has a scheduled home game with FCS North Alabama on Nov. 21.
×
Related Links