SANDY — Amy Rodriguez knows her primary job is to score goals and help Utah Royals FC win. In that regard, the 33-year-old striker with 15 goals in three seasons in Utah has done her job.
But beyond that job, Rodriguez — who was named team captain after former captain Becky Sauerbrunn was traded to Portland — has a responsibility to lead, both on and off the field.
And that includes in the front office.
When Rodriguez heard and read about some of the allegations that have been levied against club owner Dell Loy Hansen and chief business officer Andy Carroll — allegations that include racist and sexist comments and overall "toxic" workplace behavior — she was concerned about all of them, disagreeing with them.
She admits that in her limited interactions with upper management, she was treated well. But she also hinted that may not be the case with everybody — and if not, then change is necessary.
"I've always been excited to be part of this club," Rodriguez said Friday, speaking with reporters for the first time since Hansen said he would sell the club. "I think what the previous ownership created here was beautiful and wonderful, and we reaped the benefits greatly.
"I do think there's potential for a positive change with a revamp. I like that word because it sounds like the ability to change things and hopefully improve, to have an overall up-and-up feeling. I'm excited for the new ownership to come in, whoever that might be, to rally with them, to play for them, and to be better with this club."
Hansen put Utah Soccer Holdings — the business entity that includes Real Salt Lake, Utah Royals FC and Real Monarchs — up for sale Aug. 30, and the billionaire businessman has stepped away from day-to-day interactions with the club throughout the process.
On Thursday, Sports Business Journal reported the sale — which is also presumed to include soccer-related assets like Rio Tinto Stadium and Zions Bank Real Academy in Herriman — was worth at least $500 million. Later in the day, ESPN 700 radio host Spence Checketts, the son of co-founder and former RSL owner Dave Checketts, reported that eight parties were interested in the sale.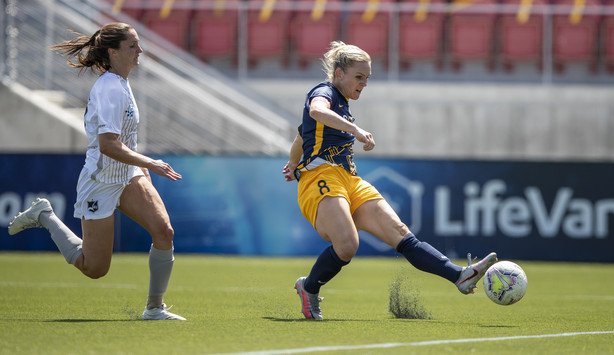 Several potential buyers who have publicly expressed interest are local to the Salt Lake area, such as Qualtrics co-founder Ryan Smith, while others — like Toronto FC forward Jozy Altidore and Houston Texans defensive end JJ Watt — live outside the market but have expressed interest in keeping the club close to the fanbase.
But what the Royals players and coaches hope above all else is that the new ownership will improve the value of the organization — not just in dollars and sense, but in the "revamp" that Rodriguez mentioned.
"Wrong is wrong. I don't think it's very difficult to address those things and understand them when people say things that are wrong," Royals head coach Craig Harrington said. "I'm a white person, and I haven't understood in the past what Black players and persons have gone through. So that's first (to understand their experiences). But that's been the past few years, too."
Harrington added he was stunned to hear some of the stories and allegations involving racial slurs and racially charged metaphors that emerged from reports around his soon-to-be-former owner.
"It was shocking to hear, personally," he said. "I haven't been around the club much because of COVID, or heard anything personally. But I think it's hurtful for those who have been here a long time or been involved with RSL."
While Rodriguez and Harrington may not have personally experienced the actions asserted in the reports of those who managed the club, they aren't assuming those published accounts of sexist and misogynistic behavior didn't happen, either. RSL Soapbox reported several incidents of club personnel contributing to a "toxic" work environment, including a former sideline reporter who claims members of management were inappropriately discussing parts of her body.
"I think hindsight is always 20/20," Rodriguez admitted. "A lot of us have now opened a lot of conversations about how we feel about it. We're not happy with what we've read or heard about. Our job is to perform on the field, but I also want to be proud of the crest I wear.
"In the next bit, this is our time to create a new vibe of the club."
That new era can start quickly for the Royals, who are scheduled to open the NWSL fall series — a slate of home-and-away matches with regional rivals Portland Thorns FC and OL Reign — on Sept. 20.
Utah will play at Portland in the first match, which will be streamed live on Twitch at 1 p.m. MDT. The Thorns will play just five days earlier against the Tacoma, Washington-based Reign, a match that was rescheduled from this weekend due to air quality concerns with surrounding wildfires in the Pacific Northwest.
The rescheduling shifted NWSL Challenge Cup champion Houston's match with perennial power North Carolina to the CBS-televised time slot Saturday at 1:30 p.m. MDT. That leaves the Royals as the only club in the nine-team league that will not appear on CBS during the fall series.
Still, there are much bigger things to worry about in the club — like setting sights on a new era, both internally and on the pitch.
"There's no room for it in my team and in any team I'm a part of," Harrington said of the Hansen's earlier alleged behavior. "I think (Royals general manager) Stephanie Lee has made it pretty clear from the organization, too."
NWSL Fall Series
Sept. 20: Utah Royals FC @ Portland Thorns FC, 1 p.m. MDT (Twitch)
Sept. 26: OL Reign @ Utah Royals FC, 1:30 p.m. MDT (CBS All Access)
Oct. 3: Portland Thorns FC @ Utah Royals FC, 8 p.m. MDT (CBS Sports Network)
Oct. 17: Utah Royals FC @ OL Reign, 6 p.m. MDT (CBS All Access)
×
Related Links