SANDY — Michele Vasconcelos' soccer career has taken her to college at BYU and to the Windy City as a professional. But in many ways, it all started at Rio Tinto Stadium, where Vasconcelos — then Michele Murphy — scored a goal for Alta High in the Class 5A state championship, cementing the Hawks' title run.
Welcome home, Murph.
Vasconcelos will return to the stadium this fall as a member of Utah Royals FC, the team announced Thursday in a trade with the Chicago Red Stars. The Royals sent $55,000 in allocation money to Chicago in the trade.
"I'm thrilled to be able to do what I love in my hometown," Vasconcelos said in a news release. "I grew up going to games at Rio Tinto Stadium, I even played my high school state finals there. I look forward to playing in front of my family and friends, as well as having the added support of my daughter. I am excited to be a part of the Royals and to contribute to the club and community."
The 2011-12 Gatorade Utah girls soccer player of the year will return to a stadium she grew up seeing, played in during high school, and viewed as a fixture in the community from her teenage years. A two-time team captain and all-state midfielder for the Hawks, Vasconcelos set a state record with 37 goals and 22 assists prior to moving on to a standout collegiate career at BYU.
"Michele is a talented young forward with deep roots in this community and we are excited to have her as part of this club," Utah general manager Stephanie Lee said.
While with the Cougars, Vasconcelos scored 30 goals and 27 assists, in addition to meeting and marrying her husband Pedro, who played for the school's then-Premier Development League club team.
She had her 2013 season cut short after just four games due to an ACL injury but bounced back to become one of the most indispensable players on the squad as a senior.
Alongside fellow NWSL pro Ashley Hatch and a star-studded lineup that also featured then-junior defender Taylor Isom, Vasconcelos led the Cougars to an 18-3-1 record as a senior in 2016 and a spot in the third round of the NCAA tournament. The 5-foot-5 midfielder became the third-straight Cougar to win West Coast Conference Player of the Year honors, catapulting her to the NWSL draft, where Chicago selected her with the No. 11 overall pick.
After taking the first year of her pro career off with the birth of her first child, a daughter, Vasconcelos returned to factor into a key role with the Red Stars' midfield, when healthy. She even made an appearance during the Royals' inaugural match at Rio Tinto Stadium in 2018.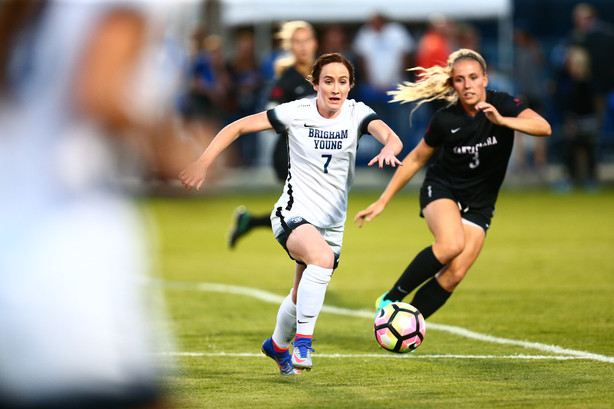 The 26-year-old attacker scored three goals with three assists in 22 appearances during two (non-pandemic) regular seasons, but was also hampered by injury and finished her time with the Red Stars with 31 appearances, including 15 starts. During the NWSL Challenge Cup in Herriman in the summer, Vasconcelos returned to the Salt Lake Valley to make six appearances off the bench for Chicago a year after suffering a season-ending ACL injury in mid-July of 2019.
"Obviously we're sad to leave Chicago, because we spent three years there," Vasconcelos said. "But coming to Utah, we've felt a lot of peace as a family, being able to have our family support and coming back to friends and a community we know and love."
Vasconcelos said she asked the Red Stars for a trade, not because she disliked her time in Chicago or play under head coach Rory Dames. Quite the contrary; the club allowed her to take a year off for the birth of her first child, and helped her grow into a better player since college.
But Thursday's trade was about more than soccer, with her daughter Scarlett having just turned 3 years old. Vasconcelos, too, is a different player than the last time she played in Utah as an attacking midfielder at BYU. She's most recently played on the wing with the Red Stars and has evolved into a further attacking position.
That move would benefit the Royals in the fall series after U.S. striker Christen Press was recently sent on loan to Manchester United in England.
"I would definitely say I'm a different player," Vasconcelos said. "I learned a lot at Chicago, and have definitely grown my game. I'm really excited for the next step with the Royals and to see how I can grow my game here."
The move also reunites Vasconcelos with former Chicago assistant coach Craig Harrington, who is in his first season with Utah.
"Michele is quality, her combination of skills is high level and her mindset on top of that is high level," Harrington said. "I know we are getting a really good player here that makes our squad stronger."
Now she'll return to Sandy with eyes on improving a Royals team in its third season and will be immediately eligible for the club's NWSL Fall Series.
Utah kicks off the series Sept. 20 at Portland.
NWSL Fall Series
Sept. 20: Utah Royals FC @ Portland Thorns FC, 1 p.m. MDT (Twitch)
Sept. 26: OL Reign @ Utah Royals FC, 1:30 p.m. MDT (CBS All Access)
Oct. 3: Portland Thorns FC @ Utah Royals FC, 8 p.m. MDT (CBS Sports Network)
Oct. 17: Utah Royals FC @ OL Reign, 6 p.m. MDT (CBS All Access)
×
Photos
Related Links