Estimated read time: 6-7 minutes
This archived news story is available only for your personal, non-commercial use. Information in the story may be outdated or superseded by additional information. Reading or replaying the story in its archived form does not constitute a republication of the story.
SALT LAKE CITY — Utahns have had access to daily COVID-19 case rates since the beginning of the pandemic but the No. 2 way to trace the coronavirus continues to be easier to track than ever.
Yes, we're talking about human waste, which is beginning to take over as a leading solution to track COVID-19 rates in a less-invasive way.
Throughout the pandemic, KSL.com has looked into various data points and the information they tell us about the coronavirus. Here are a few newer data points that paint the picture of COVID-19 in Utah.
Here's where coronavirus levels in wastewater are increasing, decreasing
KSL has reported a few times over the months about wastewater and its ability to allow health officials to see possible trends before new cases. It can also show the virus when residents might otherwise not show symptoms or when testing is down.
Utah State University ordered nearly 300 students in four dorms to quarantine Sunday after elevated levels of SARS-CoV-2, the virus that causes COVID-19, were found in the wastewater of the dorms. It's become a tool used across the country; the Centers for Disease Control and Prevention even launched the National Wastewater Surveillance System in July.
It's actually a simple process. All wastewater comes to a treatment facility, where it's cleaned up and returned to the ecosystem, Department of Environmental Quality spokesperson Jared Mendenhall explained. Before that cleaning, scientists can look at the incoming water for contaminants.
Utah had a leg up on this because University of Utah, BYU and Utah State researchers helped state officials launch a pilot program in April. This early start was partly due to Jennifer Weidhaas, an associate professor at the University of Utah, already had a system in place to track opioids for another project, Mendenhall said.
Since a pilot program wrapped up in the spring, this process increasingly has been a tool for tracking the coronavirus. The Utah Division of Water Resources even has a website that allows viewers to track wastewater trends in June.
Scientists now track SARS-CoV-2 at 42 treatment facilities in Utah. Mendenhall said officials are now able to keep tabs on 80% of the state's population through this method.
As of Friday morning, levels at the Ashley Valley (Vernal), Dutch John (Daggett County) Midway, Salt Lake City, Silver Creek (Park City), Timpanogos (Lehi) had decreasing levels of the coronavirus in wastewater.
Salt Lake City, for example, dropped from a high of 554 million gene copies on May 19 to its count on Aug. 25 of 12 MGCs. In fact, the virus's steady decline in wastewater samples nearly aligns perfectly with the city's decline in daily new case rate.
East Canyon (Park City), Heber Valley, Jordan Valley SVPP (Riverton), Mona, Orem, Payson, Provo, Richfield, Roosevelt, Springville and Tooele facilities were listed as having increasing level trends. Central Valley (Taylorsville), Jordan River WRF (Riverton), Magna, Moroni, Santaquin, South Valley (West Jordan) facilities reported no trends. No detections were listed for Daggett County WRF or Fillmore.
Other locations with data before Aug. 25 were listed with no recent data but website users can still look at trends from sites from Logan to St. George.
So when case counts fluctuate based on testing, there's another way to track virus trends in Utah.
Newer Salt Lake County data points
The Salt Lake County Health Department made recent changes to add more data to its dashboard.
One new data set adds current (past two weeks) and cumulative data available for the state's highest-populated county. This includes current and previous cases, hospitalizations, ICU/ventilators and deaths broken down by age range, gender or race/ethnicity.
"Hopefully, this will help make it a little bit easier for anybody who is interested to see what is going on within ages, gender and various demographics," said Gary Edwards, executive director of Salt Lake County Health Department, in a briefing with media members last week.
Take, for example, that 20-to-29-year-olds have the most COVID-19 cases since the first case was reported in March. Those within that age range account for 5,954 cases, or nearly one-quarter of all cases. The percentage rose slightly from 24% to 28% from Aug. 21 to Thursday.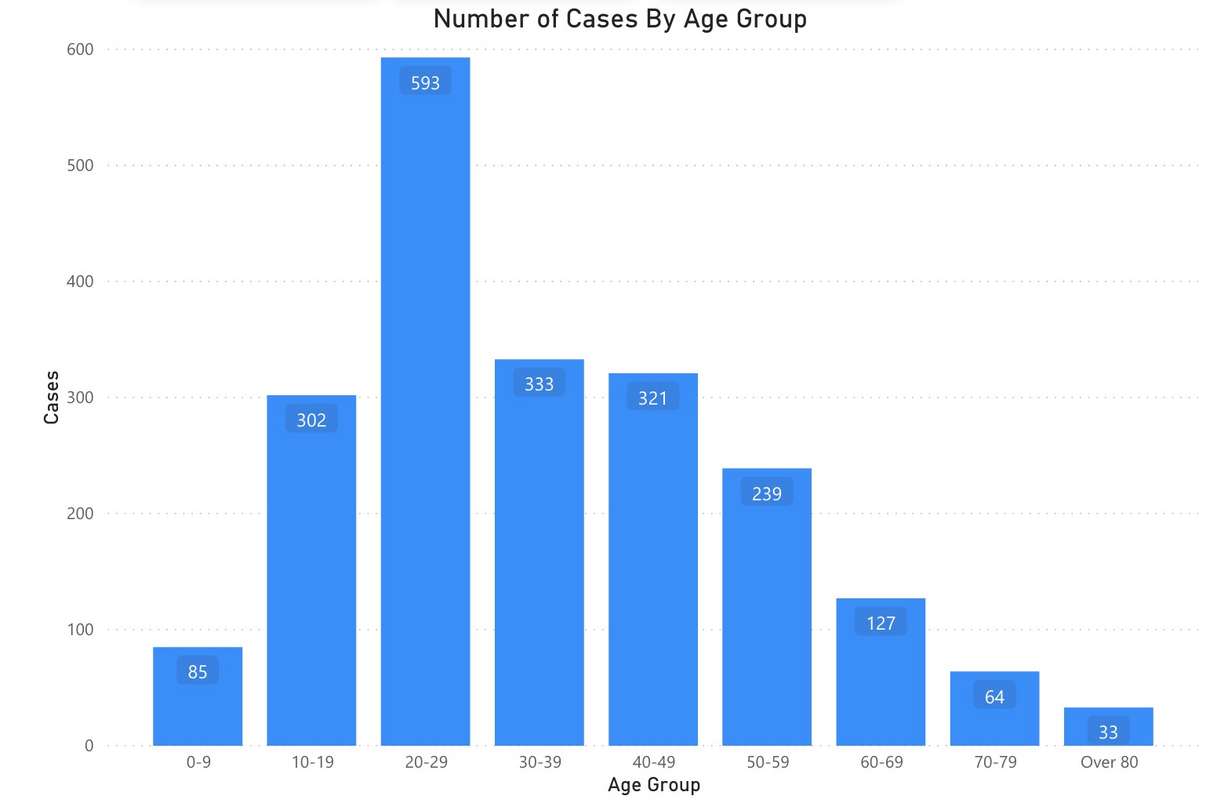 The share of the age range's hospitalizations didn't rise at the same time. Since March, those 20 to 29 have accounted for 8.6% of hospitalizations. That fell to 5% of all hospitalizations over the past two weeks.
In the worst of circumstances, the graph shows higher death totals as age range goes up. Those over 80 have accounted for 95 COVID-19 deaths, which is the most of any age group. Those 70 to 79 are next with 60 deaths. In the past two weeks, individuals 50 to 59 were second to individuals over 80.
The data also shows some of the disproportionate ethnic gaps in COVID-19 cases — which sparked concern from leaders — is starting to fall off. It found that Latino or Hispanic individuals accounted for 33% of new cases over the past two weeks, which is compared to 43.5% when looking from March 4 through Thursday.
The second major addition is a breakdown of COVID-19 outbreaks at schools, workplaces, long term care facilities and more. Outbreaks have declined overall since the pandemic began. Edwards explained that the trend has gone hand-in-hand with declining COVID-19 cases and test needs the county started to report near the end of July.
Cases from outbreaks peaked at 80 cases on July 7 and daily numbers in the 60s through late June and early July to 14 on Monday. The county last reported 30 cases from outbreaks in a day on Aug. 4.
Much of the decline can be attributed to declines at worksites. Cases attributed to worksite outbreaks ranged from 30 to 50 cases at the beginning of summer but last reached 20 or more cases in a day on Aug. 5. They've averaged about 10 new cases per day since out of 105 total outbreaks in a 29-day span. It's also an average of 2.8 cases per outbreak.
The county has an additional dataset for worksites that breaks down outbreaks and cases by industry. It shows what many would suspect, which is that most are happening in fields where people must be physically present to work. The industries with the most outbreaks are manufacturing, retail trade, construction, transportation and warehousing, food services/drinking places and food manufacturing.
Edwards said officials determined early on that it was important to have liaisons at worksites. When an outbreak appears, they go to that worksite and conduct testing. He attributed that to some of the declines in workplace outbreaks.
Although cases from worksite outbreaks are declining, it's early to say the county is out of the woods yet. During an Aug. 25 city council meeting, Salt Lake County Mayor Jenny Wilson said COVID-19 in schools would be the "next mountain to climb."
Indeed, through Thursday, school outbreaks were tied with long term care facilities as the second-highest number of outbreaks behind worksites since Aug. 1. Both had 28 outbreaks; school outbreaks resulted in 115 cases since then. It's likely it will continue to grow as classes have returned to session.
But with data adjustments now available, residents can get a clearer look at Salt Lake County's COVID-19 situation now and how that's changed over the past few months.
×
Related stories
Most recent Coronavirus stories