Estimated read time: 5-6 minutes
This archived news story is available only for your personal, non-commercial use. Information in the story may be outdated or superseded by additional information. Reading or replaying the story in its archived form does not constitute a republication of the story.
SALT LAKE CITY — For the first time since the COVID-19 pandemic struck Utah, state leaders conducted a press conference entirely in Spanish Thursday to address the unique challenges of the state's Latino community in combating the virus.
Utah Gov. Gary Herbert was introduced in Spanish by Lt. Gov. Spencer Cox. The governor spoke a bit in Spanish and started the conference by stating the growth of COVID-19 in the Latino community is "alarming."
"As a state, we must address the disproportionate infection rates in the Latino community," he said. "These infection rates are contributing to the overall surge of the infection rate in our entire state."
Cox spoke entirely in Spanish and said the Latino community is important to the state of Utah and "we want to recognize that this community has been affected more than others by this pandemic.
"We are working closely with state agencies and local organizations so families can have resources and support," Cox said in Spanish.
In Utah, Hispanics and Latinos account for just over 14% of the state population but more than 43% of the state's coronavirus cases. Thirty-eight members of the community have died from COVID-19.
Dr. Tamara Moores Todd, emergency physician and medical director of care transformation and information services at Intermountain Healthcare, said she has seen the effects on the Latino community up close and, for her, it hits close to home.
"I have seen the difficult effect in our patients and their families," Moores Todd said. "And yes, I am here because I am one of the leaders of our Intermountain COVID-19 testing team.
"But more importantly, I am here because the Latino community is my community as well," she continued. "My dad is from Canada and my mom is Puerto Rican, or how she says it, 'Boricua, Boricua, Boricua!'
"So for those reasons, that's why I am passionate about working with the Latino community. Because it's my community as well."
Moores Tood reiterated that the pandemic has not impacted all Utah residents and communities equally. Some of the factors that have contributed to the rise of infections in the Latino community includes people living in multi-generational homes, causing other family members to be infected, as well as financial circumstances.
To protect our community and avoid the virus from spreading, Moores Todd said it's vital to follow the guidelines made by the CDC and other health officials, which include practicing social distancing, wearing a face mask, hand washing and cleaning frequently-touched surfaces.
"Throughout this time, it's very important to maintain (social distance) to protect those around you," Moores Todd said in Spanish.
---
My dad is from Canada and my mom is Puerto Rican, or how she says it, 'Boricua, Boricua, Boricua!' So for those reasons, that's why I am passionate about working with the Latino community. Because it's my community as well.
–Dr. Tamara Moores Todd, Intermountain Healthcare
---
If one lives in a multi-generational home and has contracted COVID-19, Moores Todd recommended isolating any high-risk individuals in a separate room. If that's not possible, she recommends wearing a mask and clean frequently-used items on a regular basis.
More information and resources in Spanish can be found at intermountanhealthcare.org/espanol. Moores Todd said Intermountain Healthcare will not reject anyone regardless of ability to pay or if one does not have insurance.
"We will not reject you nor will we share your information," she said.
Cameron Ruppe, director of Utah Occupational Safety and Health, said in Spanish that any employee should make a complaint to UOSH about their workplace safety, or if they feel they have been retaliated against and want to make a whistleblower complaint, they can do so at 801-530-6901 or visit laborcommission.utah.gov.
"While there is no current law that my office enforces for COVID-19, everyone needs to be reminded that the executive order of the governor does require that employees wear masks in the workplace when they cannot maintain social distancing," Rupee said.
Mayra Cedano, executive director of Comunidades Unidas, said the last few months have been difficult, stressful and full of uncertainty. The number of COVID-19 cases in the Latino community the last few weeks has been alarming, Cedano said, and called for the community to take action against the spread of the virus.
"As Latinas and Latinos ... we all have to do our part," she said.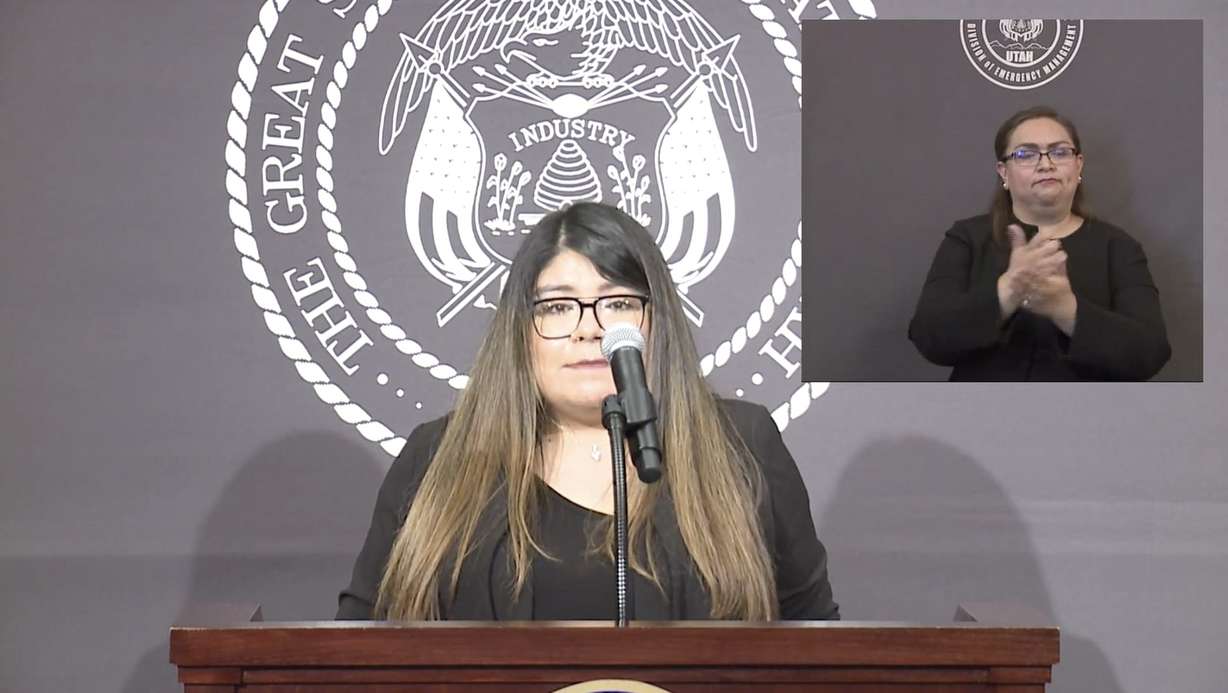 Cedano reiterated the importance of testing and asked the Latino community to get tested if anyone has any symptoms. She emphasized that individuals are not asked about their immigration status. There are free testing centers throughout the community for all. Cedano emphasized that those who are at high-risk for COVID-19, including older residents and those with pre-existing conditions, should take advantage of free testing.
There are churches, food banks and community organizations that are giving out boxes of food and are working to acquire culturally-appropriate foods to help the immigrant and Latino community, she added.
Cedano said other resources are available, including help with rent, CHIP, and Medicaid, to help during this time, and Comunidades Unidas is available to help.
The pandemic is not only a physical health and financial crisis, but also a mental health crisis. Cedano emphasized to the Latino community the importance to take care of one's mental health, and that help is available.
"We know that the pandemic has affected us in different ways," Cedano said. "Many have lost our jobs, or they reduced our work hours. Our children have stopped going to school. And many of us have contracted the virus.
"The situation is difficult and we want to invite you to take advantage of the programs that exist to help you with your mental health.
"Help exists and your mental health matters."
---
Watch the full press conference in Spanish below
×
Related links
Most recent Coronavirus stories