SOUTH JORDAN — The 21-point comeback Timpview pulled off to threaten Bingham's big lead wasn't the only adversity the Miners have faced in the first month of the high school football season.
It was just the latest.
And it wasn't even the most difficult.
Bingham found a way to overcome the Timpview comeback.
Saia Lomu ran for 104 yards and the game-sealing 16-yard touchdown, and Bingham held off the Thunderbirds 31-21 Thursday night to clinch the Miners' first win of the year.
"We've had all kinds of adversity," Bingham coach Dave Peck said. "Right now, we show what we're about. We hang in there for each other.
"It's never anybody's fault; your job is just to continue to pick each other up and do what you can, and let us coaches figure out where the issues are. I felt like they really did that tonight."
The win was anything but easy.
But so, too, were the first four weeks of the season for Bingham (1-2).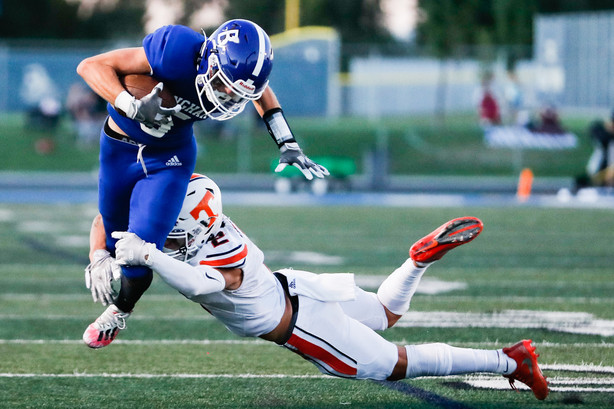 The Miners had their first game of the season with Weber canceled by three confirmed positive tests for the coronavirus.
A week later, Bingham was stunned by Region 4 contender Skyridge. Then the Miners fell to top-ranked Corner Canyon in a game televised nationally by ESPN.
At 0-2, the Miners just didn't look like Bingham. A total of 10 positives tests for COVID-19 among the team — plus more among family and close friends — didn't help, but Peck didn't want to make excuses.
He just wanted to show Bingham why he came back after stepping away to coach with family at North Sanpete. Peck returned to the Salt Lake Valley for family, and that family included Bingham's football program.
On Thursday night, they looked like family.
"We've had a lot of adversity this year," Peck said. "It seemed like every week, we had to cancel a summer camp or scrimmages lined up.
"We were ready to go into our season, and then our first game got postponed. It was just one thing after another. A lot of it was COVID-related, but a lot of it was just other stuff."
Troy Mehn took command of the Bingham offense in the first half, setting up his first touchdown with a 32-yard strike to Isaiah Glasker and finished it with a 2-yard scamper for six with 6:26 left in the first quarter. Just before the end of the quarter, the senior quarterback turned a field-goal try (with help from a Timpview penalty) into 6 more points with an 11-yard draw with 15 seconds remaining.
Cael Wightman added a 2-yard score to help the Miners to a 24-0 halftime lead, the third time Timpview has been held scoreless in the first half of its first three games.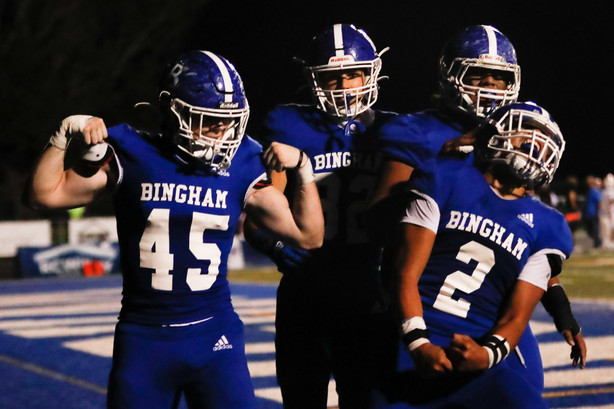 But the Thunderbirds (0-3), who also entered Thursday night 0-2 and had their annual rivalry game with Provo canceled last week for the first time since 1977, didn't go away.
Liu Aumavae found Pokai Haunga for a 15-yard strike on the opening drive of the third quarter, and Timpview's defense scored back-to-back touchdowns to pull within 3, 24-21.
But after Bingham's Elijah Allen picked up a football and ran it back 28 yards for a touchdown and Raider Damuni pulled down an interception 34 yards for another score, the Miners did what they did best.
An offense that threw the ball just 11 times opted to run on six straight plays during a game-sealing drive with 4:46 left in the fourth, capped by Lomu's touchdown run with 1:03 on the clock.
"When things started going bad, it would've been really easy to fold at that point," Peck said. "And we didn't; the offense had a huge drive to put the game away, and the defense had a couple of huge stops. I'm proud of them.
"It was a lot better to end with a win than end with a loss."
Bingham travels to play at Westlake next Friday, Sept. 11, at 7 p.m. The Thunderbirds will play at Mountain Ridge next Friday.
×
Photos
Related Links