SANDY — The most abnormal thing about Pablo Ruiz's goal in Real Salt Lake's 2-2 draw with Seattle Sounders FC was the historical significance of it.
The 21-year-old Argentine midfielder uncorked a blast from nearly 40 yards with five minutes left in regulation to score his first goal in three seasons with RSL, and he slid toward the touch line, raised his arms toward the sky, and collapsed under a mob of his jubilant teammates while fans screamed, gasped and applauded all around him.
Everything was normal — except for the 20% capacity in the stadium.
Playing at home in a global pandemic for the first time since March 7, Salt Lake found just enough to earn a home draw with the second-best team in the Western Conference.
It wasn't the team's first match since returning home following the conclusion of the MLS is Back Tournament in Central Florida; they've played in Colorado and in Portland already.
But it was "awesome" to play in front of the home crowd, RSL coach Freddy Juarez said.
"I wish we would've won the game for them," Juarez added. "I think we did enough to win the game. But that feeling when we tied the game, and then re-tied the game — the 4,000 that were here tonight really got us going.
"It was awesome to be able to play in front of some fans and get their reaction to those goals."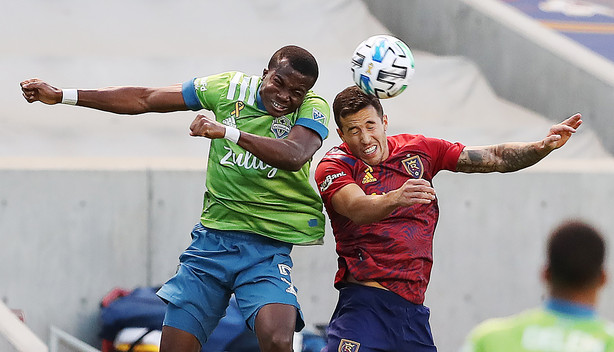 It's been a long six months for fans of Real Salt Lake (2-1-5, 11 points) who wanted to watch their team in person; the pandemic has done that to a lot of people, a lot of fans, and a lot of businesses.
Wednesday night gave the 4,026 fans in attendance a small slice of normalcy, even if it's abnormal to arrive only one hour or 30 minutes early (depending on seat location) and with a mask or other face covering strapped above the chin at all times (except when "actively eating and drinking").
It was hardly a normal experience for the fans, too. But by following guidelines and protocols established by the Salt Lake County health department for social distancing and mask-wearing, the club and county hope to provide a small slice of normalcy while also aiming to reduce the spread of the novel coronavirus.
Every fan was appreciated by the players, too.
"It was great to have them here tonight," RSL defender Aaron Herrera said. "It definitely felt more normal, a lot less like a training session."
For a few moments, those fans were rewarded: by Justen Glad's goal that equalized a first-half penalty kick scored by Seattle's Nicolas Lodeiro, then finally by Ruiz's last-gasp inaugural marker.
Many of them even saw a piece of fine finishing from the Sounders' Yeimar Gomez, who scored his first goal of the season to give Seattle (4-1-3, 15 points) a 2-1 lead — a goal that Herrera admits sometimes you have to credit the opposing team.
"It felt amazing, to be honest," Glad added. "I had my parents up in the suite, which is great. Feeling that energy after the goals, after a big tackle — you can feel the energy, and it gives the team a little more life. For me, it was great to be back in front of the fans and give them a show."
It's been a weird week for Salt Lake.
After last Wednesday's match against Los Angeles FC was called off by players and coaches amid a league-wide protest for social reform, RSL has been thrown through turmoil that rivals anything the club has ever seen.
First, RSL owner Dell Loy Hansen was placed under investigation by both Major League Soccer and the National Women's Soccer League for allegations of racially insensitive comments and conduct during his seven years in charge of the club.
The Logan native announced his intent to sell the franchise, along with Utah Royals FC and the second-division Real Monarchs on Sunday, amid the investigation. But two days later, RSL chief business officer Andy Carroll was reported to be at the center of controversy involving sexist and misogynistic comments made towards current and former members of the organization's staff.
That left the club without an owner and without a head of business operations. To fill the two leaves of absence, RSL brought in former longtime team executive John Kimball — who most recently worked as president of Vivint Smart Home Arena — to serve as an interim president, reporting directly to MLS commissioner Don Garber with "exclusive management responsibility and control of operations for the organization."
Sound like a lot? Imagine being the players, who are in the middle of a run of six matches in 29 days — or once every 4 1/2 days, on average.
"Even when you're going to an away game, I think the fans will motivate you," Herrera said. "It seemed like there was more than 5,000 here tonight."
RSL will travel to play Sunday at Minnesota United (6 p.m. MT, KMYU/ESPN+). The club returns home Wednesday, Sept. 9 to host LAFC.
×
Related Links