SANDY — For the first time since March 7, soccer was back Wednesday night at Rio Tinto Stadium.
Nearly six months after Real Salt Lake's regular season was put on hiatus due to the novel coronavirus pandemic, the club hosted Seattle Sounders FC in front of 20% of a capacity crowd inside the club's home.
A lot has changed in 178 days.
One thing hasn't: this club knows drama.
Four days after a dramatic 4-4 draw at Portland, Pablo Ruiz ripped his first goal of the season in the 85th minute to help Real Salt Lake save a point with a 2-2 draw against second-place Seattle in front of an announced crowd of 4,026 fans at Rio Tinto Stadium.
"Pablo got an incredible goal tonight," RSL defender Aaron Herrera said. "We know we're capable of coming from behind, if we have to."
🚀 AN ABSOLUTE MISSILE! 🚀

Pablo Ruiz SMASHES it from DEEEEEEP for his first MLS goal to equalize it at 85' #RSLvSEApic.twitter.com/wZTeUAIHpK

— Major League Soccer (@MLS) September 3, 2020
Justen Glad also scored for RSL (2-1-5, 11 points), which outshot the visitors 12-5 and held the Sounders to just two shots on target.
Yeimar Gomez scored for Seattle (4-1-3, 15 points), and Nicolas Lodeiro converted a penalty kick for the Sounders — who haven't won in Sandy since 2012.
Like Saturday, RSL had to rally from an early moment of the match. After Herrera was called for a handball in the box in the 28th minute, Lodeiro stepped to the spot and buried a left-footed blast inside the right post for the 1-0 advantage that held up until halftime.
But things changed at the break.
Giuseppe Rossi replaced Maikel Chang at halftime, with RSL coach Freddy Juarez looking to spice up his attack with the former Italian international born in New Jersey.
Glad equalized just five minutes later, heading home a goal from Albert Rusnak's corner kick to pull even at 1-1. The hosts nearly had another one just moments later — again from the corner, but Stefan Frei saved Glad's second attempt in the 53rd minute.
Glad, the RSL Academy center back who scored his first goal since 2016, called the marker "long overdue."
"It felt good. It felt overdue, to be fair," he said. "But it's always a good feeling scoring, and to help the team get a point feels good."
Two minutes after that, Rossi's left-footed shot from close range was saved by Frei. It was an instant impact from "Pepito," in everything but goals. Frei defended the brief onslaught, and Gomez put the Sounders back on top with a set-piece header in the 69th minute to go up 2-1.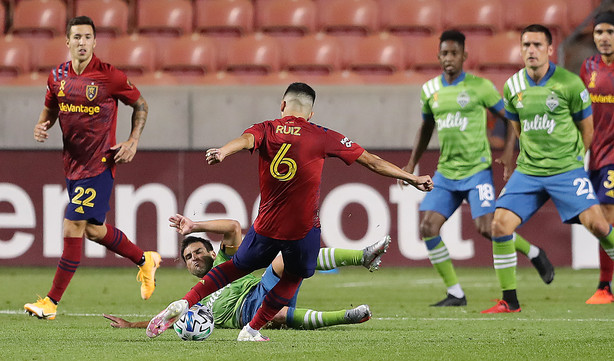 The Sounders nearly got away with a road win, and the defending MLS Cup champions were well on their way. But then Rusnak took another corner kick — and Ruiz called his shot in the 85th minute.
The 21-year-old Argentine midfielder found a loose ball near midfield from a broken set piece with five minutes left in regulation, and uncorked a laser from 40 yards out that burned the top shelf for the 2-2 draw.
"He has an exquisite left foot. But he's great at passing, and his prep touch is everything," Juarez said of Ruiz's goal. "When he released it, I was just like, 'Oh man.'
"It was a great game against a very good opponent. But the goal he scored there makes it even more special."
For the second time in four nights, RSL rallied from a second-half deficit to earn a point. The club scored two goals in stoppage time to rally for a 4-4 draw at Portland. That's in addition to overturning a 1-0 deficit Aug. 22 at Colorado en route to a 4-1 win.
"I think it comes down to belief," Glad said. "We started down in the Colorado game, last week in Portland, and it's just something that our team has: that resilient side to us. We're hoping to keep that."
RSL travels to play at Minnesota United at 6 p.m. MT Sunday. The club's next home match is next Wednesday, Sept. 9, against Los Angeles FC, a makeup date for the match that was postponed due to social just issues a week ago.
Kickoff next Wednesday is scheduled for 7:30 p.m. MT on KMYU and ESPN+.
×
Photos
Related Links