ROY — With the start of school, all eyes are focused on the health and safety of Utah's youth. A Roy family that was infected, including the kids, is speaking out about what it was like to have the novel coronavirus this summer and to share an important message with their fellow classmates.
After spending 41 days in isolation this summer, the Kippen family is happy to finally be together outdoors again. Keith and Rachelle Kippen are parents to three kids.
Keith believes he got COVID-19 from work at the end of June. He is a historian for the U.S. Army Reserve and was conducting interviews about the Army's response to COVID-19 without a mask on. He ended up in the hospital for a week.
"It hit harder, it hit faster, and it affected the entire body," he described.
Days later, his wife and three kids were also sick.
Eleven-year-old Tayecia wouldn't wish it on anyone. "I was like Sleeping Beauty but in a bad way," she said.
"She was sleeping upwards of 20 hours a day," Keith added.
Tayecia lost her appetite, sense of smell and had trouble breathing among other symptoms. "I would always have a nosebleed. It sucked!" she said.
Seventeen-year-old Marton was enrolled in summer college classes when he got the virus. "Fatigue hit hard," he said.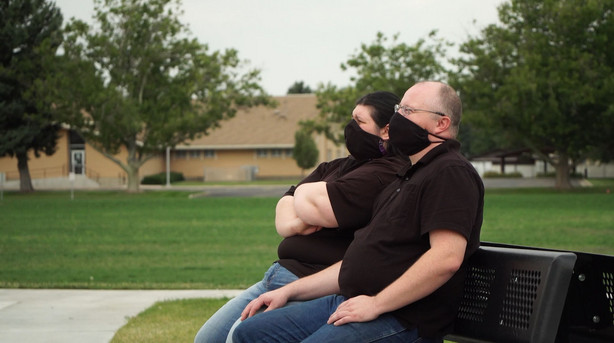 Between that and brain fog, it was challenging for him to finish his school work. He said he is usually a straight-A student, but his grades significantly dropped.
"He'd sit and just stare at the screen and that's all he could do for a half-hour at a time," Keith said.
Marton is just finally starting to get his sense of smell and taste back.
After having little social interaction this summer, 13-year-old Conner is excited to be back to school in person this year. But he has one message for his friends.
"You need to take this seriously. If you don't, it could hit you hard and unexpected," he said.
Connor said he had a hard time sleeping normally when he had the virus. He would wake up in the middle of the night and sleep in till noon.
"It hit my family hard," he said, expressing concern he also had for the health of his hospitalized father.
In addition to caring for her sick children alone since her husband was hospitalized, Rachelle was also ill. She said she experienced extreme dizziness and was falling a lot.
"It was extremely hard, very emotional. I cried a lot," she said. "It was really hard because you had to keep track of when everybody took their medicines. You became the nurse."
She says COVID-19 was nothing like the flu. "This was ten times worse. Their bones felt like they were breaking, their muscles felt like they were ripping," she described.
She was really worried about her kids. "It's so scary because you don't know if you're going to bed that night and they wake up dead, because it gets that scary," she said.
Although symptoms in children and teens tend to be milder than those of a higher risk, older population, Intermountain Healthcare's Dr. Neal Davis, a pediatrician at Hillcrest Pediatrics in Murray, says kids are not immune.
"Some children can get quite sick and some children can get a post-syndrome inflammatory condition that can be quite serious. Now, it's rare, but it does happen," he said.
Davis says this Multisystem Inflammatory Syndrome in Children (MIS-C) is not necessarily characterized by the same symptoms as the initial COVID-19 infection.
"It's an overproductive inflammatory response from the immune system that we don't completely understand," he explained.
"It's called multisystem for a reason because it can involve the heart or lungs or kidney or other things. But really it's … predicated on prolonged fever after they have recovered, often for several weeks, from COVID," Davis said.
While he doesn't want parents to unnecessarily worry, he says it's hard to predict who is going to develop the more severe symptoms.
Davis believes attending school has many benefits, but he urges families to be responsible.
"Let's be leaders in our schools. Let's set a culture for following the precautions as best as we can," he said.
Davis says it comes down to the basics. "We need to wear our masks and we need to wash our hands and we need to be thoughtful about physical distancing as much as we can," Davis said.
He encourages parents to model these prudent habits for their children and to make safety an ongoing conversation with their children at home.
The Kippens encourage their fellow classmates to mask up. "It is extremely worth it," Marton said.
At the beginning of the pandemic, Rachelle underestimated the seriousness of COVID-19.
"At first, I have to admit, I was kind of skeptical about the whole thing," she said. "I thought it was a joke at first."
But after living through the virus, she has a new perspective.
"Now I'm looking at it going, 'What the heck?' Because it was horrible. It was nothing that I've ever experienced," she said.
Rachelle said their family has had both the flu and H1N1 and says COVID-19 was much worse.
"It was the biggest scare, the biggest nightmare I've ever been through," Rachelle said.
"It's not a joke. It's awful," Tayecia adamantly stated.
Although the Kippens are still recovering from post-COVID symptoms, Rachelle feels blessed they are all still alive. "I'm very grateful that they're here. I'm very grateful that they're doing well," she expressed.
Davis also says there is no reason for students to worry about being around a classmate who's had COVID-19 and since been cleared.
"When someone has had the virus and has been cleared, they're cleared and in some ways, we have some reason to believe they're frankly more protected," he said. "Now, there's still more science to come out about that, what level of protection comes from having had the disease."
×
Photos