ST. ANTHONY, Idaho — Chad Daybell's case will continue in the Idaho court system.
An Idaho judge determined Tuesday that prosecutors have met the burden of proof in their case against Chad Daybell, which will move the case forward in the court system.
Daybell is charged with destroying or hiding the bodies of his wife Lori Vallow Daybell's son, 7-year-old J.J. Vallow, and daughter, 17-year-old Tylee Ryan.
All four counts against Daybell are felonies.
Fremont County, Idaho, Magistrate Judge Feron Eddins made the ruling Tuesday afternoon after hours of testimony and more than two dozen pieces of evidence were logged into record over the past two days.
"I find there is probable or sufficient cause to believe that the defendant, Chad Daybell, committed the offenses, counts 1-4 as designated in the amended criminal complaint," Eddins said.
The case will now move to Idaho District Court. Eddins scheduled Daybell to face arraignment on Aug. 21, which he said will likely be over a video conference call. He also gave both the prosecution and Daybell's defense 60 days from Tuesday to file any motion seeking to change the venue.
Preliminary hearings are held to determine if there is enough probable cause in a case to let the case continue in the court system. Idaho's court system starts the process in the magistrate court. If the magistrate court finds there's enough evidence a public offense has been committed and there is "probable or sufficient cause" to believe the defendant committed the offense, then they bump it to the district court for further procedures.
Attorney John Prior, representing Daybell, had argued just before the ruling that prosecutors hadn't shown enough evidence to move forward with the charges and asked Eddins to drop the case just before the ruling.
"The testimony, according to this prosecuting attorney, is that Mr. Daybell is married to Ms. Vallow. That doesn't provide anything … Marriage is not an overt act towards a conspiracy and marriage is not an agreement to conceal or to conspire," Prior said, adding that "a comment to a police officer" and a text message to Daybell's previous wife Tammy, now deceased, brought up during the hearing also didn't show proof of the charges.
"Quite honestly, judge, is what the evidence is in terms of an overt act, I would submit to the court that I understand the burden in a preliminary hearing but they aren't even close on the suggestion in either case in regards to an overt act plus an agreement," he added. "I'm respectfully asking the court to dismiss the charges. They haven't met their burden and I don't believe they provided anywhere near the evidence that is necessary to even overcome that small threshold."
Related:
Madison County Prosecuting Attorney Rob Wood, on the other hand, said he believed prosecutors had presented enough evidence to show cause, saying the bodies were concealed — and one destroyed — and found on Daybell's property. He also noted that cellphone pings from Alex Cox, Daybell's soon-to-be brother-in-law, in the location the bodies were discovered, shows enough evidence of an inferred agreement to conceal the bodies.
The court's decision was viewed as a big win for family members who attended the hearings. Larry Woodcock, J.J.'s grandfather, clapped his hands in celebration as he walked out of the courthouse Tuesday afternoon. The moment was captured by an East Idaho News reporter.
"Thank you, Jesus! Thank you, Jesus," he said, lifting his arms up. "The first part of justice has been completed."
He added he hopes to make a similar statement next week, in reference to Vallow, whose preliminary hearing is scheduled to begin Aug. 10.
Daybell phone records
Prior to the ruling, prosecutors introduced phone evidence from various officers who handled Tylee and J.J.'s disappearance investigation in addition to testimony from two of Daybell's friends. One of the pieces of evidence was a phone call placed by Lori Vallow Daybell — who is referred to as Lori Vallow in court documents — to Daybell on the morning of June 9, which is which was the day investigators discovered the remains of the two children.
During the 3-minute conversation, with a timestamp shortly after 11 a.m. that day, Vallow, who was in an Idaho jail at the time, asked if Daybell was OK. Daybell quickly responded, "No, they're searching the property."
The conversation wasn't very audible as Daybell, who sounded dejected, mumbled responses back to Vallow. He also told Vallow that her attorney "will be talking to you."
When Vallow asked if she could call him again later, Daybell responded: "I don't know. You could try." According to East Idaho News reports from that day, Daybell was arrested within an hour of the phone call, after investigators dug up human remains from his property. The remains were later identified to be those of J.J. and Tylee.
Cyber forensics experts went into detail about how they unlocked a phone collected during a search warrant of Daybell's property earlier this year. FBI intelligence analyst Benjamin Dean said the phone belonged to Tammy Daybell, Chad's then-wife who died on Oct. 19, 2019.
In going through the text messages, Dean found a conversation dated on Sept. 9, 2019, that stood out from the rest. The message, he said, was longer and detailed than most of the conversations the two had. It also happened the day after officials were last able to establish Tylee was alive.
The conversation began with Chad Daybell texting: "Well, I've had an interesting morning! I felt I should burn all of the limb debris by the fire pit before it got too soaked by the coming storms. While I did so, I spotted a big (raccoon) along the fence. I hurried and got my gun, and he was still walking along. I got close enough that one shot did the trick. He is now in our pet cemetery. Fun times!"
He then added: "Gonna shower now and then go write for a while at BYU. Love you!"
When Tammy Daybell responded "good for you" about three hours later, Chad Daybell responded he was home.
"Most of the messages between Chad and Tammy were relatively short and they dealt with matters around the house; for example, whether to pick up food for an animal, the depositing and cashing in of checks and the comings and goings — when they'd get home or when they'd be leaving," Dean said. "It appeared to me to be the first and only message sent from Chad to Tammy in which Chad was describing or informing Tammy of his day's events in such a lengthy and detailed manner. The other thing that caught my attention was the date."
In addition to being different from other conversations the two had, it was established during the preliminary hearing's two days that Tylee's body was recovered from a section of Chad Daybell's property near a fire pit and where pet carcasses were also dug up.
Dean said he immediately relayed the message to case agents after he came across the message.
Tuesday was the first time prosecutors went into detail about Daybell's phone usage. On Monday, Rexburg police testified about information collected from Cox's phone records, which were obtained from a search warrant after his death in December 2019. The data helped them pinpoint a spot of land on Daybell's property that they believed could be where Tylee and J.J.'s bodies were buried. Their bodies were indeed found in that location during the June 9 search.
Friends testify at hearing
Tuesday morning, a friend of Daybell's and Vallow's acknowledged that she lied when she first spoke with police when they inquired about J.J. for a welfare check in 2019 but asserted that she didn't accept a deal with prosecutors to overlook that lie in exchange for her testimony.
Melanie Gibb, of Gilbert, Arizona, opened the preliminary hearing's second day on the stand to answer questions from the Daybell defense. Gibb explained her relationship with Daybell and Vallow further, as well as her communication with law enforcement after J.J. and Tylee were reported missing. A recorded phone call she had with the couple in December 2019 was admitted as evidence Monday.
Prior pressed Gibb about numerous meetings she had with law enforcement following Nov. 26, 2019, which is when Vallow told Rexburg police that J.J. was with Gibb in Arizona after they conducted a welfare check on her son.
Gibb told the court Monday that she avoided contact with Rexburg police but told a Gilbert police officer that she had been with J.J. but dropped him off with Vallow, so he should be with his mom. Gibb told the court she was aware that she lied to an officer but insisted she "never" was offered a deal with prosecutors for her testimony.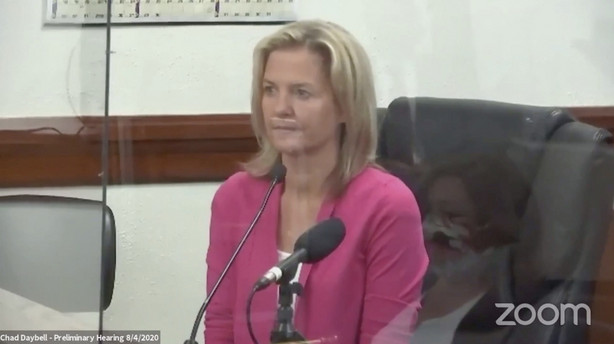 Prior asked about a phone call with Vallow and Daybell she recorded on Dec. 8, 2019. Gibb said she was never prompted by police to confront Vallow and that she had "many objectives in that," which she said included showing her innocence in the case.
Gibb also described meeting Daybell at an emergency preparedness camp in Morgan, Utah, in 2017, and Vallow the following year at events in Arizona and Utah. She also met Cox in 2018. Gibb said Vallow and Cox were close to each other, so much so that Cox moved from Arizona to Idaho with Vallow. That appeared to contradict statements by Cox that were mentioned by Rexburg police Monday, in which he allegedly told officers he didn't have his sister's number when they asked about how they could get a hold of her during the 2019 welfare check.
When pressed if she had a rocky relationship with Tylee, Gibb explained she didn't have much of a relationship with Tylee or J.J. — the latter because J.J. had autism and was not very communicative, she said.
On two occasions during the cross-examination, Eddins asked Prior and Gibbs to not talk over each other so the conversation could be accurately added to the record.
Gibb's boyfriend, David Warwick, of Pleasant Grove, Utah, also testified Tuesday morning. Warwick told the court he never met Tylee and came into contact with J.J., including a weekend in September 2019, shortly before prosecutors believe his death occurred.
"It was like I wasn't even there. He didn't acknowledge me at all," Warwick said of trying to communicate with J.J. that weekend.
He, like Gibb on Monday, said he saw J.J. on the night of Sept. 22, 2019, when Cox brought him in as Warwick, Gibb and Vallow recorded a podcast about religion. Warwick said he did not see J.J. the following morning, Sept. 23, 2019, which is what Gibb also said Monday.
Warwick told the court that Vallow said J.J. was "being a zombie," climbing on things and acting up in the kitchen, and said J.J. was with Cox the morning of Sept. 23, 2019 — a day after prosecutors say they can last prove J.J. was alive.
Locating the bodies
When the prosecution went back to calling witnesses from the J.J. and Tylee investigation during Tuesday's hearing, Steve Daniels, an FBI special agent from the Salt Lake City field office, described how they found the site on Daybell's property where the children's bodies were discovered.
Daniels told the court that he focused more on observing where possible burial sites would be and not the cellphone data pings, which were discussed at length by Rexburg police Monday. Instead, he described how they believed they located a section of the property Daybell described as the "pet cemetery" because of a dog statue located in the area.
While at the site, Daniels said he found thicker grass around a "raised berm" with thinner grass on it, which he determined might be a burial site. As they dug in that location, they came across rocks and wood paneling before they reached a black plastic bag.
Daniels testified that he brushed away dirt from the bag and became suspicious that it contained remains. He took a razor blade to open the plastic bag and another it was wrapped around until he found human hair, which confirmed they found the burial site. The body was later identified as J.J. A similar process was done that day to find Tylee's remains.
Clarification: An earlier version of this article mistakenly reported that J.J. Vallow was Lori Vallow Daybell's stepson. He was her adopted son. This has been corrected.
×
Related Stories