Estimated read time: 7-8 minutes
This archived news story is available only for your personal, non-commercial use. Information in the story may be outdated or superseded by additional information. Reading or replaying the story in its archived form does not constitute a republication of the story.
SALT LAKE CITY — After a 2½ hours of discussion, the Salt Lake City School District board of education voted to adopt its plan to restart the school year in an all-virtual capacity after Labor Day, becoming the first district in the state to usher in an online school year.
Under the plan adopted by the school board, which was not adopted unanimously but approved by a vote of 6-1, students will begin the semester Sept. 8 in a fully online model. The district could transition the educational delivery at the mid-term or quarter breaks.
"When the community rallies for students, good things happen," school board president Melissa Ford said during the meeting, which was held online in accordance with local health policies. "The positivity that comes from working together to make a solution that is best for students is amazing.
"This is an opportunity for us to show what Salt Lake is about."
In the motion to approve, board members emphasized that the ultimate goal is a complete return to in-person learning.
"We want to remain flexible. We want to get back as quick as we can," interim superintendent Larry Madden said. "I think we talked about (making a change) at the quarter, but we've also talked about being able to do it at midterms, if we can. What we want to do is keep it in a gray period so that we can have some continuity for the students' classes.
"When we come back, we want to stay," Madden added. "We'll fold in-person instruction within our remote modes, so that teachers will be teaching on the platform."
Teachers will be required to be on campus by Aug. 18 to begin a weeklong professional development and planning phase. From Aug. 25 through Sept. 4, they'll be available in the classroom to begin assessments, conduct small-group meetings or one-on-one conversations with parents and students, and make sure technology such as the school-appointed Canvas platform is in place for online learning.
Most board members appreciated the "fluidity and flexibility" of the plan in migrating between different options for educational delivery. Another board meeting is currently scheduled for Aug. 4.
That includes plans to move into a modified "hybrid" model of part-time in-person and part-time online classes, when possible, and eventually moving to a full in-person schedule, as soon as conditions safely permit it.
In the move back to the classroom, district officials anticipate metering students' return to maintain in-class instruction and prevent future outbreaks. Some special-needs students, such as those in special education classes or those with an individualized education plan, may return to the class sooner rather than later, district spokesperson Yándary Chatwin said.
Elementary-age children may be the first to transition back into the classroom, as well, because recent evidence suggests that younger children do not transmit the disease in the same way as their teenage counterparts, Madden added.
Like all coronavirus response plans, the key is to remain flexible, the interim superintendent said.
"I would assume it would be pretty transitional; we won't go all-the-way-out to all-the-way-in, but rather transition through a hybrid schedule," Madden said. "We want to maintain some flexibility, and as we learn more, we may even want to phase it back in slightly different ways.
"We're going to look into all those different things. But I don't think we would go all-the-way-out to all-the-way-in."
With that in mind, the district recently ordered 6,000 more laptops to add to 13,000 distributed to students during the spring, and will soon have an additional 1,000 iPads to help facilitate online learning. Madden said the group is also working with Comcast to install hotspots in local communities and has installed public Wi-Fi via football stadiums and in parking lots for all students who need broadband access.
The district currently has 600 hotspots that can be checked out to families in need of internet access.
Schools have plexiglass installed in teaching areas, and the district is making its own hand sanitizer to distribute liberally to each campus. Masks and face shields will also be supplied for all students, teachers and faculty.
Students will also be provided a water bottle that can be refilled at touchless water fountains at every school, when they return to class.
Students that qualify for free or reduced lunch will get meals, regardless of the mode of educational delivery, Madden said. The method isn't fully determined, but it will likely remain similar to the spring's grab-and-go delivery that followed Gov. Gary Herbert's soft closure of public schools in March.
"We're ready. We're ready to go back to school," Madden said. "We've got all the personal protective equipment in place.
"What we're trying to do, as well, is cohort students to keep groups as small as we can, and to limit the kids and the adults."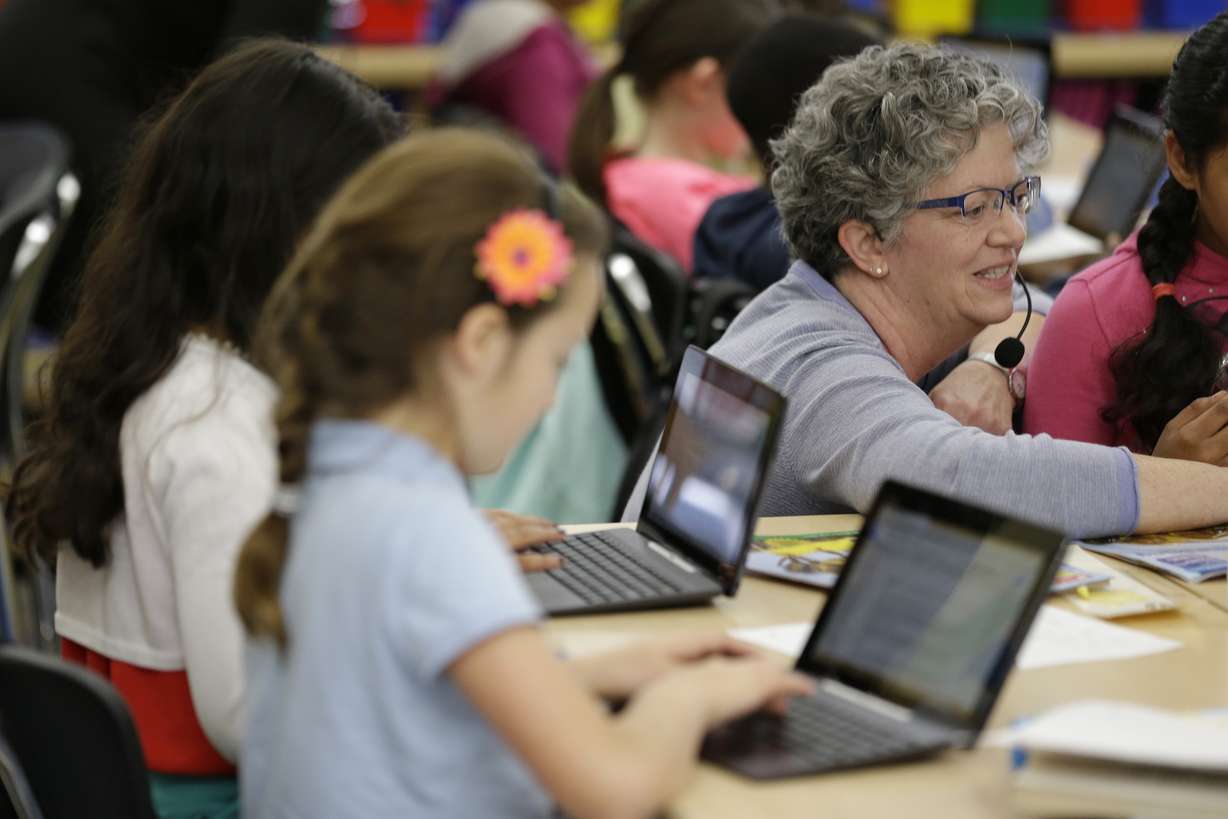 The plan's acceptance was nearly unanimous, but was not without its detractors. Board member Michael Nemelka addressed the board with a lengthy filibuster explaining why he would vote "no" on the remote learning option.
"Let's all of us just shut down everything we can; just starve … adhere to the fear and stupidity, and just vegetate for the next year," Nemelka said in part of his lengthy monologue. "Stupid is as stupid does; I know now what that phrase means. So here's to my vote for opening schools."
Ford immediately refuted her fellow board member's dissension, while acknowledging and thanking him for sharing his opinion and addressing his concerns.
"It's OK to be scared of this virus," board member Katherine Kennedy added moments later. "This virus is scary."
The district is the lone school district in Utah where every school, including the five high schools, are all located in the state's designated "orange," or moderate-risk, phase of coronavirus response.
Salt Lake City petitioned the governor's office to stay in the orange phase as surrounding areas moved into the yellow phase, while much of rural Utah has transitioned to the green, "new normal" phase of coronavirus response.
"Because our situation is so different and so unique, and has been harder hit on our families and district, it's taken a little bit longer," Chatwin said. "But we're confident that this plan will help get us back into the classroom safely."
Nearly 19,000 of the state's 39,696 confirmed cases of COVID-19 have come from Salt Lake County, including 171 of the 300 deaths, according to numbers reported earlier Thursday, which saw 502 more cases and nine more deaths statewide.
The district may decide to reopen for a hybrid or fully in-person model of educational delivery when its area is in compliance with ordinances and regulations by the state of Utah, Salt Lake County, Salt Lake City and state and local health departments.
One of those protocols includes Salt Lake County posting a positive COVID-19 test percentage below 5% for a seven-day window. Currently, the county is around 9%, Madden said in addressing the board. The number of daily cases should also be less than 10 per 100,000 individuals, according to the plan.
Team sports will be allowed to continue at each of the district's high schools that offer them, a common complaint among groups of parents. Fans, however, will not be in attendance if Salt Lake City district schools host those games. Brighton principal Tom Sherwood said at a recent meeting of the Utah High School Activities Association that schools could flip sites to play in areas of the state or county that have been less affected by the virus, and will allow a limited number of fans to attend.
"We won't have any fans at any home games that would happen in Salt Lake City, but we're leaving it to the teams to negotiate where they want to play," Madden said. "We're just working that out with the other teams."
The district considered four options, including returning to in-person classes on a full-time basis; learning in a blended model of face-to-face learning and online learning; a fully remote, school-based plan; and enrollment in the district's virtual K-12 school program.
District representatives say they will be able to pivot from one plan to another as public health circumstances dictate as well.
"We want our children back in school, and we want them back in school as quickly as we can," Madden said. "But we also want to do that safely."
Contributing: Matt Rascon, KSL TV
×
Photos
Related links
Most recent Education stories