MIDVALE — After nearly a month of increased deliberations and two neighboring states pushing fall activities to the spring, the Utah High School Activities Association reaffirmed its commitment to playing this football season, girls soccer, girls volleyball and other sports starting next week.
The association's board of trustees met Tuesday to further discuss details of the reopening of high school sports in the fall, which coincide with the reopening of Utah schools by the state board of education, following Utah Gov. Gary Herbert's soft closure back in March.
Once again, though, officials cautioned that the fall will look far from normal.
But as the state is just a week away from opening girls soccer matches across the state — and a Region 9 golf tournament was held in St. George on Tuesday — the board of trustees convened, mostly via Zoom, in their normally scheduled meeting and discussed the upcoming abnormal school year.
Fall sports also include cross country, girls tennis, and Class 1A baseball. All schools, districts and athletic teams will be expected to follow strict return-to-play guidelines established by the UHSAA's sports medicine advisory council.
"The Association's governing board affirmed plans to proceed with fall sports as scheduled, with a continued focus on following established best practices from national and local governing and advisory organizations," UHSAA assistant director Jon Oglesby said in a statement. "The BOT also encouraged member schools to regularly communicate with local health officials regarding policy and best practices for their school community."
Following a last-minute change to Herbert's order for schools operating in the orange "moderate-risk" counties in the state, schools in the Salt Lake City School District will be allowed to compete against their peers in neighboring cities and districts.
The main difference? East, West, Highland, Judge Memorial and Rowland Hall will have increased limitations on fans, conforming to district policies and the boards of the two private schools.
"As part of the orange phase, it was agreed that they would not have spectators," said Brighton principal Tom Sherwood, who also sits on the UHSAA's board of trustees. "But if they're scheduled to play, you know, Brighton at Highland ... I'd rather they play the game at Brighton, and that way, their fans can still come — in a limited number, but they can still attend.
"And we're looking at doing that for other fall sports in the Salt Lake districts as well, where they are not probably going to have fans in their buildings. They're looking to play most of their contests away."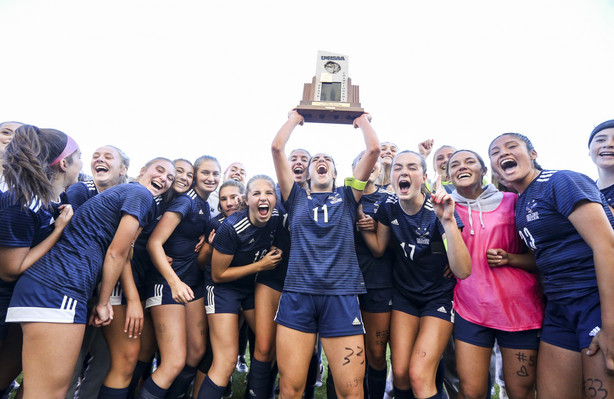 Each district will determine how many fans will be allowed to attend games. But each board member seemed assured that attendance will be significantly limited, at the very least.
The first day of high school football on the current schedule is Aug. 13, though several schools have had games against out-of-state competition canceled recently. For example, when the Nevada Interscholastic Activities Association voted to push all sports to the spring, at least six top-tier Utah schools lost games against Nevada opponents.
Those games include East's date with Liberty (Henderson, Nev.) on Aug. 21, and Bingham's game against Bishop Manogue (Reno, Nev.) the next day.
American Fork was scheduled to play Arbor View (North Las Vegas, Nev.) on Aug. 28, while Pleasant Grove was supposed to play Shadow Ridge (North Las Vegas, Nev.) on Sept. 4. The Vikings were also scheduled to face Las Vegas High on Sept. 11, the same day that Lone Peak was set to play national power Bishop Gorman, another Las Vegas school.
The UHSAA also clarified transfer rules, in large part due to potential students who may request to transfer to Utah schools due to Nevada or California cancelations. UHSAA assistant director Brennan Jackson, who oversees football, said all transfers will be strictly governed under current policies that include a full family move, with very limited and narrow exceptions.
Those policies include proof of a terminated lease or sale of residence provided to the UHSAA, Jackson said.
"We are being hit pretty hard from calls from Vegas," said Washington County Schools superintendent Larry Bergeson, according to the Deseret News. "We're holding firm on it, and we are being hit really hard from the Vegas and Mesquite area."
Alta High offensive coordinator Riley Jensen said he's already received more than dozen requests from players in surrounding states who want to move to Utah, with as many as 20 more still expected.
"It's already here," Jensen told KSL TV. "It's not a question of if, but when and where it's happening.
"You have players who have worked their whole lives in Utah to be a starter at their high school, only to possibly have it yanked out from underneath them because a star has moved in from California."
Contributing: Deanie Wimmer, KSL TV
×
Related Links