SALT LAKE CITY — Tony Finau's search for his second victory on the PGA Tour continues.
Even with his longtime swing coach Boyd Summerhays serving as a temporary caddy for the week, the Rose Park native couldn't find the mojo for a major breakthrough — try as he might.
Finau shot 3-under-par 68 Sunday to finish in a nine-way tie for third with 16-under 268 at the 3M Open at TPC Twin Cities.
Michael Thompson carded a four-day total of 19-under 265 for his first PGA Tour victory in 167 starts, and Adam Long was two shots back for second.
But for the second-straight week, Finau held at least a share of the lead on the final day. And for the second-straight week after finishing eighth at The Memorial, his search for a win continues.
"I think there's a little bit of frustration, but not, you know, not a lot," Finau said. "I hadn't posted a top-10 before last week since I lost the tough one (in a playoff to Webb Simpson at the Waste Management Phoenix Open) in Phoenix. So coming off of quarantine, you never know where your game's going to be. It took me a few weeks to just emotionally be competitive and these last couple weeks have proved that I am.
"Like I said, with these major championships right around the corner, I'm really happy with where my game's at."
Thompson won the $1.2 million winner's share of the $6.6 million purse. Finau earned about $250,000 for his third-place effort, after ties.
The West High product remains the PGA Tour's active leader in top-10 finishes without a victory since the 2016-17 season.
His last — and only — win on the PGA Tour came in March 2016, when Finau earned an emphatic victory at the Puerto Rico Open. Since that win, he's claimed 29 top-10 finishes — the most of any golfer on Tour without a victory.
Perhaps that win is another example of what Tour golfers call "the Puerto Rico Open Curse." Finau has played in 158 events, racking up 36 top-10 finishes, including six second-place finishes.
Since Puerto Rico became tour-certified in 2009, no golfer has gone on to win the event and another tournament in 11 years.
"They don't give out second-place trophies, third-place trophies — I've learned that the hard way with a lot of them coming early in my career," said Finau, who hasn't decided who will caddy for him after Sunday, "but I continue to just believe and hope for the best for my future."
Ask any tour golfer, and they'll probably tell you the same thing: The final day of a tournament relies as much on mental strength as physical power.
That was where Long harnessed his late run, from a 1-over 72 to squeeze by the cut line in 50th place Friday before shooting 63-64 for runner-up status by Sunday.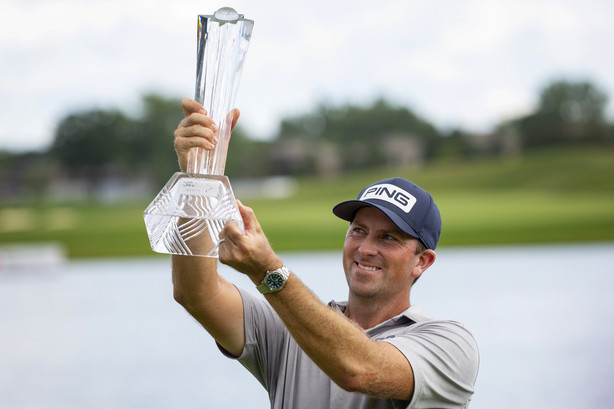 "I think most of it's probably mental, where Friday you're on the cut line all of a sudden after making those few bogeys and I'm thinking it's a lot harder — you're grinding it out," Long said after Sunday's round. "Obviously Friday was really tough with the wind and everything, too, it was a really tough day, versus this weekend I had nothing to lose, I'm in 50th place starting on Saturday morning. So tried to cruise up and here we are."
After hovering around the top-10 since Thursday, Finau strung together a pair of birdies on the front nine, then added a third on the first hole of the back that briefly tied him atop the leaderboard at 15-under-par.
But as the rest of the field came down the stretch, the West High product merely stayed stagnant. It's not that Finau was playing particularly poorly or well; he was just playing — sans adjective.
After sinking a well-placed approach shot that dropped inside of 10 feet on No. 10, Finau went 1-over on the next seven holes with a bogey before ending with a tap-in birdie on the par-5, 599-yard 18th to get back to 18-under.
Even with a new caddy for the first time since 2015, Finau's struggles on the final day on tour continued. He entered the tournament averaging 72.5 strokes on Sundays, and did little more than maintain his average.
Finau never dropped out of the top 10, and was never more than three shots off the lead. But the gulf felt enormous as low scores like 64 from Adam Long and Robby Shelton, or 68 from Thompson began to be posted.
"I had some great looks down the stretch," Finau said. "I didn't make the putts I needed to. Nos. 12, 14, 15. I needed to get one of those; I felt like kind of coming down the stretch and I wasn't able to make one of those putts. I had another look on 17, and you've got to make those putts to win the tournament and I wasn't able to do it today."
×
Related Links