Editor's note: This article is a part of a series reviewing Utah and U.S. history for KSL.com's Historic section.
MILLCREEK — Friday will mark 173 years since Mormon pioneers reached the Salt Lake Valley and settled communities in what would eventually become Utah.
While this week may carry at-home, socially distant or online events to celebrate the anniversary, Millcreek officials, leaders of some of Utah's prominent Black community, and descendants of Black pioneers gathered in a parking lot aside a busy roadway to honor two of Utah's Black pioneers who helped shape the community into what it is today.
New sign unveiled pic.twitter.com/ITtM5VCt6G

— Carter Williams (@cwilliamsKSL) July 20, 2020
Officials renamed 3205 South to Chambers Avenue, honoring Samuel and Amanda Chambers. The couple arrived in the Utah Territory 150 years ago and settled not far from the road now bearing their name. They were some of the city's earliest settlers and successfully farmed there for 50 years.
"This idea came up and we thought it was a terrific idea, especially given the current events in our country, to be able to honor members of people of color that settled in Millcreek and show when we celebrate Pioneer Day, we're celebrating the heritage of all people who settled in the Millcreek community, including former enslaved people who made a great sacrifice to come and live in Utah," said Millcreek Mayor Jeff Silvestrini.
Samuel and Amanda's journey to Utah differed from the first group of Mormon pioneers that will be celebrated this week, but there were parallels. The first group of pioneers to reach the Salt Lake Valley in July 1847 were fleeing from religious persecution; the Chamberses made it to Utah not long after gaining freedom following the Civil War.
Samuel Chambers was born in Alabama in 1831. Amanda Leggroan was born nearly a decade later in Mississippi. Both grew up as slaves in the South. In 1844, Samuel was baptized into The Church of Jesus Christ of Latter-day Saints. The two married in 1858 but remained enslaved in the South until the end of the Civil War.
Without any financial or organizational help from the church, they joined a small group who journeyed from Mississippi to the Salt Lake Valley in 1870 and settled in what is now Millcreek, according to Kellen Perkins, a descendant of the Chamberses.
Once in Utah, many others became members of the Latter-day Saint faith as they lived around downtown Salt Lake City. After living in Utah for about five years, the Chamberses were able to purchase plots of land near modern-day Imperial Street in Millcreek — a few blocks east of Chambers Avenue, Perkins said. They eventually acquired about 30 acres of farming land by the end of their lives.
"They received the deed to their first tract in 1880, so 10 years after their arrival," Perkins said. "They often hired family members to help clean the currants and package them for sale. Prominent Salt Lakers came to Millcreek to buy their produce. Samuel and Amanda had a love and regard for their community."
Robert Burch, president of Utah's chapter of the Afro-American Historical and Genealogical Society, is one of the leading researchers in the Chamberses' history. He said accounts of Samuel Chambers note him as an "industrious and humble man."
"He won a number of awards for the fruit he grew in his orchards," Burch said.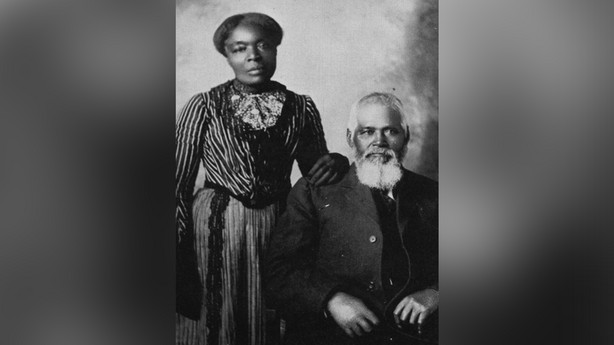 Perkins added that the Chamberses held events that brought together people of all different backgrounds during their lives.
Not only was Samuel Chambers a prominent farmer, but he was also a noted member of the Latter-day Saint faith — even though the church's policy at the time barred him from holding priesthood responsibilities. Both Samuel and Amanda Chambers' names are etched in the garden atop of the church's Conference Center along with other Latter-day Saint pioneers.
"Many other of the recorded testimonies of his humility and love of God are housed in the Church History Library," Burch said.
The Chamberses went on to live long lives, too. Amanda Chambers died in 1925 at the age of 85; Samuel Chambers died four years later at the age of 98. They were buried at Elysian Burial Gardens, located a little more than a dozen blocks south of the street now honoring them.
While Monday's ceremony happened at the start of what Silvestrini dubbed "Pioneer Week," it was also evident that it occurred in the middle of discussions about systemic racism in the country and how communities honor people's legacies in public spaces.
---
I think it's important to remember that family was our legacy; love was our legacy. Building bridges and bridges between communities was the legacy that the Chambers built.
–Kellen Perkins, descendant of Samuel and Amanda Chambers
---
Many statues honoring people who actively participated in racism have been removed by communities or torn down by protesters worldwide over the course of nearly two months. For Silvestrini, the choice to honor the Chamberses made perfect sense as communities search to honor people in history. The street honoring them is located not far from Millcreek's city hall and in the middle of what the growing city hopes to be its downtown for many years to come.
"I think it's very significant to honor a Utah family who made a contribution to our community," Silvestrini said. "I felt this was perfect because it accomplishes a goal of letting people of color, African-Americans of Utah and in Millcreek, know that they are welcome here. And it addresses issues of the time, but it does so in a way that's special for our community … more so than honoring a national figure."
Jeannetta Williams, president of Utah's NAACP chapter, said it's difficult to imagine the Chamberses' journey to Utah; however, the street is a reminder they were able to overcome and become valuable members of the Millcreek community.
"There's no words that I can say, or probably anybody else can say, that will be able for any of us to fully understand everything that they went through," she said. "I'm sure that it was just horrible circumstances. We're here now, but we have to make sure that we continue the dream and legacy of the Chambers."
The street is especially meaningful for Perkins, who lives in the area and is a business owner himself now. He was one of a few representing the Chambers descendants; many more weren't able to attend the ceremony due to the COVID-19 pandemic, he said. Descendants who were in attendance wore protective masks as they posed for photos with Chambers Avenue street signs they were given by city leaders.
Perkins described his ancestors' legacy as being entrepreneurs who also loved the community they lived in. Those are virtues they passed on to their children and grandchildren.
"I think it's important to remember that family was our legacy; love was our legacy," he said while holding one of the street signs in his hands. "Building bridges, and bridges between communities was the legacy that the Chambers built."
Perkins also noted that the representation of Black history is harder to find within the east side of Salt Lake Valley. Prior to the city's unveiling of the new street sign, he challenged Silvestrini and Millcreek leaders to not only honor Black lives through signs and monuments, but also in current policy and access that's equal for all residents.
It's a challenge Silvestrini told members of the media after the ceremony that he understands and agrees with.
"We're moving forward and understanding that it's important to honor families — not just through signs," Perkins said. "The conversation I had with the mayor today is definitely an open conversation about: How do we make policies that are fair and equitable to everyone? That is definitely more important than honoring the legacy my family has built here than anything."
×
Photos