PROVO — BYU football is down five opponents from its 2020 season schedule, since the Big Ten and Pac-12 announced their intentions to play only conference games in the fall as a result of the COVID-19 pandemic.
The decisions that occurred within 24 hours of one another wiped out the Cougars' opening month of the season, including its Sept. 3 opener at archrival Utah. Games against Michigan State, Arizona State, Minnesota and Stanford have also been canceled.
So where does BYU go from here? Where should the Cougars turn to fill out a schedule?
It's unlikely they'll be able to fill out a 12-game schedule comparable to the one that's been lost — both because of the short notice and because other Power Five conferences are likely to follow the lead of the Big Ten and Pac-12 and move to a conference-only schedule.
With that in mind and as a friendly suggestion for BYU athletic director Tom Holmoe, here's a look at a possible schedule that BYU can rig for the 2020 season. A few assumptions are made: that the Power Five leagues all opt for conference-only scheduling; that the Group of Five do not, or at least will allow their teams to schedule BYU, when available; and that college football is played this fall.
That last one may be the biggest assumption of all, after the Patriot League on Monday became the second league to push its fall sports to the spring.
Sept. 5 — vs. Hawaii
While tempting to try to line up Alabama, which lost its season opener against USC on the same day as BYU-Utah, the last game of 2019 becoming the first game of 2020 seems more likely. The 'Bows were scheduled to host UCLA on this date, so BYU could move its season opener at Utah to Provo, pay for Hawaii's travel expenses (which won't be cheap), and tie up a season opener against the reigning Mountain West runners-up under new coach Todd Graham.
Sept. 12 — vs. UConn
BYU's original home opener against Michigan State would be replaced by newly independent UConn. The Huskies were scheduled to play at Illinois on this day, and also to host Indiana on Sept. 26, so either date is open for the Huskies to add another game against their fellow FBS independent.
The Cougars could also travel to Hartford for this game, but that would likely require the Huskies to contract a return game to Provo in future years.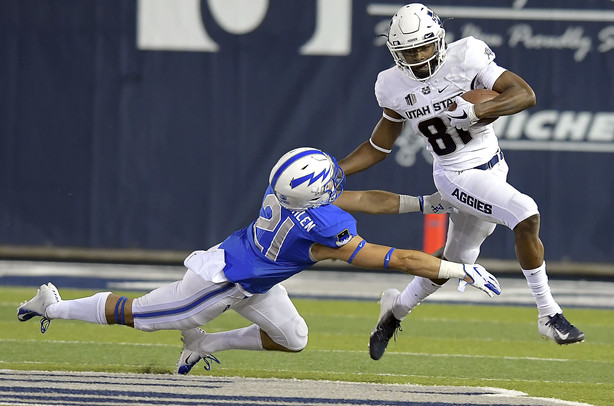 Sept. 19 — at Air Force
The Falcons were scheduled to play at Colorado on this day, with BYU supposed to play at Arizona State. But with the Cadets and Cougars finding themselves in a similar situation, traveling to the academy for the first time since BYU left the Mountain West seems like a small adjustment to the schedule.
Sept. 26 — vs. Dixie State
The Trailblazers were scheduled to host Drake on this date in Dixie State's inaugural campaign as an FCS independent. But with a schedule filled mostly with Big Sky and Division II opponents, this seems like the most likely game that could fall through, or be adjusted. While not ideal, BYU could also travel for its first-ever road game in St. George. The Cougars are scheduled to host the Trailblazers in 2022, and a game in the 10,500-seat Greater Zion stadium would be warmly welcomed by BYU fans in Southern Utah (and a limited seating capacity would be the hottest ticket in Washington County).
Oct. 2 — vs. Utah State
BYU's only Friday night home game, the Cougars and Aggies have made playing on the Friday before the Latter-day Saint's conference weekend something of a tradition. There's no reason to end that.
Oct. 10 — at Army
BYU's home game with Missouri hasn't been officially wiped out yet, but Holmoe would do well to proactively schedule this contingency plan. The Knights of West Point had a home game against Princeton canceled on this date when the Ivy League postponed all fall sports competitions until the spring, and the Cougars have never played fellow FBS independent Army.
Oct. 16 — vs. Houston
Sure, the American Athletic Conference could also cancel nonconference play. But that hasn't happened yet, and this Cougar feud should be protected at extensive costs, certainly from BYU's perspective.
Oct. 24 — at Northern Illinois
The Cougars' date with the Huskies was originally dubbed the Chi-Town Showdown, but has since been relocated from SeatGeek Stadium in Bridgeview, Illinois, to Huskie Stadium in DeKalb.
Oct. 30 — BYE
No need to move a bye week, right?
Nov. 6 — at Boise State
Another game that BYU should fight to protect, the Broncos also value its long-term series with the Cougars.
Nov. 14 — vs. San Diego State
If the Mountain West cancels its nonconference schedule, this game would go, as well. But cross that bridge when the news happens.
Nov. 21 — vs. North Alabama
Another FCS program, but the NCAA passed temporary legislation that will allow up to two wins over FCS opponents to "count" towards FBS bowl-game qualification. If the Lions don't fly across the country to Provo, however, BYU could replace this date with Southern Utah, which was scheduled to play at nonconference foe Abilene Christian a week after hosting the annual Beehive Bowl rivalry game with Weber State.
Nov. 28 — vs. Notre Dame
BYU was supposed to play Stanford, and Notre Dame was scheduled to end the season at USC. Both games were canceled by the Pac-12 as a result of the pandemic; is there a better reason for the Fighting Irish to (finally) play that game in Provo that has been contracted since BYU first announced it was going independent?
The game could also be played in South Bend, Indiana, or as a neutral-site game — maybe even in Las Vegas and Allegiant Stadium, the new home of the Raiders. If Notre Dame declines, this week could remain open or Holmoe could call Navy for a game with the other service academy during the Midshipmen bye week preceding the annual Army-Navy game Dec. 12 in Philadelphia.
What do you think? Would this 12-game schedule be welcomed by fans, assuming that BYU football is played this fall? Leave your thoughts in the comments below.
×