SOUTH SALT LAKE — From tiny masks for preschoolers to pallets of disinfectant wipes, Granite School District's warehouse is brimming with supplies intended to get school off to a safe, successful launch.
Under normal circumstances, it's no small feat fulfilling supply orders for the state's second-largest school district prior to the start of the academic year.
In a time of pandemic, the school district has also dealt with supply chain issues and anticipating the types and amounts of supplies that schools will need when they open next month.
Months before Gov. Gary Herbert's mask mandate for Utah public school students, staff and visitors, state officials and schools had ordered hundreds of thousands of masks for staff and students because schools, in the midst of the COVID-19 global pandemic, need to plan for every sort of contingency, said Granite District's distribution floor manager Joe Mortensen.
"Once all this hit, we started ordering stuff. It just shows you have to get your order in because only so much can be made. So it's a matter of getting your orders in so you can get in line and they fill the orders, I guess, first-come, first-served. So, the quicker you react, the quicker you're going to get your product," he said.
Interestingly, the district never experienced a shortage of toilet paper, and it orders rolls that are 1,000 feet long.
"We never ran out of paper towels, either," Mortensen said.
But the district has felt the supply chain pinch for other items such as rubbing alcohol.
"We had, like 240 pints ordered and because it's such a high demand, they have to fill the hospital orders first. So they (the supplier) called our buyer and they said 'We'll be sending you five a week until it's done.' We haven't gotten five a week because they just haven't been able to keep up with demand," Mortensen said.
The orders of most supplies were placed months ago and will be delivered to schools as soon as they arrive, he said.
Mortensen said one of the challenges of supplying schools during the pandemic has been tempering expectations. One school wanted 30 cases of hand sanitizer when a customary offering is three or four cases.
"We've only got a limited supply so (we) said 'No, no, no,'" he said.
The warehouse needs to ensure supplies are available for all schools and take steps to curb stockpiling.
"So on certain items they have to put on limits so we can make sure every school is able to get some kind of cleaning supplies," Mortensen said.
Elsewhere in the state, schools are awaiting orders of masks for the start of the school year.
Davis School District spent some $350,000 for 120,000 reusable cloth masks decorated with the district logo. The purchase was made with federal funding from the Coronavirus Aid, Relief, and Economic Security Act.
It also ordered 85,000 additional masks without logos in case there were delays in the manufacture of the customized masks. They were also purchased with CARES Act funds.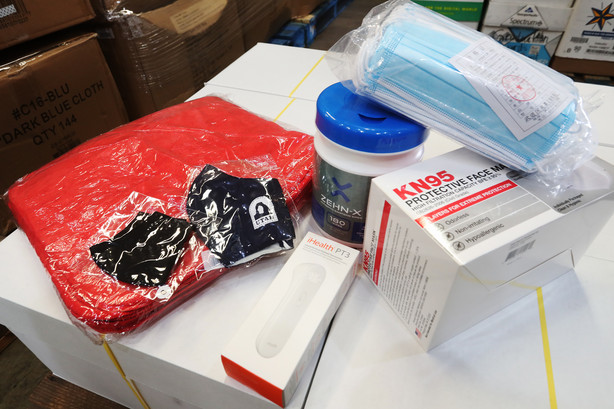 "Our intention is to supply one mask for every student and one mask for every employee," said district spokesman Christopher Williams.
Earlier this summer, the Utah State Board of Education agreed to set aside more than $2 million of CARES Act funding to purchase equipment and supplies such as thermometers, hand sanitizer and child-sized disposable masks.
Mortensen said state-purchased, touch-free thermometers were recently delivered to the Granite District warehouse and are on their way to schools.
In addition to equipment and personal protective equipment procured by the state, Utah schools also benefited from the donation of 500,000 face masks delivered to Salt Lake International Airport on a massive Boeing Dreamlifter aircraft on July 1.
The masks were made available by men's custom clothier H.M. Cole and Cotopaxi, an outdoor gear brand, both Utah-based companies.
Meanwhile, Ogden School District will start the school year providing two reusable face masks to each student and staff member, said spokesman Jer Bates.
The district's return-to-school plan included a requirement that masks or face coverings be worn "even before the governor's mandate was announced."
The district has purchased disposable masks in case students, staff or school visitors don't have a mask when they enter a school, he said.
Students may also wear a mask of their choosing so long as it provides adequate coverage, Bates said. "If you've got one available to you that's sufficient, by all means, wear the one that you prefer," he said.
Bates said state education officials have thoughtfully developed guidance and provided supplies to help Utah public schools reopen.
"The state has been quite proactive in terms of 'We want to get our kids back in school, how can we enable that to happen safely?' "he said.
Pre-pandemic, July was considered a slow month for most public schools and administrators.
Not so for school supply warehouses, said Mortensen.
"That's usually our busiest time just because we have to resupply everybody," he said.
Orders have been uncharacteristically slow, Mortensen said, speculating that some administrators may be holding off due to uncertainty. But he suspects that will change once August hits.
"Hopefully, they'll get (orders) in sooner than later," he said.
"I think we have 86 schools that we service. When everybody puts everything in all at once you can only fill so much, so many orders in a day."
×
Related Links
Related Stories