Estimated read time: 2-3 minutes
This archived news story is available only for your personal, non-commercial use. Information in the story may be outdated or superseded by additional information. Reading or replaying the story in its archived form does not constitute a republication of the story.
Gov. Jon Huntsman met with members of President-elect Barack Obama's transition team today to discuss national energy policy. But beyond policy, the Obama team may be considering Huntsman for a Cabinet post.
Obama says he wants to build a bipartisan team. Adding a moderate Republican governor with an interest in climate and energy issues, and who speaks Chinese, could fit the bill nicely.
In today's meeting, Huntsman and Montana Gov. Brian Schwietzer, a Democrat, met with the leader of Obama's transition, John Podesta. They delivered a letter from 20 western governors, calling for the swift adoption of a new national energy plan.
"The paper talks about the key pillars of affordability and energy independence and sustainability, and about the importance of a low-carbon future about how the western states really represent the nation's energy breadbasket," Huntsman explained.
As Obama looks to build his team, clearly he'll seek gender, ethnic and political diversity. Would he consider Huntsman for a post, maybe energy or commerce secretary?
"Not discussed, nor would it ever be discussed. It's really much ado about nothing," Huntsman said.
We asked him if he would rule out a position if it were offered to him. "Absolutely," he said. "Because I have the best position in the entire world."
"Even if he doesn't receive an offer, or seriously consider an offer this time around, it has to be seen as flattering," said BYU political science professor Kelly Patterson.
Other political veterans say Obama has talked about building consensus and is likely to surround himself with other consensus-builders.
"I think it'd be fair to say that the transition team, if they've reached out to Governor Huntsman, if he's in front of President-elect Obama, there's some sizing up going on," said Natalie Gochnour, former staff member of the Bush administration.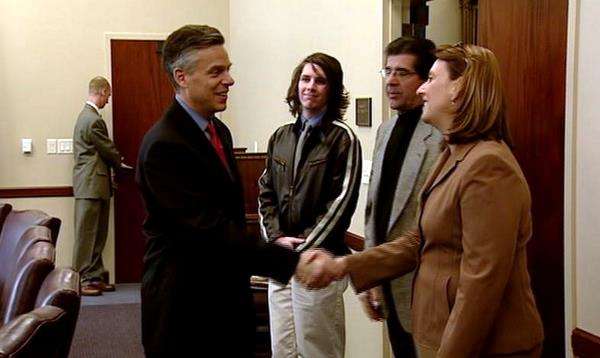 Former White House spokesman Peter Watkins said, "I don't think it's likely that Governor Huntsman would be in the Obama administration, but I think the big picture is that President-elect Obama doesn't want to be 'Clinton part 2.' He wants to reach out to governors from western states."
Either way, Huntsman seems to be in a prime position to be a key player regarding future national energy policy.
Though he says he would not take a position now, most political observers I've spoken with say it's very hard for anyone to turn down the White House when it comes calling.
E-mail: jdaley@ksl.com
E-mail: mrichards@ksl.com
×
Related links
Most recent Utah stories