Estimated read time: 2-3 minutes
This archived news story is available only for your personal, non-commercial use. Information in the story may be outdated or superseded by additional information. Reading or replaying the story in its archived form does not constitute a republication of the story.
Construction work is underway on Utah's biggest solar-energy project.
It's a large-scale "solar farm" built on a concept that makes it the only one of its kind in the nation.
It's a way for people to own a solar energy facility without having big solar panels at their homes; and what better place to try it than St. George where, as they used to say, "The summer sun spends the winter."
Big machines are preparing the software, 17 acres of soft dirt. Utility workers are preparing the hardware: metal racks to hold solar panels that will be owned by citizens.
LaDel Laub, general manager of Dixie Escalante Electric, said, "Some want renewable energy, some want to look out for the environment, with concerns about climate change."
Two utilities that serve St. George are already selling shares, emphasizing social benefits rather than the cost to buyers. "They're doing this more for their future and their grandchildren rather than just trying to make money," said Philip Solomon, energy services director with the city of St. George.
Each share costs $6,000 and lasts about 20 years, but it would provide only one-fifth of the average home's electricity. So it likely wouldn't pay for itself, even with a $2,000 state tax credit. But backers say it's a hedge against rising energy costs and climate change. "Tomorrow's power today," said Solomon. "We don't know what's going to happen tomorrow. This might be our only alternative."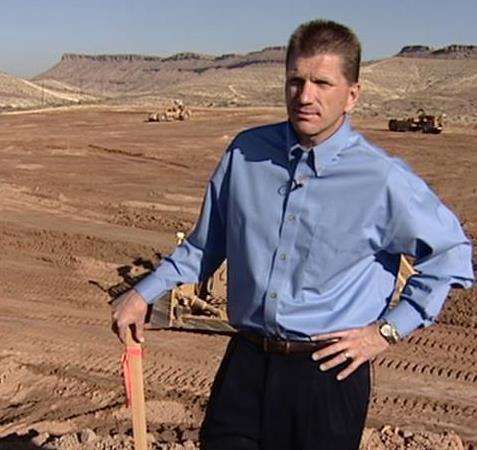 They say many homeowners are eager to generate their own power, but a community solar farm has economies of scale. Laub said, "It's the only project, I'm aware of, where customers can actually own part of the project that is a joint project."
The project is so innovative that the federal tax credit for residential projects doesn't even apply. They're trying to get that changed.
So far 11 homeowners have bought in. Backers hope interest will grow as the project comes to life. "When people look at the project, they can see what they're buying, I think they'll be more inclined to purchase at that time," Laub said.
They expect to start generating electricity at the solar farm in December. If you want to know more about this project, click here.
E-mail: hollenhorst@ksl.com
×
Related links
Most recent Utah stories