Estimated read time: 2-3 minutes
This archived news story is available only for your personal, non-commercial use. Information in the story may be outdated or superseded by additional information. Reading or replaying the story in its archived form does not constitute a republication of the story.
Sandra Yi Reporting The man who police say, starved a five-year old disabled girl, has yet to appear in court on child abuse charges. Michael Bowden has twice refused to go to court now.He did appear at a juvenile court hearing this morning and a judge granted temporary custody to her grandfather.
Jade is slowly gaining some weight and her condition is improving. She has cerebral palsy, but a doctor we talked to says the disability can't be blamed for her drastic weight loss.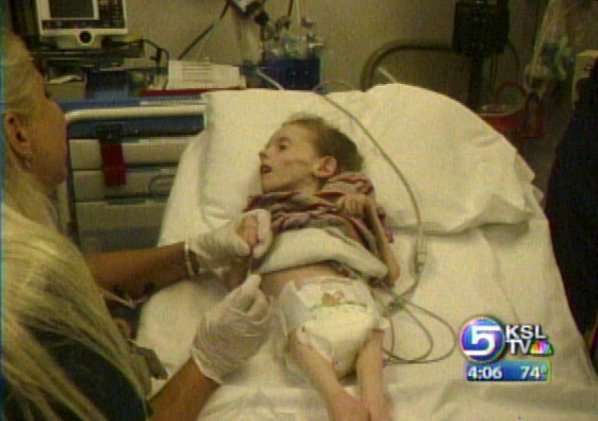 Carol Sisco, Department of Child and Family Services: "This little girl, obviously, she was pretty emaciated. so tiny it's scary."
Jade weighed only 13 pounds when these pictures of her were taken at the hospital last week.
Dr. Robert Miska, Rocky Mountain Neurology: "For a five-year old girl to weigh 13 pounds, of course that's profoundly abnormal."
Jade has cerebral palsy and can't walk or talk. Michael Bowden's roommate told Eyewitness News, she was always skinny. But a DCFS spokesperson says for someone not familiar with the disability, the signs of abuse may not have been obvious.
Carol Sisco: "I think something that's very hard for people to understand is, if the first time you saw her, you might have thought she was a little girl with very very serious disabilities instead of a child that had been abused."
Even police and paramedics had recently seen the girl, but police say their hands were tied. At the time, Michael Bowden refused to get her medical care.
Capt. Tom McLachlan: "Because he had that signed power of attorney, and because the child's vitals were stable and strong at that time, we could not remove the child from the house."
But Doctor Robert Miska says strong vital signs don't indicate proper nutrition, and they may be stable until moments before death.
Dr. Robert Miska: "Take the example of concentration camp survivors who are profoundly malnourished. They usually have normal pulse rates and normal blood pressure."
In the hospital, Jade has gained four pounds. Doctor Miska says her drastic weight loss suggests she was denied food; but he says her chances of recovery are good.
Dr. Robert Miska: "Probably won't set her back terribly. Whatever she was capable of before, she'll probably regain."
DCFS had tried to contact Bowden since June, when it received a neglect complaint against him, but without a warrant, the state couldn't take Jade from his home.
As for Bowden, a judge rescheduled a hearing for Thursday. If he refuses to go to court again, the jail will need a court order to force him to go.
×
Related links
Most recent Utah stories