Estimated read time: 11-12 minutes
This archived news story is available only for your personal, non-commercial use. Information in the story may be outdated or superseded by additional information. Reading or replaying the story in its archived form does not constitute a republication of the story.
BOUNTIFUL — There have been heavy discussions about systemic racism and cultural appropriation for over a month now. What began as outrage over the death of George Floyd while in the custody of police in Minnesota has boiled over into a deeper look at all practices that can branch into inequality for minorities.
Mississippi voted to remove the Confederate battle emblem from its state flag. In the entertainment industry, streaming services pulled TV episodes featuring characters in blackface and current animated shows announced they will no longer have people voice characters who are a different race than the actor.
Two major professional sports franchises — the Washington football team in the NFL and the Cleveland baseball team in MLB — have announced they are looking into their nicknames with the possibility of changing them. All of these have made national headlines in recent weeks.
As these developments unfolded, Mallory Rogers scrolled through social media when she came across a post from someone who graduated from Bountiful High School in 2013 — the same class as her. The post came from IllumiNative, a nonprofit aimed at challenging negative Native American stereotypes in American society. This particular post called for the ban of Native American nicknames such as Redskins, Indians, Warriors, Blackhawks, Chiefs and Braves — the same mascot nickname that Bountiful High currently has.
Rogers, who now resides in South Jordan, reflected on her high school experience and remembered things that she said seemed acceptable at the moment but she now realizes can be damaging. Students participated in the tomahawk chop — a crowd cheer that remains common for sports teams from grade school to the professional level — and wore warpaint. Some students would also wear headdresses and use "war cries." Homecoming dances were called "pow-wows."
"I participated in that cultural appropriation because it was a tradition and no one ever said anything otherwise," she told KSL.com on Tuesday. "I never questioned it; I never questioned whether it was right or wrong."
A growing push for change
She shared through social media her thoughts about how she views the matter through a different lens now — viewing it as "shameful and embarrassing" that her alma mater holds that nickname. It's something that is inappropriate to continue, she added.
After posting about it on social media, she heard from another alumna, Mykala Rogers (of no relation), and the two agreed that the nickname is something that has bothered them.
Mykala Rogers was in the process of starting up an email campaign to change Bountiful High's nickname, but the two joined forces and began firing off emails to all sorts of people in power; Mallory also launched a campaign on Change.org, petitioning the school and the Davis County School District to change its name.
The emails contained similar language to the petition, which included their thoughts as alumni and a call for the school to change its name, or at least discuss it. Mallory Rogers explained that the current goal is to begin conversations about the name, which she believes is underway.
"I wanted to use my voice, my platform and my experience to start this conversation as an alumna of Bountiful High School," she said. "I don't want to speak for the Native people. That's not my goal. My goal is to start a conversation and, as a community, have a conversation about the implications — what are the ramifications of using Native American mascots? What message does that send?"
The petition has gained success since it launched over the weekend and crossed 1,000 signatures Tuesday. The co-creators of have also heard from other alumni who have concerns about the name, and a Native American group in Utah also issued a statement calling for the school to change the mascot.
---
It dehumanizes and desensitizes other people and shows those kinds are acceptable. We're just trying to show folks out there that this is not an acceptable way to honor Native Americans.
–Utah League of Native American Voters co-founder James Singer
---
Alicia Archibald, of Millcreek, is one of several Bountiful High alumni members to sign the petition she saw online. She is of Indian-Asian descent and graduated from the school in 2012. She told KSL.com that she experienced racism growing up and added that white students would feel justified in doing it unaware of the harm they were causing. The school's mascot is something that piled on top of it.
"It's just kind of like making a caricature out of a culture," she said. "I think if we're at the point where we can have the conversation in which it can be changed and have a more complex discussion about culture and race, then we should."
Meanwhile, the Utah League of Native American Voters issued a statement Tuesday afternoon supporting the movement. James Singer, one of the organization's co-founders, a professor at Salt Lake Community College and a one-time Utah congressional candidate, said mascots depicting Native Americans can be harmful.
"Just because white people don't find it offensive — or some white people don't find it offensive doesn't mean that it's not racist. Intent doesn't signify if something is racist or not," he said. "We've been looking for many, many years in trying to educate folks that there are physiological implications that can happen to Native students who attend white-dominated schools with mascots.
"I think the other part of it is — it damages how whites perceive other minority groups, in this case, Native Americans. It dehumanizes and desensitizes other people and shows those kinds are acceptable," he continued. "We're just trying to show folks out there that this is not an acceptable way to honor Native Americans."
A response from the mayor — and an apology
One of the emails Mallory Rogers fired off Saturday went to Bountiful Mayor Randy Lewis, who responded about an hour later. Lewis first questioned if Rogers is indigenous or a spokesperson for indigenous people before going into why he disagrees.
"If you are not an official representative critic of the "braves" (not brave), do you have evidence that the indigenous people are offended by Bountiful High. I have lived here for 41 years and I have had 6 children graduate from Bountiful High and none of them are embarrassed to have gone there to school," he wrote. "This sounds a lot like sheep mentality that follows the (Black Lives Matter) movement. Now is a good time to pile on. Oh and I attended the BLM gathering in Bountiful. I believe we all need to be less easily offended about many things."
Mallory Rogers said she was "shocked" and "disappointed" by the response.
"It was so unprofessional and disrespectful and dismissive," she said.
Rogers responded back by pointing out that Cedar High School in Cedar City had recently changed its mascot name after several decades of history in that community. Indeed, the Iron County School Board voted in 2019 to retire its "Redmen" mascot name that dated back to the 1940s and become the Reds instead. Students also voted to use a wolf as the school's mascot instead of the previous Native American imagery.
Related:
Lewis later apologized to Rogers if his email made her "feel badly" and also pointed out that it wasn't a decision he had power to make. He also wrote that about other Native American nicknames at schools.
"Not everyone is offended by these things, the Florida State Seminoles have the tomahawk chop and an Indian in full headdress on a horse," he wrote. "The Seminole tribe has always supported the school and feels (it) keeps their nation in the minds of the people. They feel honored by it.
"With the BLM, this could change. How we treat everyone is important and taking care of each other is important. I just don't think that everything that is Indian, black or Muslim means disrespect by everyone. I do think we should speak and act without offending others. But again, it is a good characteristic not to be easily offended."
Bountiful City Manager Gary Hill said that Lewis is currently out of town but spoke with him to get a prepared statement that was provided to KSL.com. In it, the mayor apologized for "offending comments" and said he would take accountability for his responses.
"In my haste to provide quick responses to these emails, I made comments that were overly-simplistic and hurtful. As the mayor of Bountiful City, I take seriously my responsibility to listen carefully to all concerns and questions that come my way and apologize for where I fell short in these responses," his statement read, in part.
He also reaffirmed that a change would have to come from a school level and not from the city.
"However, I am supportive of having this issue discussed within our community, and hope that all viewpoints can be shared and considered with respect," his statement continued. "At this pivotal time in our nation's history, I welcome the challenge to listen more carefully and continually educate myself. Respect for all cultures, races, and ethnicities has always been important to me, and I realize that more conversation is needed, not less.
"As a local government representative, I may not agree on the same issues all of the time, but I value and strive to protect respectful community conversation. Moving forward, I will be more thoughtful in my words and actions to better demonstrate the values of Bountiful City and provide a welcoming environment for individuals to express their concerns."
Hill explained that the city has about the same influence on the matter as an individual and would welcome a discussion about it.
What happens next?
The decision to change a school name or nickname ultimately lies in the hands of a school or school district. Chris Williams, spokesperson for the Davis County School District, said it's a process that likely won't happen overnight. In fact, he's not exactly sure how it would go because he can't remember it happening in the 20 years he's worked for the school district.
If it's anything like new high schools in the district, like Farmington High, there is a process set up. Students come up with suggestions and the school board votes on the top three suggestions.
Williams pointed out that Bountiful High Principal Aaron Hogge has taken steps since taking over at the school in 2017, removing the imagery of a Native American man from the logo. The school's image still carries a feather on it akin to the University of Utah Utes drum and feather logo. The U. logo has also received scrutiny in the past; the university has a deal with the Ute Tribe for use of the mascot name.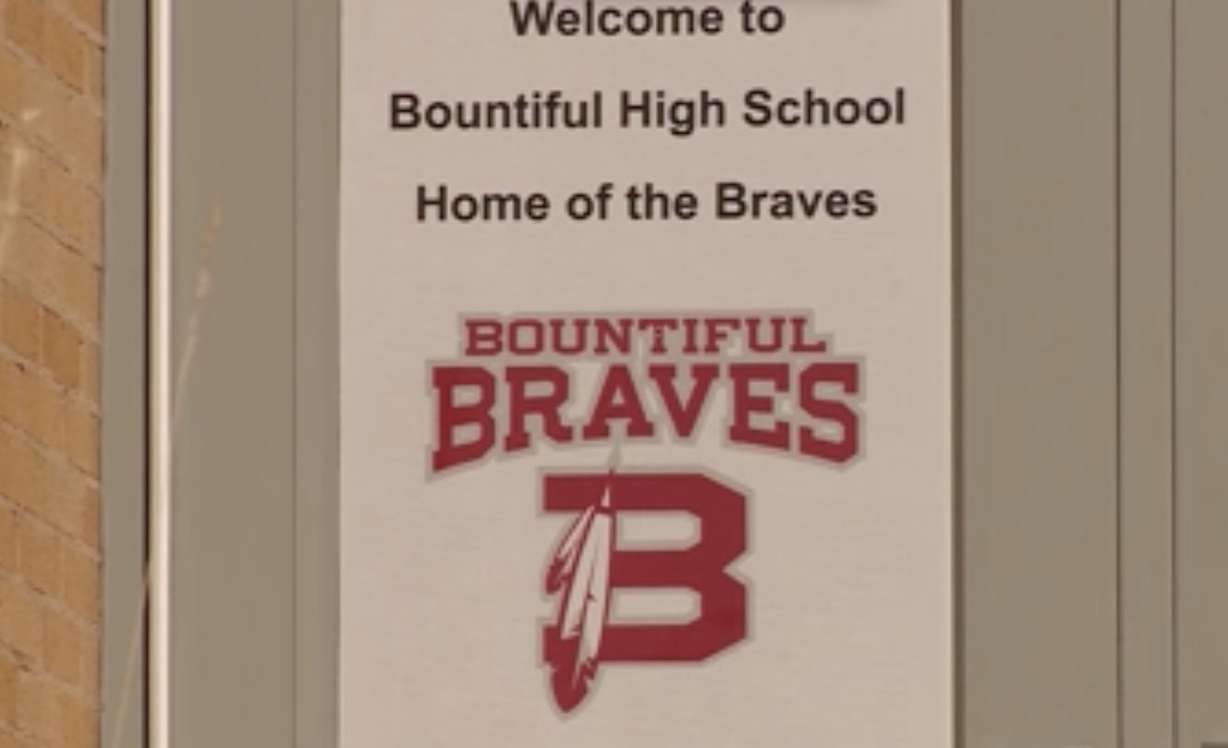 "I have talked to (Hogge) and he like me would want to do everything he can to include as many different individuals' opinions as possible," Williams said. "With what's happening across the country and more emphasis being placed on the Washington Redskins and the Cleveland Indians to talk about changing their mascot, it doesn't surprise me at all that people would look to colleges, universities and high schools across the country who have mascots who have, in their mind, maybe should be considered for change."
A timeline for a decision about the mascot wasn't clear Tuesday. That said, Williams thought it will likely lead to a "great conversation" for the high school, alumni and city residents.
Mallory Rogers said she will continue to push the name change but acknowledged that she would be OK with the name staying if Native American individuals approved it.
Singer said he's aware change can be slow and difficult but insisted that it's important. He's hopeful the petition will lead Bountiful community members to have a thoughtful discussion about the mascot, retire the school's nickname and start new traditions that are inclusive of everyone.
He added that it's also important that this petition was started by white individuals, who have a majority in the Bountiful community.
"I see oftentimes among whites that talking about race is a taboo subject. Even the idea of bringing it up makes people think that that person is racist," he said. "That's not necessarily true. … I think having a broad coalition of different people — whether it be gender, sexuality, race, ethnicity, social class — all of those things need to come into play in order for change to happen.
"I commend our white allies who have taken up this burden and are trying to make changes within their own community," he added. "People who are making these decisions years ago were white and they have the same power as they do today, and Natives very rarely have the power to make those decisions. This is a problem for the white community but it just affects us as Native people and we'd like to see that resolved."
For petitioners like Archibald, she hopes not only the mascot can be changed to something more inclusive but that the discussion will help people become more aware of other cultures and how actions can be harmful.
"When these discussions come up, don't just dismiss them," she said, referring to people who say things like they have a friend of a different race or that they went to a protest gets them off the hook.
"You have to be open to it beyond 'Well, I did enough,'" she continued. "Well, did you? Just be open to when someone brings something up. Don't just shut down the conversation."
×
Most recent Education stories