SALT LAKE CITY — Tony Bradley winked at the camera. He asked for close-ups. He told jokes.
Who was this guy?
For nearly three years, the Utah Jazz reserve center has been, well, pretty reserved. Whenever he would have a good enough performance to merit being interviewed, he'd give cliche-ridden answers while his eyes stalked the ground.
So when a video posted by the Utah Jazz as part of the team's quarantine cookbook series displayed Bradley as a loquacious and beaming individual, it was a nice surprise to see Bradley's personality finally shine through. But it was even nicer to see it wasn't an isolated incident.
"I feel like one of my, I won't say a weakness, but things I really don't like is the camera," Bradley said. "And so, I don't know, in this quarantine, I wanted to work on things that I'm pretty much uncomfortable with. So I kind of turned being in front of the camera into something I enjoy."
In a video conference with the media on Monday, Bradley was animated, expressive and confident. He gestured with his hands as he spoke; he laughed about the compliments he's gotten about his slimmer face (he said he put on some muscle over the hiatus — but not really on purpose) and smiled as he explained that he had to teach his father, a Florida pastor, how to use Facebook Live to perform sermons.
One thing was clear: Bradley was filled with new confidence off the court — just like how he found a new confidence on it this season.
Bradley won't sugarcoat things. His first two years in the league were tough. He wasn't ready for the NBA when he was taken with the No. 28 pick in the 2017 NBA Draft and therefore bounced back and forth between the Jazz and the Salt Lake City Stars. He played well in the G League — averaging 15.4 points and 10.0 rebounds his first season; 13.5 points and 7.1 rebounds his second — but only saw time in 12 NBA games during his first two seasons.
So, yes, he wondered if he really belonged, if he was an NBA player.
But with center Ed Davis struggling to start the year, Bradley was given a chance. By December, the North Carolina product had earned a spot in the Jazz's revamped bench unit and he just kept getting better. The season was halted right as Bradley was playing the best basketball of his life.
"This is the most aggressive, the most dominant I've seen, that we've all seen Tony," Donovan Mitchell said after the last game the Jazz played before COVID-19 shut the NBA down in March.
Bradley's stats were modest — he averaged 5.1 points and 5.0 rebounds in the 30 games since entering the rotation — but it was clear how much more comfortable he was playing.
He was making quick dives to the hoop, forcing defenders to follow, which opened things up for him (he has shot 69% as a rotation player this year) as well as the Utah bench unit. He started to get a feel on the defensive end, recording two or more blocks in three of the final four games before the hiatus. That all led to Bradley playing with an enthusiasm that hadn't been seen before.
"The more you do it, the better you feel about how you're playing, but I guess that's kind of what's happened a little bit," Bradley said.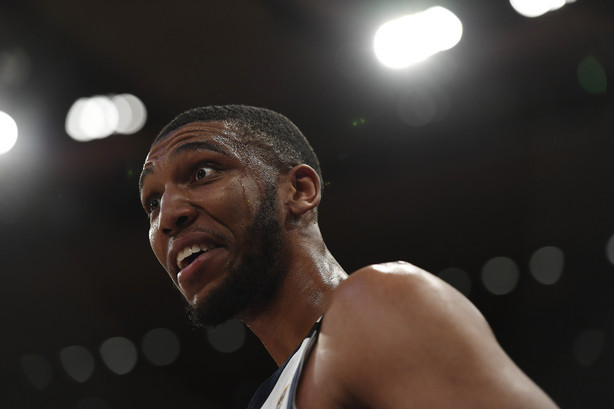 He grew as a player; and because of that, he grew more confident as a person. Even with the season postponed, he wanted to keep progressing.
"During this time, I wanted to try and find new things to do, grow in different things, like the cooking stuff," Bradley said. "I actually enjoyed cooking with Anthony (Utah Jazz chef Anthony Zamora). And after Anthony, I just started cooking on my own."
It didn't stop there. He often scrolled through Pinterest looking for little hobbies and then would try and pick them up.
"It was definitely different during this quarantine," Bradley said. "It was great though."
The Orlando bubble will be a strange trip home for Bradley. He grew up about a half-hour away from the Disney Wide World of Sports Complex, where the NBA will attempt to finish out the season. He spent many weekends playing ball at the facility, so he already has a grasp of the lay of the land. It's an exciting thought to play so close to home, but a strange one to think his family won't be watching from the crowd.
"Them not coming to see me, it's gonna be tough, but it is what it is," Bradley said. "Got to go through it."
Good thing he taught his father about Facebook Live, and that Bradley is now pretty good in front of a camera.
×