MIDVALE — Overstock.com has a prominent new customer: the United States government.
The General Services Administration announced this week Overstock is one of three companies selected for a pilot program to provide an online marketplace for federal agencies. Overstock will join Amazon and Thermo Fisher Scientific in the proof-of-concept pilot.
Under the program, which will last for three years, five government agencies — Environmental Protection Agency, Veteran Administration, Department of Justice, Labor Department and the General Services Administration — will be allowed to make any purchase under $10,000 off the approved websites.
The hope is the program will help streamline government purchases and eliminate what can be a complicated process.
And for Overstock.com CEO Jonathan Johnson, it's a program that has been long overdue.
"Ever since I was old enough to start reading and caring about the newspaper, I've read stories about gold-plated toilet seats or whatever it is that the government was buying the wrong way," he told KSL.com. "This is going to let them go to a website know they're getting a great deal and move forward."
Amazon is the leading e-commerce platform in the world and Thermo Fisher Scientific is a leader in providing lab and medical equipment. So how was Overstock chosen along with those two?
Among a multitude of applicants, Overstock was one of six applicants selected to present to the GSA. In a two-hour presentation, Overstock leadership walked through the website, their technology, customer service, and the products they could provide.
Overstock.com chief sourcing and operations officer Ron Hilton said the agency noted the user-friendly website and search functions that allow purchasers to find products made in the United States or by minority-owned businesses. The GSA also liked how Overstock's reports allow the agency to evaluate purchases and make sure things are being bought that make sense for the government.
In the end, the agency liked what it heard from the Utah e-commerce giant.
"You might think all they're looking for is desks or lamps or pictures for the wall," Johnson said. "But it's not just offices that they're furnishing; they may have workers that they're relocating and doing furnishings for. We think what we offer is going to be exciting for them."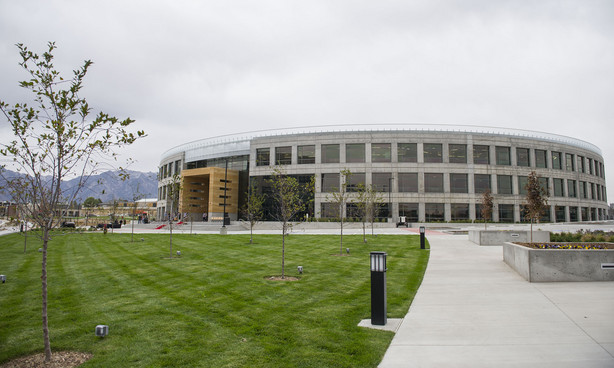 The program is expected to be ready to launch in the next 30 days. Overstock has already built a separate business-to-business website for the agencies to make purchases that will include most, but not all, of what the regular site has to offer.
"We will be putting a majority of our site over there," Hilton said. "However, there are certain things that they just don't want. I mean, I'm sure diamond earrings and perfumes are maybe things that they're not fully willing to put on the government's dime. But everything else, from the home furnishings, is just such a good fit for what we have."
Johnson expects that if things go well, more government agencies will be added to the program and eventually things will move beyond just a proof-of-concept program.
And that could be really good for business.
According to the GSA, $6 billion per year is spent using government credit cards on open-market purchases. Now, Overstock will get a portion of that coming to them.
"One, it's a significant recognition of the quality of our business, of our technology and our breadth of product," Johnson said. "Two, I think it's great that the government is getting into this to eliminate red tape. Three, it's a huge business opportunity for us. If this works and works well for us, it could be a real area of revenue growth going forward."
×