This archived news story is available only for your personal, non-commercial use. Information in the story may be outdated or superseded by additional information. Reading or replaying the story in its archived form does not constitute a republication of the story.
FARMINGTON — As Farmington native Daniel Summerhays readied to tap in a birdie putt on the 15th hole Sunday, he turned to the sizeable group that was following him around and made a suggestion.
"You guys have to go nuts when I tap this in," he said.
They happily obliged.
Summerhays was looking for a perfect day on Sunday. He was playing in his home city, he teed off in the final group and he'd be lying if he said he didn't picture the movie script ending.
"It felt like this was going to be a storybook tale," Summerhays said.
But real life doesn't always follow the script.
A missed putt here, a skied shot there, and 25-mph wind gusts on the back nine helped derail the dream day as Summerhays finished in sixth place at 12-under, two shots back from Kristoffer Ventura who won the Korn Ferry Tour Utah Championship after a three-hole playoff with Wyoming native Joshua Creel.
As Summerhays walked up to the 18th green he was already out of contention for the win, but you wouldn't have guessed that based on the cheers from the fans that had gathered to watch and celebrate with him.
"I have played in front of massive crowds," Summerhays said. "I have played in front of US Open and PGA Championship crowds that when you make a big putt, the hair on the back of your neck will stand up because the roars are so loud. None have been as emotional as the cheers and roars this week."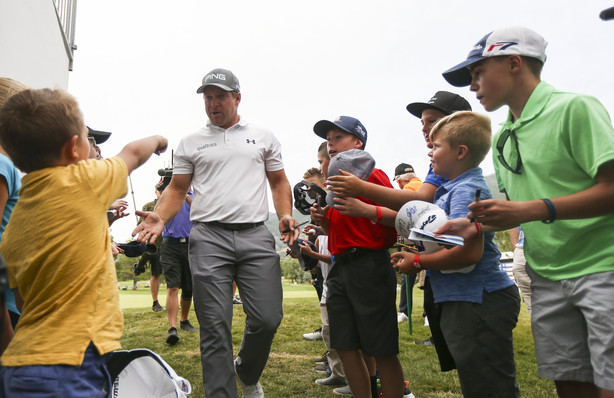 It was made even more emotional considering where Summerhays game has been over the last year. He's made just three cuts in his last 15 starts. It was a breakthrough performance for the Utahn — even if it also ended up being a missed opportunity.
Summerhays entered the final round tied for the lead, which may have hurt him because he got the worst of a strong wind that came in late in the afternoon. It was that wind that was partially responsible for what a bogey at No. 10 that Summerhays said, "got him behind the eightball."
With the wind coming in behind him, he opted to go with a pitching wedge from about 190 yards out.
"I tried to mash it and it just pulled a little bit and was in dead spot," Summerhays said.
With low scores being put up ahead of him, including Ventura's 65, that miscue forced him to play extremely well the rest of the way to even have a shot at the win — and his play gave him a chance.
He had birdie opportunities at 16 and 17, but couldn't get the putts to drop.
He also nearly holed a putt from just off the green on the 18th.
"I had to play really, really well down the stretch and I still almost did it," Summerhays said.
He almost did it even with the pressure of a city watching his every stroke. Or maybe that made it easier.
"It's a great pressure to have people know you and love you and respect you following you around and cheering you on," Summerhays said.
And it was those roars on the 15th and the cheers as he made his way up to the 18th green that made it a pretty special day after all. No matter what the scoreboard said.
"I can't tell you how gratifying it was to play so well in front of my home crowd, in front of all my friends and family and all the people I love and they love me," Summerhays said. "So it was a storybook week."
×