Estimated read time: 11-12 minutes
This archived news story is available only for your personal, non-commercial use. Information in the story may be outdated or superseded by additional information. Reading or replaying the story in its archived form does not constitute a republication of the story.
SALT LAKE CITY — To mask or not to mask?
Utah Gov. Gary Herbert on Thursday approved requests from Salt Lake and Summit counties that will require people to wear masks in public situations in those counties. They will be the first two counties in the state to have a mask mandate beginning Saturday.
This week, Utah health care providers teamed up to promote mask use and 28 religious leaders also pleaded for people to wear masks. At the same time, a group of people outside of the Utah Capitol on Thursday night protested the idea of mandating masks.
Local, national and international health experts have been unambiguous about the need to wear masks to reduce the spread of the virus. But there are still some who are resistant to wearing masks, or to the government mandating mask wearing, for various reasons.
So earlier this week, KSL.com asked you, the reader, a couple of questions. Do you wear a mask when you go out during the COVID-19 pandemic? What is the reason behind your decision? And do you think there should be stricter regulations on face mask usage in Utah?
In the end, we received 1,060 responses in two days from people in towns and cities all over Utah — and even from more than a dozen states.
Thoughts on masks and mandates
To be clear, this isn't a scientific poll; it has many limitations that a polling company would control for. It's more to get a sense of the general opinion out there. We did weed out 28 responses from those who live in outside states because we wanted a better assessment of what current Utahns think of masks and what Utah policy should be — although, thank you for your participation! Out of transparency, 17 of those respondents said they do support stricter mask regulations while 10 said they don't and one didn't respond.
How did the field of 1,032 Utah readers feel about masks? In all, 72% of respondents said they wear a mask most of the time while another 10% said they do sometimes and it depends on the situation. Nearly 18% in total said they don't at all.
There was also a strong connection between how people handle masks right now and their views on stricter mask mandates, as one may suspect. That said, there were a handful who said they do regularly wear masks but didn't want stricter regulations.
But in all, 745 respondents, or about 72%, said they think there should be stricter regulations. Another 278, or about 27%, said there shouldn't. There was about 1% that didn't respond to the question.
Reasons people gave for wearing masks
We were interested in why people felt the way they did. Jessica Potter lives in Heber City, located in a health district with the second-highest case per capita rate in Utah since the pandemic began. She says she would welcome stricter mask protocols. So why does she choose to wear a mask?
"I'm a teacher and I'm teaching summer school, and even though we have social distancing in place and really small class sizes right now, it's still important to me that I'm hopefully not picking up and especially not spreading anything to my students," she said. "Their safety is a little bit in my hands right now, so wearing a mask is literally the least I can do to try and keep them safe."
Potter isn't alone in choosing to wear a mask. Here's what some people had to say about why they wear a mask:
Protecting others and not wanting to contribute to the spread of COVID-19 were the two most popular reasons. One person wrote: "Taking care of some of (these) critically ill patients with COVID-19, I have seen the devastation this brings to these patients and their loved ones. Wearing a mask is such a simple and responsible thing to do during this pandemic." Another person wrote: "We have a 12-year-old son with chronic lung issues. We wear masks when we go shopping or to other places where there will be people, to keep us all safe." And another wrote: "I realize it doesn't prevent me from getting the virus but I feel it's a sign of respect toward others."
On a similar note, doing it for the community and because they felt it was a moral obligation also emerged as common reasons. "Wearing masks protects others' health and will allow businesses to stay open," one person chimed in. Another said: "Respect for compromised members of the community. I also really really want to have students with me at Stansbury High in August — Go Stallions!" One person wrote they have two essential jobs; one requires a mask and the other doesn't, but they choose to wear one anyway because masks "ease others' concerns."
Some said it's because they don't know if they are unknowingly spreading the disease. "In case I ever get it and am asymptotic, I am less likely to give it to others," one person wrote.
High-risk factors were another reason people gave for wearing masks. "I'm over 65," said one respondent, while others said they are immunocompromised or have asthma.
A few wrote they agree that masks can be annoying but they felt the good outweighed the bad. "It is uncomfortable, but would rather play it safe. Peace of mind," one person wrote.
One person wrote that they sometimes wear a mask. As for why they don't in some situations: "Mostly because I forget," they responded, adding they would like to see more regulations.
Another summed it up like this: "If the experts are right, people could die if I don't wear a mask. If the experts are wrong, then its a slight inconvenience at worst."
Reasons people gave for not wearing masks
Misha Peay, of Alpine, didn't fill out the survey but she reached out to KSL with her concerns with masks. Her daughter, a student at BYU, is deaf; she has a Cochlear implant that's helped her hear but relies heavily on lip-reading. The muffled sounds created by masks and the fact that masks block lip reading have made the past few months difficult for her to communicate with others. The family purchased clear masks to help but found many of them fog up — and that's if others in the community even wear clear masks.
"She's gone from being so confident and capable in spite of her disability to feeling really hesitant and uncomfortable engaging in any conversation with people," Peay said. "She won't go up to somebody at the store, for example, and ask for help or she doesn't want to go to the store alone even because she's worried somebody is going to talk to her, ask her a question (and) she won't understand it.
"I think for hearing people, where we haven't had a lifelong struggle with being able to communicate; it's not a big deal for us to say 'I'm sorry, I didn't catch that,'" Peay continued. "But for her, it's a lifelong struggle. She's constantly asking people to repeat themselves and she's really self-conscious about it. … This is really putting a huge barrier for her."
Peay understands why people are concerned by COVID-19 but doesn't think many proposed solutions take into consideration those with actual disabilities. She said she reached out to KSL after Lt. Gov. Spencer Cox, who oversees the state's coronavirus task force, tweeted a comparison of masks to the Biblical story of Moses and the brass serpent.
"Everyone's thinking about the coronavirus and not spreading germs but they're not thinking about how isolating this is for people who already struggle from being isolated from people because they have this huge barrier in communication," she added. "I think it would be nice if people were more aware of the issue and willing to — if we're mandating them, for example, in schools or places where people have to go — be more sensitive to the issue and maybe look into masks that have a nonfogging clear window in front of their mouth for people who rely on lipreading. … (or) if someone says 'I'm hard of hearing or I'm having a hard time understanding you, would you be willing to lower your mask for me?'"
Reasons people don't wear masks were more scattered than reasons people wear a mask, but there were some patterns. Here's what people had to say about why they choose not to wear a mask:
Opposition to what they see as government overreach and saying it's a personal decision was among the most common threads. One person responded: "I feel that everyone should have a choice what they do with their own bodies and take responsibility for their own health. The government and the health department should not be telling people what to do with their health! Extreme overreach keeping people from accepting the responsibility for their own actions." Another wrote: "I don't feel it's necessary or safe. If (you're) safe, stay home. If (you're) scared, stay home (and) let the rest of us live our lives as we choose. If you choose (to) wear a mask great, by all means, wear one. But if you choose not to, that's also fine, no biggie. It's your personal choice! And we shouldn't be forced to wear them by anyone."
Others said they don't because they feel like masks won't work. "Because a mask isn't going to stop me from getting corona; they're annoying after a minute. And (they're) getting expensive!" Another wrote: "They don't work. It's a scam to give a false sense of security."
Problems with glasses fogging up and breathing issues were also popular. One person wrote: "Masks make my glasses fog up so thick I cannot see out of them at all. With this being the case, and in consideration of the severe health and functional issues caused to many others who are forced to wear masks, I consider it a violation of the Americans With Disabilities Act to be forced to wear a mask." Another wrote: "As an overweight asthmatic, it makes it too difficult to breathe. I have to keep stopping every few minutes to take the mask off so I can catch my breath, which just defeats the whole purpose of wearing it. Also, my husband is hard of hearing and needs to read lips, which he cannot do if I'm wearing a mask."
A few said they don't because they practice socially distancing instead.
KSL.com reached out to a handful of respondents who said they wouldn't support stricter regulations, including one person who said they wear a mask regularly, but didn't receive any responses by press time.
An out-of-state experience
Emily Box was one of the out-of-state respondents. She and her family are from Utah but temporarily living in Albuquerque, New Mexico. They plan to return to the Beehive State later this summer. While her response to the questionnaire wasn't included in the 1,032 responses, KSL.com reached out to her because she lives in a state where masks have been mandated to see how they are handled there, why she wears one, and why she said she would support Utah having stricter regulations.
She explained that she wears one when she's at the grocery store around people, but not when she's outdoors alone away from people. In mid-May, New Mexico Gov. Michelle Lujan Grisham required masks to be worn in all public settings. In addition, reopening has been a bit slower in New Mexico, and its epidemiological curve tells a different story over the past month than Utah's and even many other U.S. states.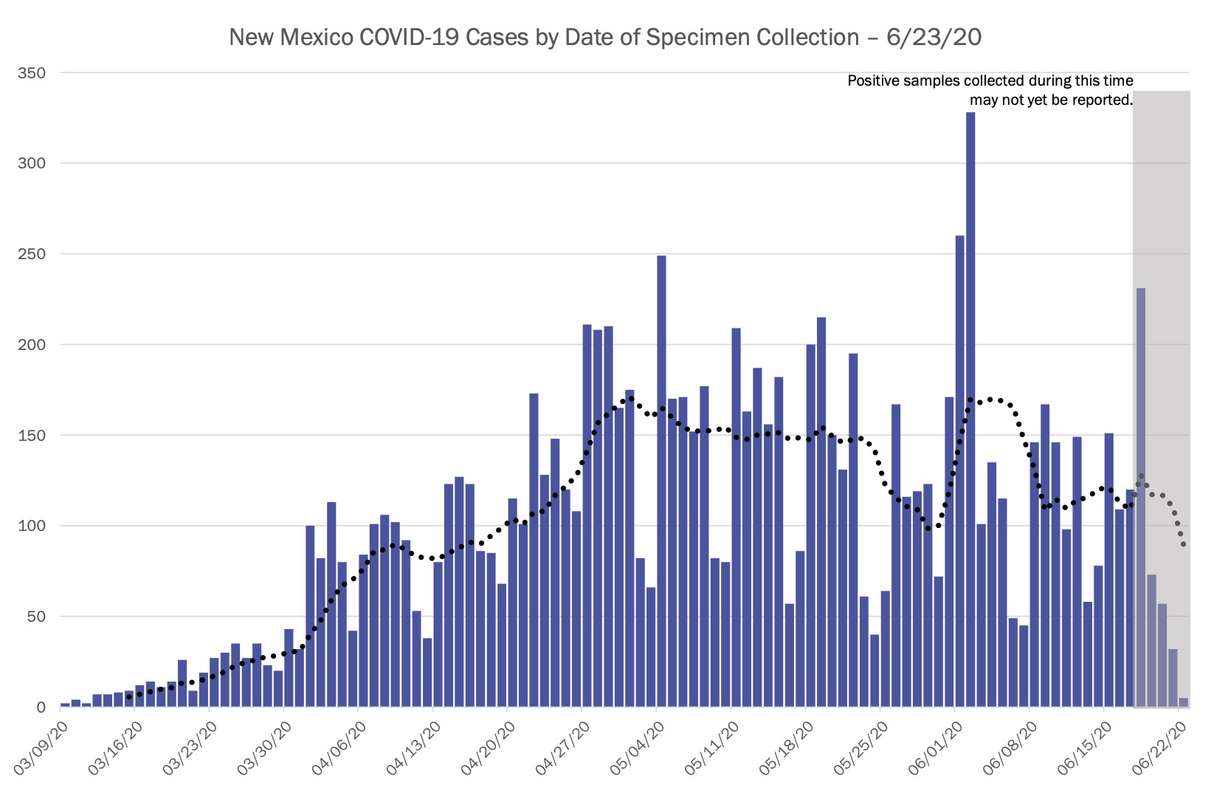 Here's an example using COVID-19 data. Bernalillo County, where Albuquerque is located, is most comparable in population size to Utah County; the New Mexico county has about 43,000 more residents, according to 2019 Census estimates. But as of Thursday, overall Bernalillo County had seen 1,937 COVID-19 cases while Utah County had seen 3,541.
Box said the mask mandate was initially met with skepticism and opposition but she said sees most people wearing them now, a month later. Her son went back to work at a fast-food chain, where every employee and customer must wear them. Life has moved on with masks.
"People are still going out and doing their shopping and do things," she said. "We're moving more slowly about opening up than they are in Utah but at the same time, I feel more comfortable going out here because I feel less likely to run into any consequences of COVID. I was willing to let my son go to work at the fast-food restaurant here because I know that he's masked and other people are masked. I feel like in Utah people are acting like it's not a problem anymore and it seems like it is still a problem to me."
×
Related stories
Most recent Utah stories