Estimated read time: 2-3 minutes
This archived news story is available only for your personal, non-commercial use. Information in the story may be outdated or superseded by additional information. Reading or replaying the story in its archived form does not constitute a republication of the story.
LOGAN — Scientists in Utah are studying a drug that could protect people from the effects of COVID-19.
The treatment drug is called RBT-9, and in addition to fighting the viral replication in the body, scientists at Frontier Scientific said it would also protect organs, like the lungs, from inflammation.
The main active ingredient for RBT-9 was actually created at Frontier some 30 years ago, mostly used back then for research.
Then, a few years ago, a Texas company called Renibus Therapeutics worked with Frontier to develop the chemical as a treatment, mainly to protect the kidneys of elderly patients undergoing anesthesia.
With the outbreak of COVID-19, researchers realized it could help fight that disease, and later learned that it can actually fight the virus, in addition to protecting the organs.
Frontier was working with Renibus for Stage 2 trials that have been fast-tracked by the U.S. Food and Drug Administration, and in revising their process to better mass-produce the drug for human use.
"Very exciting for us to be involved with the project, and be able to help them in development of this product for treatment in patients, especially at this time that COVID-19 is affecting so many people," said Dr. Dustin Cefalo, vice president of porphyrin chemistry at Frontier Scientific.
Clinical trials were already underway on 250 patients.
Cefalo was watching those clinical trials closely. He said Renibus Therapeutics developed their chemical into a treatment for organ protection just a few years ago, but it turns out the drug could potentially be a big help for some of those more vulnerable COVID-19 patients.
"It works in many different ways within the body," Cefalo said. "It reduces the viral replication, while also reducing significantly the inflammation seen in COVID patients, and also protects the organs from additional damage."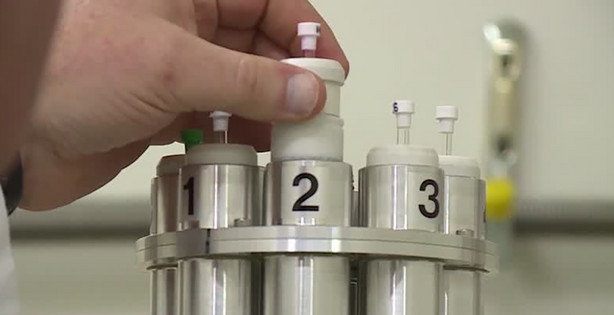 They could hear word as soon as four weeks from now whether the drug will move on to Stage 3 trials, where it would be tested on thousands of people.
RBT-9 is administered intravenously, so it would only be used for patients who are hospitalized with COVID-19.
Frontier is a relatively small lab, so they said they would work with Renibus in Texas to mass-produce the drug.
×
Photos
Related Links