Estimated read time: 3-4 minutes
This archived news story is available only for your personal, non-commercial use. Information in the story may be outdated or superseded by additional information. Reading or replaying the story in its archived form does not constitute a republication of the story.
SALT LAKE CITY — A George Floyd memorial in the downtown area of Utah's state capital was vandalized sometime Saturday night or Sunday morning, according to witnesses at the scene.
The memorial, which sits near 800 South and 300 West, featured a tribute painting to Floyd, the Black man who was killed while under the watch of four Minneapolis police officers, including one who was filmed kneeling on the back of his neck.
The painting was found with a black substance scattered across Floyd's face. By 11:30 a.m., several people had arrived to help clean up what appeared to be the black paint.
But Chris Kensington, a local photographer, took earlier photographs of the mural and said the substance was thick, black tar sprayed across the front of the mural.
"Who would splash hot tar on a mural," Kensington wrote on Facebook. "This isn't someone with a small amount of tar either, plus hot tar needs to be transported in a container that keeps it hot (and) circulating."
He continued after granting permission to KSL to use his photo: "This right here was a hateful act that should be called out on, and should not be swept under the rug. It's sad that we live in these times, and that things like this still occur. A peaceful mural, no words, nothing, just portraits of those killed by officers of the law, destroyed, and with tar. This is a huge hateful act that should be unacceptable in this society."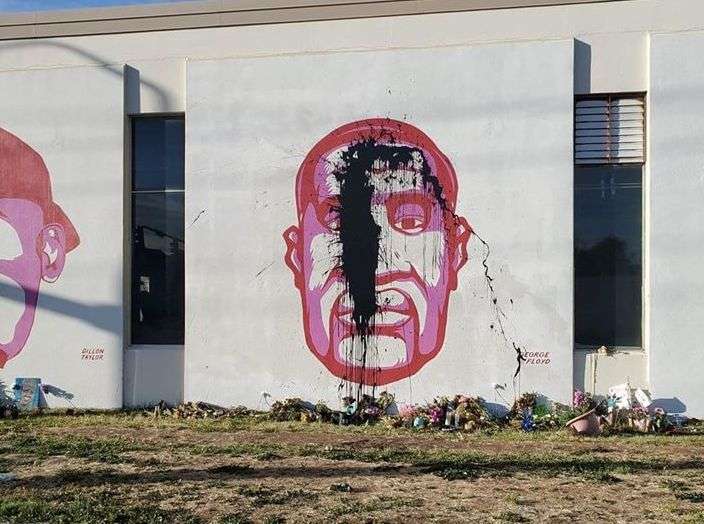 Salt Lake City police declined to comment on the incident, as the department has not received a police report on the damage.
By Sunday evening, the painting was as good as new — maybe even better. An artist, who has wished to remain anonymous, even returned to the site to repaint and touch-up the areas most heavily damaged by the tar-like substance and moved quickly to restore the work.
The artist declined interviews with KSL TV, but one witness who was there around 7 a.m. postulated that the job looked intentional. No other painting on the block, which includes four murals, was damaged besides Floyd's.
"It took a lot of time to do this, and somebody comes in 10 seconds — not even 10 seconds — and just comes and ruins it," said Matt Maestas, who said he walks past the mural every day. "I come by here every day, and when I do, it's something that tells me as a memorial, as guys who are talking for me, as well."
Utah Jazz star Donovan Mitchell, who has been among several NBA players to speak publicly and vocally about Floyd and the protests, tweeted his disapproval of the act.
"Can't even have a mural," he wrote. "It's sad dawg, real sad!"
Can't even have a mural.... it's sad dawg real sad! https://t.co/8ChupoJJHM

— Donovan Mitchell (@spidadmitchell) June 21, 2020
Among the mural of other men who have been killed by police officers is Salt Lake City's Bernardo Palacios-Carbajal, who was shot to death earlier this year. Like the other murals, his painting did not appear to be damaged.
In another tribute, the University of Utah has established the George Floyd Memorial Fund, which is intended to support students and programs committed to advancing the interests of the next generation of aspiring Black leaders.
Floyd's death set off waves of protests in nearly every major U.S. setting, including Salt Lake City — as well as several around the world calling for equality, justice and an end to police brutality, particularly against people of color. The officer who was seen kneeling on Floyd's neck has been charged with second-degree murder, while the other three officers have been charged with aiding and abetting.
Contributing: Emerson Oligschlaeger, KSL; Angie Reed, KSL TV; Tania Dean, KSL TV
×