SALT LAKE CITY — Following a monthlong investigation, the University of Utah has reinstated defensive coordinator Morgan Scalley to his position with the program following a brief suspension.
The news comes a month after the university announced Scalley's suspension over his use of a racial slur in a text message to a recruit in 2013. Scalley admitted to using the racial slur and said he had "made a terrible mistake" and that it was "offensive and hurtful to not only the African-American community, but to all."
"I am also heartbroken over the potential breach of trust with my fellow coaches, and with the young men in our program, both past and present," he said at the time. "I am truly sorry, and I own up to the hurtful effects of my choice."
Utah Athletics Director Mark Harlan made the decision official Wednesday.
"We have thoroughly evaluated all of the information available to us to determine the most appropriate conclusion and path forward," Harlan and Utah's head football coach, Kyle Whittingham, said in a letter. "The racist language used by coach Scalley is inexcusable and harmful to all, particularly to those communities identified in the report."
As a result of the investigation, Utah determined that it would retain Scalley, but would cut his already agreed-upon salary of $1.1 million to $525,000, in addition to having his head coach-in-waiting title rescinded. Scalley's contract reverts to his 2018 compensation level and is on a one-year term.
Harlan made a verbal agreement with Scalley in December 2019 to extend his contract to a multi-year extension, increasing his salary from $820,000 to $1.1 million.
Scalley will also be required to participate in "regular and on-going diversity and inclusion education, and will be expected to be a key partner in addressing issues of racism and bias" for the Utah Athletics department.
The university will also be directing $100,000 intended to be a part of Scalley's salary to "enhance programming and staffing support" to the Athletics Department United Together Against Hate program, a student-athlete forum the university launched in 2019.
Scalley remains on contract with the university through January 31, 2021.
"We recognize the magnitude of this decision and the incredibly complex nature of these issues," the letter from Harlan and Whittingham continued. "We are grateful to all who participated in the review and who provided thoughtful and important information to evaluate."
---
I understand that my insensitivity and extreme lack of judgement have caused some, if not all of you, to lose faith and trust in me. I sincerely hope you'll give me the opportunity to gain that trust back.
---
In a teleconference with media Wednesday afternoon, Scalley apologized for his "insensitivity and extreme lack of judgement," and said he was "extremely sorry" for his actions.
"My message is simple, but is sincere. And that is that I'm extremely sorry," an emotional Scalley said. "First and foremost, let me be clear, I'm against racism of any kind and am determined to take an active role at the university and in my community in being part of the solution and change. I want to apologize to the young men I've coached and am coaching currently.
"I'm particularly mindful of the young men of color of whom I have had the blessing of coaching," he continued. "I understand that my insensitivity and extreme lack of judgement have caused some, if not all of you, to lose faith and trust in me. I sincerely hope you'll give me the opportunity to gain that trust back."
Scalley said he's always taught his players to be accountable for their actions, and that's why he's fully accepting the consequences that come as a result of his past mistake.
"This has been a very fair and professional process, and I'm in complete support of the steps the university took to complete this investigation. Again, I want to apologize. ... I'm adhering to that same advice. I own up to my past conduct, and accept fully the consequences of that conduct. I'm committed to learning from this and becoming a better person, father, husband, mentor and coach."
Whittingham, who had the final decision, along with Harlan, to keep Scalley on staff, said he is looking forward to move forward.
"It did take longer than expected, but obviously more important that we get it done the right way than worrying about a timeline," he said. "I thought the process was very thorough in its scope, was educational in a lot of ways. The bottom line is I'm elated that coach Scalley is back with us and now it's time to move forward as a program and continue our preparation for the season."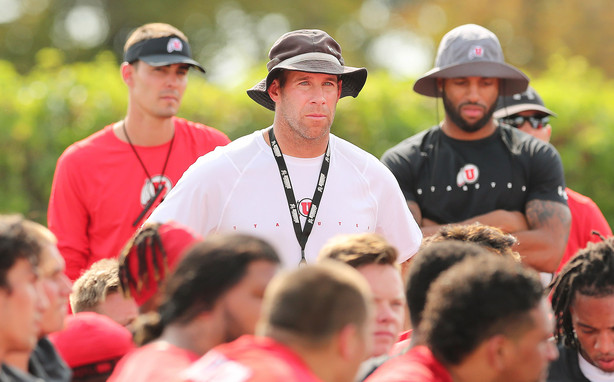 Scalley has long been viewed as a rising coach nationally and was named a 2019 Broyles Award finalist after leading the Utes to a No. 2 ranking in total defense in Utah's near taste at the College Football Playoffs last season.
He reached a long-term deal with the university to keep him with the program "for years to come" in December, though no official documentation was ever officially signed.
Harlan previously said he was made aware of the incident in early June and initiated a conversation with university President Ruth Watkins. After a brief review and after talking to Scalley, who Harlan called "contrite" during their conversation, Harlan decided to suspend Scalley while an external agency investigated to see whether it was an isolated incident or something more.
"The use of any form of racist language is not only antithetical to our policies and our values, but it is an affront to all of us, especially our African-American community members," Harlan said at the time.
Following the announcement of Scalley's suspension on June 5, several former players spoke out in his defense. They condemned his use of the racial slur but said they believed he was not a racist and should be allowed to keep his job despite the mistakes made in the past.
Utah contracted with Husch Blackwell to conduct its investigation into the 2013 incident. They interviewed 35 individuals, including 23 current and former members of the football team and 15 current and former employees and individuals connected to the program.
The report (can be viewed below) says every former and current defensive back was emailed about the investigation and given the opportunity to come forward and speak.
"Almost all" current and former players interviewed were "shocked" when they learned of the incident, the report states, and that most have not ever heard Scalley or any other coach "use racial slurs or derogatory comments."
"Numerous student-athletes explained that they do not view Scalley as racist."
The report also documented other instances in which two players said Scalley used the words "Black ass" when addressing them during a practice, and several former athletes said he made comments about their hair or appearance that they felt was a "lack of interest in understanding them." Scalley, however, denied the allegations.
Shortly after the investigation was made public, former Utah cornerback Ryan Lacy said Scalley called him the N-word back in 2008. He said he confronted Scalley about the incident five years later and didn't feel as though he received a "sincere apology."
Investigators looked into the issue and said three former players were told of the incident but did not witness it happen. Staff, including Whittingham, said they were not aware of the incident, and Scalley denied it happened.
Scalley did, however, admit to telling a joke in 2018 about Polynesians and Native Americans at practice. The incident was corroborated by three employees on staff.
Despite the incident, investigators found that Utah's culture was praised by current and former student-athletes.
"Numerous student-athletes described the team as being a 'family environment,' praised their strong bonds and friendships, and said the players were like brothers to one another," the report said.
One former student-athlete, though, said the coaches had a "learning curve" because they "were not used to a lot of minority players."
×
Related Stories