Estimated read time: 5-6 minutes
This archived news story is available only for your personal, non-commercial use. Information in the story may be outdated or superseded by additional information. Reading or replaying the story in its archived form does not constitute a republication of the story.
OGDEN — "My daughter did not deserve what happened to her," an emotional Sefuluai Toilolo said Wednesday.
The father of 30-year-old Lopine "Chynna" Toilolo — who was found dead in Ogden Canyon on May 12 — responded to an arrest made in the case more than a month after her body was found.
"I want to thank Weber County sheriff's department for the work it has done," Sefuluai Toilolo said at a Weber County press conference. "The outcome that we waited for is finally here."
Toilolo's ex-boyfriend, 37-year-old Andy Dennis, was arrested on Wednesday in connection to her death. He was booked into the Weber County Jail for investigation of murder and obstruction of justice, jail records show.
He was formally charged Thursday in 2nd District Court in Weber County with murder, a first-degree felony, two counts of obstructing justice, both second-degree felonies, and abuse or desecration of a human body, a third-degree felony, according to court documents.
Toilolo's father said that while the wait was long, he and his family are grateful for the arrest.
"This is what we've waited for — justice for her, and give us some closure as a family," he said.
Weber County Sheriff's Lt. Cortney Ryan said details wouldn't be released in order to maintain the integrity of the case. He noted that the case is now in the county attorney's hands.
"It's a tough investigation, it's a case that we'd never hope we'd have to investigate," Ryan said.
However, a probable cause statement filed in 2nd District Court on Wednesday shed light on the investigation and what led up to Toilolo's death.
When deputies responded to the canyon on May 12, they found patterns on her body that suggested she died face down on a blanket or sheet, the affidavit stated.
Drag marks were also found on her back and investigators found evidence of more drag marks in the surrounding dirt, leading authorities to believe she died in a separate location and her body was dumped in the canyon.
According to the affidavit, Toilolo and Dennis had been involved in an incident at Dennis' Pleasant View home on May 10 where neighbors reported she was "yelling, banging on their windows, and ringing doorbells" about 4:40 a.m.
Witnesses also took photos of this, police said.
Witnesses told investigators they then saw Toilolo return to Dennis' home and then leave with him in his car.
Family members told detectives Toilolo had texted them the morning of May 10 about 3 a.m. saying she was on her way to them — this was the last time family members heard from her.
When Dennis was reached, he said Toilolo had left his home about 5 a.m. on May 10 via an Uber, the affidavit stated.
He also said she was intoxicated and they had an argument before she left. Police pointed out in the affidavit that Dennis' statement contradicted the witnesses statements and photos, which showed Toilolo leaving with Dennis in his car.
In an initial interview with police, Dennis denied leaving with Toilolo but he later changed his story and said he dropped her off in West Jordan.
He said he then returned home and didn't leave until May 11 about 4 p.m.
However, cell data records obtained through search warrants painted a different picture.
According to the cell data, Dennis' phone pinged along northbound I-15 about 5:37 a.m. and again in Wellsville about 6:07 a.m.
Toilolo's phone last pinged about 6:09 that morning and police said they believe her phone was then turned off.
Dennis' phone never pings off a tower in West Jordan, "which shows that his statement claiming to have taken (Toilolo) back there is false," police wrote.
On May 11 about 9:47 a.m., Dennis' phone pings off a cell phone tower in Ogden Canyon and continues pinging through the canyon up to Pineview Spillway until 10:45 a.m.
A camera at the mouth of the canyon shows his car entering the canyon about 9:42 a.m. and then leaving out of the canyon westbound an hour later, therefore making his claim he stayed home until 4 p.m. on May 11 false, police said.
The cell data also puts Dennis in the same location where Toilolo's body was later found.
Dennis' two children were interviewed by police and provided false information that matched their father's initial statement. In a second interview, the children "disclosed that (Dennis) told them what to say when they were questioned by law enforcement," the affidavit states.
An autopsy ruled Toilolo's cause of death as strangulation.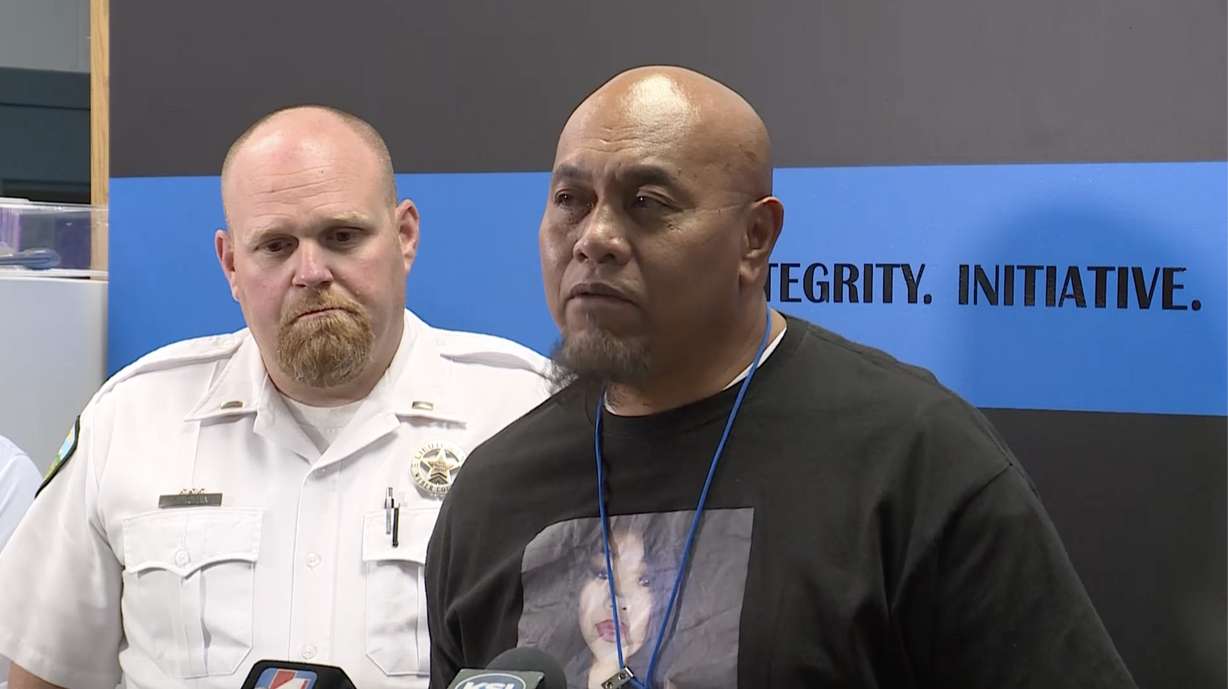 Ryan said Dennis was involved in witness tampering, which led police to arrest him for investigation of obstruction of justice.
There were no known accomplices involved in the incident, Ryan said.
As for why it took five weeks to make an arrest in the case, Ryan said the investigation was intense and involved a lot of moving parts. It's important to do a thorough investigation in a case like this and not jeopardize anything with a premature arrest, he added.
Family members said Lopine Toilolo had been missing since May 10 and it was unlike her to be out of contact with them.
Family members also attempted to report her missing to West Jordan and Pleasant View police but were told she was not considered endangered and not enough time had passed since she was last heard from.
Dennis was previously arrested and charged with domestic violence in December after punching his girlfriend multiple times in the face, police wrote in an affidavit filed in Davis County's 2nd District Court.
It was not immediately known if the girlfriend involved in this incident was Lopine Toilolo.
According to documents filed Wednesday, Dennis was ordered to be held on a $45,000 bail.
Domestic violence resources
Utah Domestic Violence Coalition operates a confidential statewide, 24-hour domestic abuse hotline at 1-800-897-LINK (5465). Resources are also available online: udvc.org.
Help for people in abusive relationships can be found by contacting:
×
Photos
Related Stories