SALT LAKE CITY — Our lives are filled with destinations. We drive our vehicles — planes, cars, ATVs, boats, bikes, canoes, kayaks, etc. — with a destination in mind. When we hike, we most often have a destination in mind: Let's summit a peak, view a waterfall, an overlook or scenic wonder.
Destinations are great and worthy of the journey, but so much more can be enjoyed as we learn to see more in nature.
Seeing more in nature does not mean we need to know all the names of what we see. That knowledge will come with experience and from research, if it is important for you as an individual to know.
Writer Barry Lopez explains in his essay, "Children in the Woods."
"The quickest door to open in the woods for a child is the one that leads to the smallest room, by knowing the name each thing is called," he wrote. "The door that leads to the cathedral is marked by a hesitancy to speak at all, rather to encourage by example a sharpness of the senses. If one speaks it should only be to say, as well as one can, how wonderfully all this fits together, to indicate what a long, fierce peace can derive from this knowledge."
Here are some techniques and tips for nature observation.
Splatter vision
In Tom Brown's Field Guide to Nature Observation and Tracking, he devotes a section on seeing more in nature. He suggests several ways a person can use their eyes while outdoors. Two of his techniques are especially useful.
Splatter vision is used to view a large open area, like a hillside, valley or meadow. Our natural tendency is to focus on individual things and move from one object to another. With splatter vision you learn to unfocus your eyes and let your vision see movement.
When your eyes detect movement, you can then focus on the movement to identify what it is. The secret to this technique is to learn to go from splatter vision to focusing and then back to splatter vision.
It takes practice. Next time you are outdoors and have a large area to view give splatter vision a try. Look out and unfocus your eyes. When you see movement focus your eyes on it to identify it. You might see long grass or leaves move with the breeze. A hawk might come up over a ridge, a squirrel might hop up on a rock or a deer may lift its head. After you identify the movement, enjoy focusing on it for a while then go back to splatter vision and wait for movement again.
Close-up vision
Close-up vision is the ability to not only see things that are small but the ability to see details in larger objects. Close-up vision allows us to enjoy pattern, texture, color and even shadows and light. Practicing close-up vision helps us appreciate small insects, wildflowers, texture on leaves and bark and how the sunlight reflects off of cascades and spider webs.
When hiking, stop and look closely at intriguing objects. Notice how gray a river birch branch is when dry, but how it turns to shiny copper when wet. Notice the texture of lichen and moss. Look for animal tracks in the mud or snow.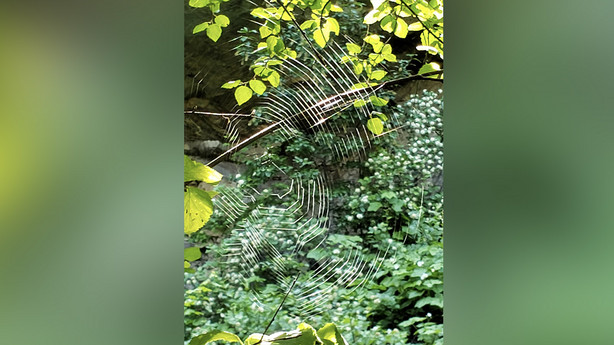 As you slow down and use close-up vision, you must still be aware of your surroundings to be safe. Look up periodically.
Putting the two techniques together on a hike
Next time you are hiking, stop periodically and practice your splatter vision in areas with panoramic views and hillsides. When you see movement focus, identify and enjoy what you see, then return to splatter vision.
A form of splatter vision can be used while hiking. Of course, the most important thing while hiking is to watch your footing. It is possible, however, to periodically slow down and and allow your vision to notice movement up the trail and off to the sides of the trail. When you see movement, focus to identify. You'll be surprised at how many more birds, and small and large animals you'll see.
When you stop to rest, look closely at objects like wildflowers, tree trunks, grasses and mud. Look for insects and animal tracks. With practice, you will see the beauty in nature's patterns, textures and color. You will witness the behaviors of insects.
As you venture outdoors and see more, you will learn about relationships and how all things in nature fit together. In the end, you might see and feel how you fit in as well. You will realize that as a human being, you too are part of the natural world and you belong here.
---
×
Photos