This archived news story is available only for your personal, non-commercial use. Information in the story may be outdated or superseded by additional information. Reading or replaying the story in its archived form does not constitute a republication of the story.
SALT LAKE CITY — Arden Louchheim was playing in her first high school golf meet Thursday when she teed off in the Utah Section PGA spring individual championship.
But don't call the Rowland Hall freshman "inexperienced."
Thursday was also her fourth straight day on the links, after playing in a UJGA junior world qualifier at Mountain Dell for the past three days.
Louchheim shot 1-under-par 73, cruising to her first individual 2A state championship with a back nine 34 at Rose Park Golf Course.
It wasn't the Utah High School Activities Association team title that she hoped to capture with the Winged Lions, but Thursday's round could hardly be described as "nerve-wracking," after competing with 6A champion Berlin Long and 5A champ Lila Galeai in Utah junior tournaments all summer.
"It was definitely different, wearing Rowland Hall on my shirt and seeing the other schools here," said Louchheim, whose father, Utah Jazz player-by-play broadcaster David Locke, simply beamed while standing linkside.
"It was really fun," Louchheim added. "I play a lot of UJGA tournaments around Utah, so it was nice to have that experience. This didn't feel too overwhelming."
Louchheim was 1-over after a pair of birdies on the front nine but rallied to birdie the par-4 No. 12, par-5 No. 16 and par-4 No. 18 to cruise to the individual title.
"I kept my drives generally in play, which was helpful," Louchheim said. "It was a little short, and it was nice to have short wedges. I kept it to shorter approach shots, and just kept things close to the hole."
Monticello's Olivia Chamberlain shot 94 to finish second, just ahead of Millard's Carlee Stephenson (97) and Beaver's Jaeley Beaumont (98).
Beaver senior Tyra Eyre, who won medalist honors in 2019, clinched fifth with a 99, and the Beavers placed four of the top seven.
Three of the top five scorers were underclassmen, led by freshman Louchheim and juniors Chamberlain and Beaumont.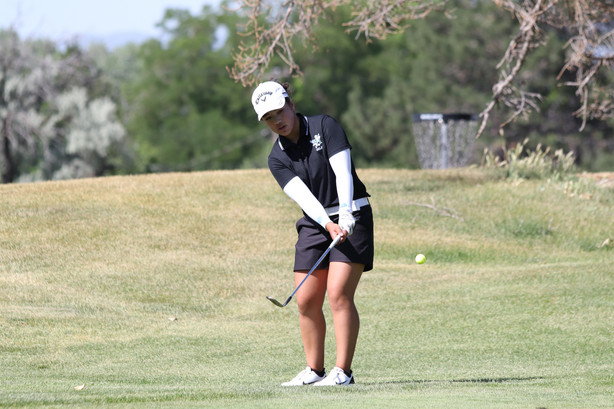 Louchheim's summer is just getting started, too. She'll play in next week's Utah junior state amateur match-play tournament and already has booked appearances in a few junior tournaments in California — assuming the COVID-19 pandemic will allow for travel and play to continue.
It's a busy schedule, but hardly a rigorous one. In a season where the final term of her freshman year was pushed online, and her first high school season canceled prematurely, Louchheim is grateful for the golf course — a small slice of normalcy in anything-but-normal times.
"Golf has been one of my only constants, because we've been able to play while keeping social distance," said Louchheim, who thanked her coaches and teammates at Rowland Hall and the Utah Section PGA for hosting the event. "It was great to get out and play like the world was normal."
The top-10 golfers in each classification earned all-state honors from the Utah Section PGA. Full results can be found here.
3A girls
Ellie DeMond never had any intention of winning a state title when she teed off Monday morning at Rose Park.
Truthfully, the Morgan freshman just wanted to save face.
"I didn't even think I'd be close," DeMond said. "I've never shot in the 70s before."
DeMond fired a 1-over-par 75, clinching 3A girls medalist honors by two strokes.
Although team scores weren't tallied, Richfield posted three of the top five scores, led by Ellie Hair's 77 and Piper Harris' 81. Rebecca Poulsen added an 83 for the Wildcats.
Morgan's Tacey Durrant carded 84 to round out the top five.
A birdie on the par-5 third hole helped DeMond make the turn at 1-over, and an even-par round the rest of the way — including a birdie on the par-5 No. 16 — helped her keep the top score.
"I had a lot of up-and-downs today. My chip-in really helped me a lot," DeMond said. "After the first nine holes, I was only 1-over, and then I kept parring every hole. That's all it took."
4A girls
Dixie junior Annabelle Millard added another sub-par day, shooting 4-under 70 to pull away for 4A medalist honors.
Desert Hills took three of the top six spots in the tournament, including runner-up Abigail Leitze, the senior who carded 1-over 75.
Bear River's Rheagen Hartfield shot 2-over 76, followed by Desert Hills' Kelsey Ranson (81) and Ridgeline's Alyssa Buist (84).
1A girls
Rich teammates McKina Stacey and Natalee Parry topped the leaderboard with a 95 and 97, respectively, to lead the 12-player 1A girls meet.
Milford's Trinity Mayer, Valley's Bethany Stout and Milford's Jaycee Rose each shot 100 to round out the top five.
1A boys
Manila junior Brody Schofield shot 4-over 76 to claim medalist honors in the 1A boys meet.
Milford's Zachary Sherwood shot 80 to finish second, followed by defending champion Casey Reck of Valley, who carded 83.
Wendover's Easton Tangaro (88) and Green River's Samuel Corrigan (89) rounded out the top five.
×