SPANISH FORK — Timpanogos' baseball team knew it faced a hard task when it woke up Saturday morning, needing to beat Salem Hills twice to claim the Class 5A championship at the UPG Last Chance tournament.
But the Timberwolves knew something about hard things.
Dylan Winger went 3 for 4 with a double and two RBI, and Paxton Richards was 2 for 4 with a two-run double to help the Timberwolves rally in the second game for an 9-8 win over the Skyhawks.
And even if the title won't be included in the Utah High School Activities Association record book, it still meant as much to those players — to those seniors, in particular — as they screamed and celebrated in a huge thunderstorm that hovered over southern Utah County for most of the final innings.
"You don't have anything else, so of course it's a state championship," said Richards, who has committed to Utah Valley. "I loved it, and there's not a better feeling. It really is awesome."
That Timpanogos was even in Saturday's position to win a championship was a minor miracle.
Like all schools in Utah, the Timberwolves had their spring season canceled due to the COVID-19 pandemic in conjunction with Governor Gary Herbert's soft closure of all Utah schools.
But after a group of parents, coaches and supporters rallied to host the 10-team Last Chance tournament in May, things still didn't look up for the Orem-based high school baseball power.
Timpanogos finished pool play with the No. 3 seed in Group D, and lost to second-seeded Provo in the opening round of the double-elimination tournament.
The Timberwolves would have to grind — and grind, they did, with four wins in three days to set up Saturday's title tilt. Timpanogos first staved off elimination last Wednesday by beating Springville, then rallied to top Cottonwood a day later. By Friday, physically exhausted and with a faint light at the end of the tournament, the club then fought off Spanish Fork before edging Maple Mountain late into the night.
But something weird happened as they kept playing: as pitching got more scarce, the Timberwolves' bats came to life. '
"Coach said at the beginning that when you come through the losers' bracket, you play more games — and your bats are able to get hot," said Trevor Herrick, who had a single, a pair of walks and scored two runs in Game 2. "That's exactly what we did. We stroked the ball all through the whole tournament."
It wasn't through the long ball, either. Timpanogos fought through a back-and-forth game with the Skyhawks by setting up small plays. Base hits. Doubles to the middle of the outfield. The Timberwolves also proved masters of the bunt.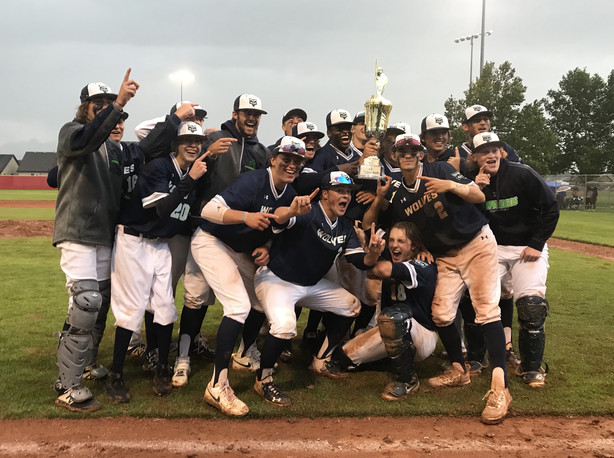 "When you're coming through the losers' bracket, you don't have as much pitching. You've got to count on small ball," Richards said. "We practice that small ball, and it's going to come up big in these situations."
It was, in many ways, Coach Kim Nelson's brand of baseball.
"That's coach Nelson's key," Richards said. "Bunting is a huge key to success of ours. If I'm in the four-spot, he always requires that of me. It's a huge part of our success."
Kyle Coburn was 3 for 5 with an RBI and a run scored to lead Salem Hills, and teammate Chuck Steele was 2 for 2 with a walk and three runs scored in Game 2.
Davis Kirby went 2 for 4 with a pair of runs for Timpanogos, which has one six of Nelson's eight championships as a head coach.
Saturday's title won't be included in the final tally. But it will be remembered just as well, at least to those players who went through the loser's bracket and came out the other end — in a June thunderstorm, no less — with a trophy. "It made it more fun," Herrick said, "more competitive, and more of what we love."
Timpanogos 13, Salem Hills 6
Winger went 2 for 3 with a walk, two runs scored and two RBI, and the Timberwolves used an eight-run third to stave off elimination and force a winner-take-all championship Saturday morning.
Timpanogos put up eight of its 13 hits in the third inning. The Timberwolves also benefited from six hit batsmen, including three-straight in the third that helped turn a 1-0 edge into a 10-1 rout before holding on.
Chase Higginson went 2 for 3, including a bases-loaded triple in the third to lead the Skyhawks.
×
Related Stories