SPANISH FORK — For nearly two months, the extent of baseball played at Maple Mountain was limited to playing catch in the players' backyards, and a weekly player-run practice that was little more than hitting drills.
As school was closed for the year by the governor's office and the Utah High School Activities Association shuttered spring sports because of the COVID-19 pandemic, the Golden Eagles wondered if they'd ever play again.
So when the UPG Last Chance tournament provided them a chance play again, they wanted to take advantage.
And boy, have they.
Cole Rollins went 3-for-4 with a triple, an RBI and a run scored, and Josh Crandall was 2-for-3 with a double, two runs and an RBI to help Maple Mountain hold off rival Springville, 8-5 in a tournament winner's bracket game of the double-elimination tournament Wednesday at Maple Mountain.
"It's good to just be out here playing after not being able to play all of May and April," Maple Mountain senior Kason Winward said. "To keep winning and to work as a team, we're doing well."
The senior utility player went 2-for-3 with a pair of RBI, and Maple Mountain survived courtesy of a fast start that dwindled but never gave way in seven innings.
The Golden Eagles jumped out to a big lead, scratching across four runs on five hits in the first inning for a 4-0 lead. Rollins had an RBI triple and a run scored, Orlando Corona added an RBI and a run scored, and Crandall belted a double in the big opening frame.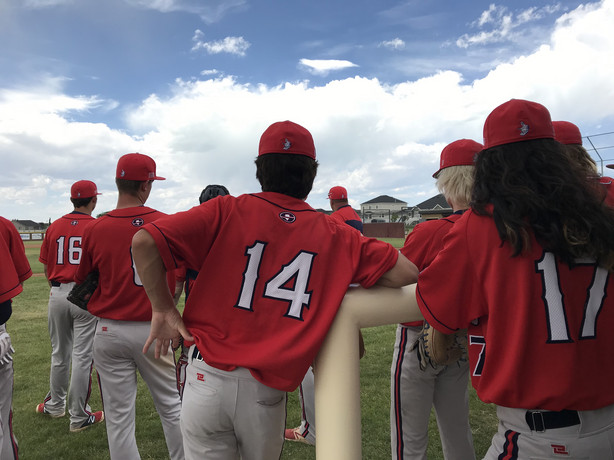 "It's good to get a lead in the first, and just jump on them without letting them get momentum," Windward said. "We took the momentum first, and stuck with it throughout the game."
Good thing, too.
Springville cut the deficit to 4-3 on Easton Liddiard's two-run single in the top of the third inning. But the Red Devils could get no closer as Maple Mountain scored two in the bottom of the inning and added a pair of runs in the fifth and sixth to hold on.
"There was a little casualness in the middle of it, but credit to (Springville); they put the ball in play, and we made a couple of mistakes," Maple Mountain coach Gary Miner said. "But I'll credit our boys, because we kept adding runs, took good swings, and put the ball in the outfield."
The Golden Eagles advanced to face Provo in Thursday's winner's bracket semifinals after the Bulldogs' walk-off 12-11 win over Timpanogos. First pitch is scheduled for 1 p.m. MT at Maple Mountain.
"We're just happy to play," Miner said. "These guys are approaching this every bit just happy to still be playing baseball. As a staff, we're grateful for their work the last two months when that reward of playing kept getting pushed."
Carson Standifird went 2-for-3 with an RBI and two runs to lead Springville, which will face Timpanogos in a one-loss bracket game Wednesday evening.
On the other side of the 5A quadrant, host Salem Hills held off Lehi, 3-2 in the early game, and Cottonwood used a middle-innings surge to top Spanish Fork, 8-2.
The Skyhawks and Colts will play Thursday at 1 p.m. MT at Salem Hills in a winner's bracket semifinal.
Select games will be streamed at live.ksl.com.
Full results and tournament brackets are available at upgbaseball.com.
UPG Last Chance tournament (5A bracket)
Wednesday's games
Provo 12, Timpanogos 11
Salem Hills 3, Lehi 2
Cottonwood 8, Spanish Fork 2
Maple Mountain 8, Springville 5
×
Related Stories